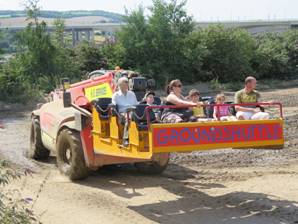 Just 30 minutes from Chislehurst is….Diggerland!
Keeping the children entertained during the school holidays can be a never ending task and we decided it was time to pull out a big trip for our two boys.
We needed more than the country park; we needed some high octane fun. We decided it was time to experience Diggerland. This local attraction is that bit more expensive and it was definitely one of those trips that should be a full day out in order to get full value for money.
We arrived at around 10.45am (just 45 minutes after they open) and for a sunny Sunday in August, the place was by no means packed.  We had expected the place to be overrun at the weekends but after speaking to staff, it would seem that the sunny days are less busy at this attraction. They tend to be more busy on overcast days when people don't fancy a trip to the beach etc.
Diggerland has a very simple concept. It is in fact quite one dimensional in the very best way. It is simply a place where kids can go wild on diggers, jcbs, dumpers and bulldozers.  The entry fee system at Diggerland is all based on height.  Once a child is over 90cm, they will pay the full entry fee of £19.95. If you are 90cm and over, you can experience most of the rides accompanied by an adult. However, it gets really exciting once they are 110cm. Our 4 year old was beyond excited when he realised he could do this by himself. That's right – he drove a digger, a robot, a JCB, mini landrovers, go-karts and more. It is a simply magical trip for a little one over this height threshold. Our 2 year old was still able to enjoy the rides but in the safe hands of his Mum or Dad. And let's be honest, it is a pretty cool trip for the adults too. I simply loved driving a dumper truck with my little 2 year old who was grabbing at the steering wheel and fascinated by this place where the kids drive diggers! It felt like the world had been turned upside down! Kids in charge of heavy machinery!!!?? What is going on? But we felt confident that the rides were well supervised and the staff seemed to love what they did too.
Diggerland in Kent is one big circle of fun where the kids can stop at each mini experience in turn. We experienced mostly very short queues for each of the rides and if one was busy, invariably, we could move to the next thing and immediately take our turn. Our eldest most definitely got most out of the trip as he was able to go solo on a good majority of the ride on experiences. He simply loved the robots, the giant diggers and the JCBs.  He was quite overwhelmed by the experience at first but by the end of the day was quite nonchalant about what he was doing! He had definitely mastered the driving experiences and was now going on the machines for the second time and becoming a dab hand. It is quite extraordinary to watch their confidence grow.
The attraction definitely got busier as the day went on however we still managed not to wait too long for anything plus Ted (the 4 year old) was able to go on quite a few rides at least twice. We stayed at Diggerland for a little over 4 hours and in that time we experience all the rides, enjoyed the soft play area plus we stop for a picnic lunch that we had brought. Whilst there isn't a dedicated picnic area there are picnic benches scattered across the park for guests to use. As this is a big ticket attraction, taking a picnic definitely makes the day more affordable. We did stop at the café to look at the menu so I could give this a rounded review but I would have to say that the restaurant was a little dated and tired. It could definitely do with a refurb and the food offering wasn't brilliant. It had a huge menu on a back lit board above the service area and I always have a fear of these places with a huge menu We wish these places would keep the food simple and high quality. My husband works in tourism and remarks that very few attractions get the food offering right. This rings true to me and this is definitely something for this attraction to work on.  However, in principle you are not at these attractions for a gourmet food experience and on most things it does deliver.
The Soft Play area is also quite tired. Whilst the 2 boys played on the soft play for a little while, it by no means held their attention for long plus they were wanting to play on all the additional machines in the area such as the Ice Hockey, Basketball and others. Having spent £20 on the ticket, it really does feel disappointing that there is a room full of these machines vying for the parents to spend more under the pressure from their children.  You could easily spend another £10 on all the machines so we made a swift retreat back to the park.
We did partake in the Dodgems for an extra fee but apart from that we resisted the requests from our children to do more.
By far the most high octane ride at Diggerland is Spin Dizzy. It is made with a JCB tracked digger that lifts people within the digger itself to a great height and they are spun at immense speed. It has the desired effect of making the adults feel nauseous and the kids screaming! My eldest loved it although his response to these rides is to be deadly serious. He is almost expressionless throughout the whole experience. We are not entirely sure if he loved it but I could tell he was extremely proud to have done it!
All in all, Diggerland is a great day out. I can highly recommend it if you have young adventurers wanting to experience big machines and enjoy messing around in a big field. This is not a picturesque day out in the country. This destination offers something quite unique and we will definitely be returning once again in the future.
Entry to Park is £19.95 once you are over 90cm and under 90cm is free of charge.  A four person ticket is £71.99. If you book tickets in advance, you can enjoy a up to £3 off individual tickets.  There are no further discounts on the family ticket. I have also noticed that through Little Bird, you can enjoy 20% off at the moment.
Diggerland is based in Rochester and we timed it from central Chislehurst and it took just 28 minutes with a very straightforward run. For more details on ticket prices and location, please visit their website.
Written by Tamsyn Clark
Photographs by Mark Grover