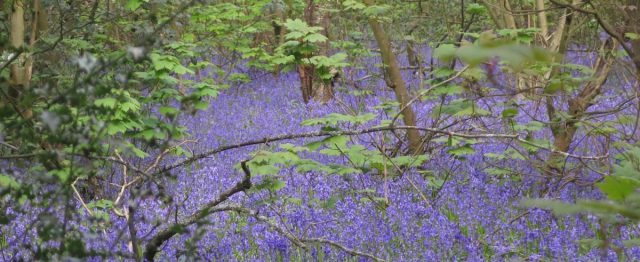 Just 30 minutes from Chislehurst is…the Kemnal Estate
If like me, you are looking for somewhere to take the kids to see the Bluebells, don't be sucked in by the commercial attractions selling the Bluebell experience. This one is right on our doorstep, just off Kemnal Road, a short walk from the centre of Chislehurst and all the great amenities the town has to offer.
One of our Visit Chislehurst facebook followers recently posted a picture of some beautiful Bluebells and intrigued, we decided to seek out this beautiful looking spot for ourselves.
The post described the spot as behind the A20 and just off Kemnal Road. I was mighty surprised to find this little gem right here in Chislehurst.
We walked right to the end of Kemnal Road, past some spectacular homes, through the entrance to Home Farm and past the entrance to Foxbury Manor, which would have been Michael Jackson's UK home during his O2 residency if that tour had not been tragically cancelled. We then took the public footpath up the hill, past Greenacres on our right (with the green fence always on your right also) and turned left into the woods when the path finishes. There is a large meadow to your right – go the other way! Here we were soon overwhelmed by the sight and scent of a sea of Bluebells.
Even my two boys, Ted (5) and Henry (2) were impressed. My eldest skipping his way through the Bluebells to see how far they went. It is fair to say that you would be hard pressed not to be wowed by this spectacular scene.  It really is breathtakingly beautiful.
The pictures speak for themselves. A few spots of rain meant we didn't make this trip a long one but I would encourage local residents to enjoy this beautiful spot before the Bluebell season is over!
Written by Tamsyn Clark
Photographs by Mark Grover