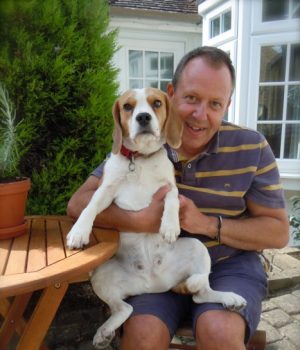 As I enter my fourth year living in beautiful Chislehurst, there is so much to say about this wonderful place. I can only say that living in Chislehurst gets better year on year.  Like a fine wine.
Generally my day starts with a gentle stroll with my canine "Beagle Daughter" – AKA Daisy – into the peaceful Chislehurst clearing, where a meet up with the local dog walking crew is the perfect way to start the day. We have all become good friends and our love of the Commons and the great community spirit is shared between us all.  Great woodland walks with good conversation thrown in.
We walk, we natter, we put the world to rights, our dogs frolic, and we get exercise and fresh air. Rain, hail and snow – it makes no difference – even in the harshest of conditions we just love the open spaces that surround us. Hunter boots and flip flops, t-shirts and rain macs, dew drops on nozzles, sunburnt foreheads – we've endured it all.
And the history of Chislehurst, too much to write here– but so many fascinating local celebrities once dwelled or are laid to rest here and have left their mark in time.  From Malcolm Campbell to William Willett –"a faster than the speed of light" combination. Emperor Napoleon III lived at Camden Place (now the golf club) and the founder of Great Ormond Street Hospital, Charles West is buried at St Mary's Churchyard.  Moving towards some more "recent" times, rock singer Siouxsie Sioux used to be a resident and released a song in 1978 which was named after the Hong Kong Garden Chinese take-away in Chislehurst High Street. Remember that when you are next in ordering up a No.39 with some spring rolls!
Then there are the Caves where in the 1960s became an underground music venue where some amazingly famous names such as Status Quo, Jimi Hendrix, The Rolling Stones and Pink Floyd performed there. Not forgetting Bowie, who lived just a short distance away down in Bickley Road. All fascinating stuff.
Pubs and eating places – too spoilt for choice! Living in our wonderful little community down here at Mill Place, we have the luxury of being but a stone's throw from two of the nicest pubs in the area – The Rambler's Rest and The Imperial Arms.  At weekends we often have the luxury of that perfect Sunday roast aroma wafting down from "The Impy" and Daisy (our very greedy Beagle) is often drawn and transfixed towards our back door, resembling a child from the Bisto Kid advert.  The smells entice us in too, and I can vouch that "The Impy" has by far some of the finest food on the menu, with a fabulous ambience and the nicest staff you would ever want to meet.  The owners Alan and Tina are wonderful hosts and I am constantly enamored on how hard they work.
So, that's just a little bit about "My Chislehurst", and what I love about living here and how somewhere so very close to our Capital City, can feel like a million miles away in living experience.