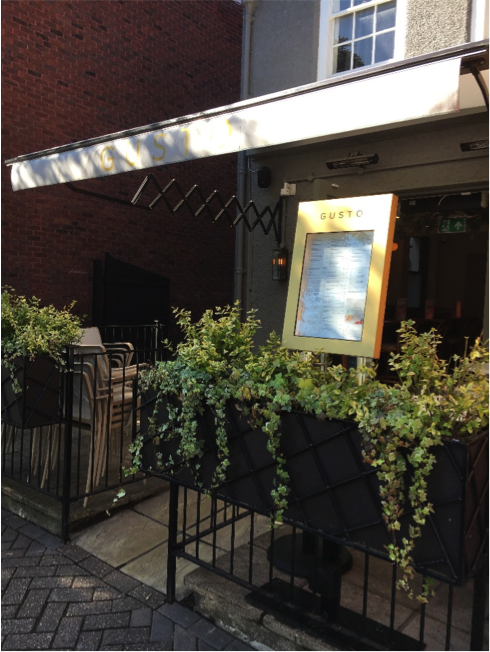 Here's the latest round up of developments and changes in and around the high street.
HIGH STREET BUSINESSES:-
Bank Closures
Nat West closed on 29 June and was up for sale. I attended a viewing recently and am in close contact with the agent who is fully aware of the findings of our recent dwell time survey (when local people expressed their wishes for the high street), our shop front design guide, and the role of the CTT and Chislehurst Business Group. Offers were due in by 2pm Wednesday, 9th August – I hope to be told the decision by mid/end September and I will then be in contact with the new purchaser.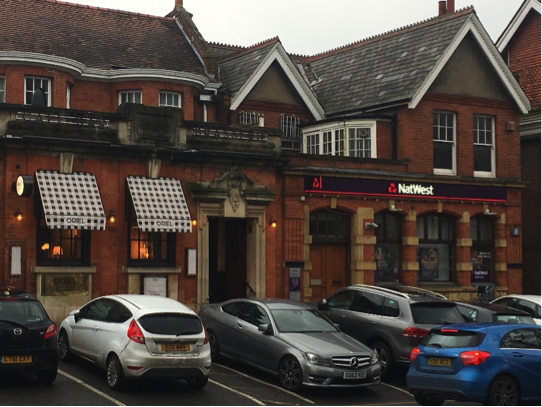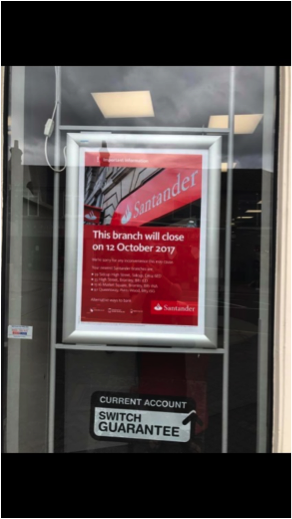 Santander has announced its closure in October. There was no consultation or even communication with a number of relevant parties, including The Chislehurst Society, CTT & CBG or with the SE London Chamber of Commerce despite assertions to the contrary in their Impact Statement they gave out. Our MP, Bob Neill (huge thanks to him), has been in contact with the CEO on our behalf. The MD of Santander, London & SE contacted me by phone to apologise for the lack of communication and I have since received a written response. There will, I'm certain, be no U Turn on the decision. I have had confirmation that Santander will ask their agent to make contact with me around the time of the formal marketing campaign (early October). Agents are already speaking to potential parties. Again, I have advised about the role and purpose of the CTT, our Design Guide etc.
· In the light of these two closures, following hot on the heels of the closure of HSBC last year, I wrote to Barclays to see if they have plans to close. I received the following response from Paul Turpin, Community Banking Director, South London:
"I can confirm that we have no plans to make any changes at this branch and if this situation changes then I will contact you. Clearly it is not possible to give an open ended commitment to remain open, however we do not take the decision to close any branch lightly and we remain acutely aware of the sensitivities of closing branches where we are the last in town."
· I wrote two articles on the closures that are on the VisitChislehurst website.
http://www.visitchislehurst.org.uk/last-bank-town/
http://www.visitchislehurst.org.uk/one-door-closes-another-one-opens/
The News Shopper has picked up these items and ran an article on the closure of banks in Chislehurst in both its printed and on-line edition last week.
Other High Street Changes
· 9 High Street (Gusto) – Oriel restaurant closed its doors at the end of April. It will be replaced by Gusto which is opening at 5pm on Thursday, 17th August. They have a special introductory offer on their Facebook page.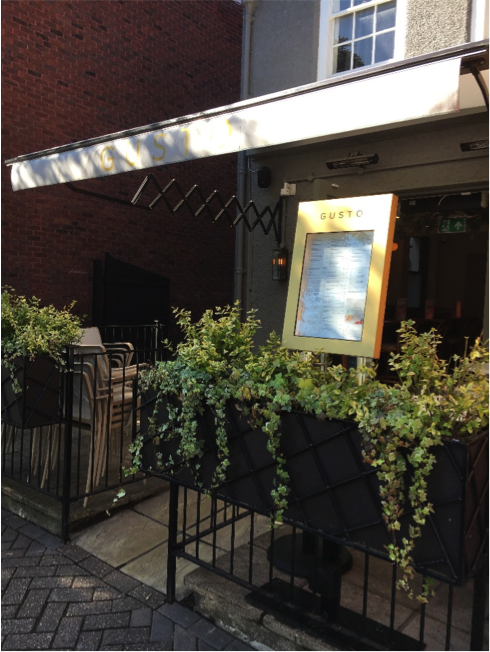 · 49 High Street (formerly Davina's). The property remains empty although we are aware that kfh estate agents plans to move from its current premises into this space in due course. They recently (10th July) received permission for one internally and externally illuminated fascia sign and one internally illuminated projecting sign.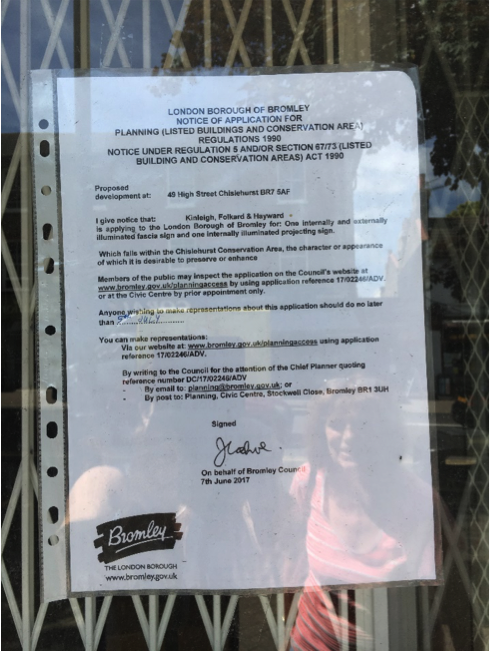 · 65 High Street (formerly Kent Lock & Shoe Service) – the property continues to remain a blot on our otherwise beautiful high street.
· Sainsbury's – Sainsbury's internal refit is now completed.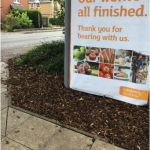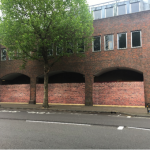 NON HIGH STREET BUSINESSES:-
The new Co-op at 1-3 Whitehorse Hill is expected to open by the end of the year – no date as yet.

21 Park Road (formerly The Little Computer Shop) – I understand that the vendors will be trying for a change of use to residential as they were unable to find a tenant for it.
· 3 Royal Parade (Annabel's) – the application (16/05237) for a change of use from A1 (retail) to A2 (financial and professional services) has been granted. There is no new occupier at present.
TRAFFIC & PARKING
Sainsbury's has introduced a new parking system which means that unless you are in & out within 15 minutes, you will need to spend a minimum of £5 in store to qualify for up to 90 mins free parking. There are staff on hand to assist with the introduction of this new system.
I am in contact with Sainsbury's HO regarding the parking and traffic survey they undertook prior to installation of the new system and also to ask for sight of their impact study of the new parking arrangements which I have suggested should not be until at least mid to late September when the children are back at school.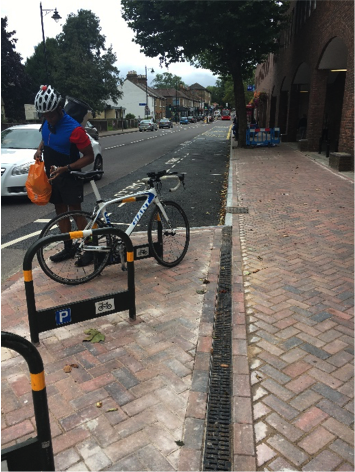 Works undertaken outside Sainsburys and next to the crossing are now completed. They were predominantly related to upgrading the bus stop to current standards to allow easy access for people with wheelchairs and prams.
I understand parking outside shopping parades such as Walden Road, is under review at LBB and am ascertaining more information on this.
This summer we have had had a series of incidents causing traffic chaos in Chislehurst:-
A sink hole opened on Summer Hill as a result of which the road was closed for several days. During that time Joanna Friel of the Chislehurst Society & I were in regular contact with LBB – Cllr Colin Smith in particular – regarding the fact no-one from Thames Water was on site at certain times, and the problems caused by traffic trying to negotiate Old Hill.
At the same time, the road under the bridge at Yester Road was closed for significant gas works for a number of weeks. Again, we were in regular contact with LBB and SGN.
As a result of our communications with Colin Smith (who should be commended for all he did and his speed of response), it became clear that social media posts by both Thames Water & SGN saying that LBB were restricting operating hours were incorrect. It was agreed that I would put out a clarification to this effect on the Visit Chislehurst Facebook Page (which I drafted, got approved by Cllr Smith and then posted).
Walden Road was closed at the Yester Road end last Monday for a few days for Thames Water works. The scheduled re-opening was delayed by appalling weather on the Wednesday.
TREES & PLANTING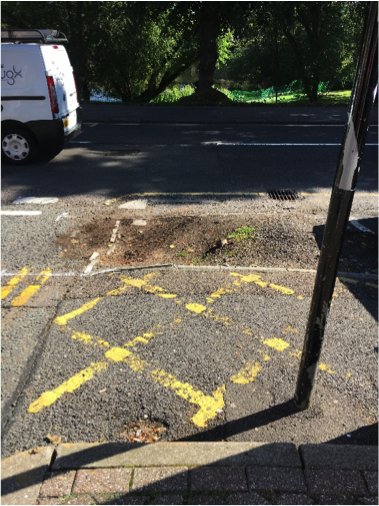 The tree outside Champion Wines was felled in June. Apparently, it was bending into the road after bad weather.
Following our request to LBB, it has been scheduled for a replacement for the next planting season (ref: 3520055). I have asked the council to improve the whole tree pit area when replanting and consider installing a bollard to stop large delivery vehicles cutting the corner and damaging the pit.
EVENTS
A reminder that the many events taking place in Chislehurst are all on the VisitChislehurst and Chislehurst Society's websites and social media and often on the High Street noticeboards. If you have a local community event to promote, do let us have details so that we can add it. Here are a few coming up:-
· Chislehurst Chase – Sunday, 17th September
· The Big Draw – Saturday, 30th September
· A Pumpkin Hunt is also being organised for October half term.
Chislehurst Clean Up Days
The Chislehurst Society organises regular clean up sessions. If you can help, meet at the Old Chapel Car Park (Queens Passage, behind Go Travel) at 10am. Litter pickers and bin-bags provided. Refreshments and cakes served by way of thank you!
· Sunday, 24th September 17
· Sunday, 26th November 17
FARMERS' MARKET DATES –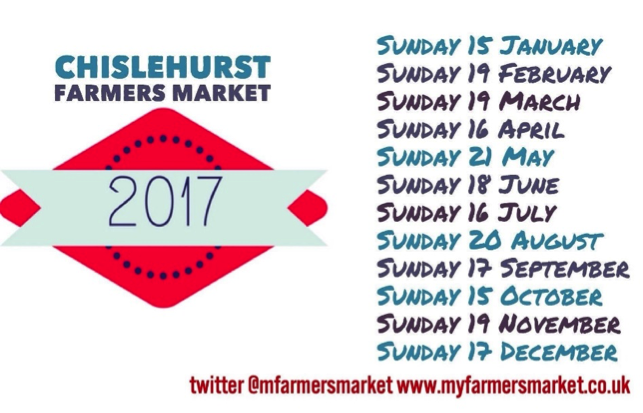 POLICE MATTERS
Representatives of the community continue to meet at the Chislehurst Community Advisory Panel meetings to discuss local issues of concern regarding crime and anti social behaviour. If you are interested in attending or have an issue you wish raised, please email me. The next meeting is on Monday 25th September.
THE TOWN TEAM
Can you help – If you have got this far then you must have a real interest in what is going on in Chislehurst! If you would like to play a part, even in a very small way, or maybe you have some great ideas you want to share, then please get in touch as we would love to hear from you.
Alison Stammers, Chair Chislehurst Town Team.
alison@VisitChislehurst.org.uk Follow the Town Team on Twitter @ChisTownTeam
Disclaimer – The Chislehurst Town Team (CTT) is a group of volunteers who give freely of their time for the benefit of Chislehurst. Although care has been taken to ensure the accuracy, completeness and reliability of the information provided in this report, the author and CTT assume no responsibility therefore nor for opinions offered. The user of the information agrees that the information is subject to change without notice. The author and the CTT assume no responsibility for the consequences of use of such information, nor for any infringement of third party intellectual property rights which may result from its use. IN NO EVENT SHALL THE AUTHOR OR THE CTT BE LIABLE FOR ANY DIRECT, INDIRECT, SPECIAL OR INCIDENTAL DAMAGE RESULTING FROM, ARISING OUT OF OR IN CONNECTION WITH THE USE OF THE INFORMATION.