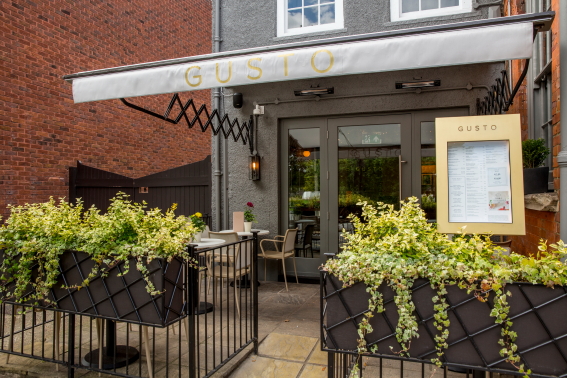 As chair of The Chislehurst Town Team and a long term Chislehurst resident who likes to dine out locally, I take a very keen interest in the offering on the High Street. I've seen restaurants come and go but none quite so fast as Oriel which opened and closed its doors at the top of the High Street within a year. So, I was highly curious to try out Gusto, which opened this week in the same location, to see if it had the 'wow' factor and would have Chislehurst residents flocking to support it.
Gusto describes itself as a high end casual dining restaurant brand. With their HQ in the North West, they have 17 restaurants across the country. The new Chislehurst restaurant and bar marks the first Gusto to open in the South and is part of the company's ongoing plans for growth. In opening the Chislehurst restaurant, they have created 50 jobs for the local area and are still busy recruiting. The restaurant can accommodate up to 130 diners, or you can have a drink in the separate bar area.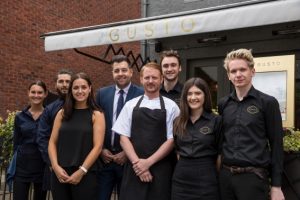 The first thing to strike me about my visit was the décor. Gusto has invested £700,000 in the refurbishment which has transformed the former Oriel restaurant into the brand's signature stylish design. It's lovely and light with sparkly lights, very tastefully done with attractive pictures and mirrors adorning the walls. The booths are a lovely addition and will hopefully absorb some of the noise that the previous incarnations of Café Rouge and Oriel suffered from. The restaurant was buzzing and the atmosphere was very convivial.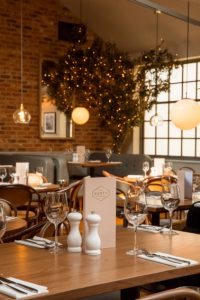 I was accompanied on Friday evening by my 26 year old son, a self-confessed 'foodie', who I knew would be a tough but fair critic. While food quality is incredibly important, for me it is the experience I have from the minute I walk in the door to the minute I leave that makes the difference as to whether I return. It's why I go back time and time again to Shaon, Cote and to Nene. We were warmly greeted on our arrival and quickly shown to the table. The Operations Manager, Giles, made a point of welcoming us and checking on our experience from time to time. Our waiter was excellent too – efficient, friendly, courteous and not at all intrusive. One of my bug bears in restaurants is how long after being seated at the table, I have to wait to get my drinks order taken and served. No problems on that score and we started with some truly delicious cocktails; highly recommend the cherry and coconut sour! All the staff we came into contact with were lovely; some are still a little inexperienced – for example we had to ask those bringing our food for cutlery for our main course – but I am sure that Gusto's training programme will sort out those little glitches. Service was quick but not rushed.
So on to the food offering…. The theme is Italian and the evening menu is extensive; we were spoilt for choice with pasta, risotto and pizza. Yes, there is some overlap with the offering elsewhere on the High Street, but there are some very tempting additions like pork belly with fried gnocchi, fillet of cod wrapped in prosciutto, and sea bass which make it stand out as a dining destination. There is also a choice of steaks and a Gusto burger that looked delicious as I saw it carried to the next table!
The pasta, I'm told, is made freshly on site each day and I also like the fact that any of the pastas and risottos can be ordered as a main or a starter. I don't have a sweet tooth so I'm afraid I did not look at the desserts. We don't have any special dietary requirements, but it appeared to me that these were well catered for. There was also a good selection of wine on offer. As far as pricing is concerned, it is comparable with other local restaurants of similar quality.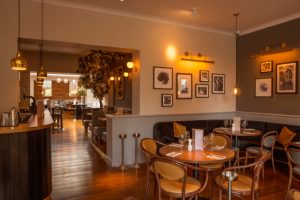 After agonising over our decision, we finally chose mussels then tagliatelle with smoked salmon and dill (me) and tiger prawns followed by white crab, chilli and garlic spaghetti (my son). Food was of a high standard, well presented and served hot. Portion sizes were just right to fill you up comfortably. We thoroughly enjoyed all the dishes we picked; I particularly liked my pasta; the salmon was full of flavour and the amount of dill just right.
So, we had a very positive dining experience and will definitely be back to try some of the dishes we didn't have this time. Others I spoke to agreed it was a lovely addition to Chislehurst. Why not try it for yourselves and see what you think? There's a 25% off food introductory offer; all you need to do is book your table and join the mailing list at www.gustorestaurants.uk.com/openingoffer
Alison Stammers
Chair Chislehurst Town Team