Event took place on 8th March 2019
Red Hill Primary School celebrates International Women's Day with inspirational visit from former Charlton FC and England goalkeeper Tania Law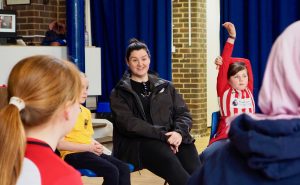 Former Charlton FC and England goalkeeper Tania Law helps Red Hill Primary pupils celebrate International Women's Day and the run up to the Women's World Cup
Pupils at Red Hill Primary School in Chislehurst were inspired by today's visitor Tania Law, former professional goalkeeper for Charlton FC and England.
The visit was arranged by Red Hill Primary School's specialist PE teacher, Vicki Benbow, to provide an important space to celebrate International Women's Day, and as part of that, the run up to the Women's World Cup taking place in France this summer.
"It's all about raising awareness for our pupils on the things you can achieve if you believe in yourself and giving them the motivation to want to get there" explained Vicki. "I also wanted today's visit to raise awareness across the school that the Women's World Cup is happening, which many of our pupils didn't know. The women's game is definitely up and coming but we're not there yet. The growing success of women's sport is key for these young players, especially for those of them who want to pursue a career in sports."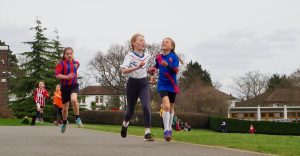 As part of the session, Red Hill's girls' team were invited to a question and answer session with Tania, where they learnt about what it takes to compete at the top level in professional sport.
Children expressed their thoughts and feelings on the session by saying "it was inspirational for us to meet someone and learn about how hard they worked and trained." Red Hill's own goalkeeper said it "blows my mind the time it takes to train and be that good."
Another young player reflecting on what they'd learnt stated, "the pay has changed, but I think that women should be paid the same. We are as good as the boys, and even better in some aspects. It needs to be equal, the game is for all of us to share, it's a sport for everyone."
Tania also joined the girls' team on their daily mile, something every child at Red Hill Primary School does as part of their keep fit campaign and is one of many opportunities for pupils to stay healthy and active.
To engage the whole school community, Vicki has inventively incorporated both the school's daily mile with the Women's World Cup. Every class has entered into a World Cup draw, and will be following and supporting their team throughout this summer's tournament. For every 60 miles the class tots up, they gain a player for their team. The outstanding display in the school's Reception area, which Vicki and her team have put together, allows the whole school to take part in the run up to the World Cup.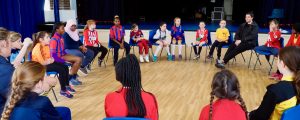 Commenting on the celebrations and the efforts of Red Hill Primary School in marking this important day, Tania said, "It's brilliant! We had nothing like this when we were at school. By incorporating the daily mile into the community's efforts to support and celebrate women's football, it's inclusive for everyone, whether they're into football or not. It's an important step towards spreading the knowledge and awareness about the women's game."
Head Teacher of Red Hill Primary School, Nicola Crockatt, commented on today's celebrations saying, "in a current climate with a continuing gender pay gap and the often-negative perception of 'bossy' women in leadership roles, it's brilliant on International Women's Day to see women from all walks of life in all sorts roles showing our young women that they can do anything.
I'm proud to be part of The Pioneer Academy's leadership team with so many other women in leadership roles, where we can model an inclusive and equal culture across all our schools."
Red Hill Primary School girls' team have their next game on the 12th March, where the captain is expecting a win 3-1.