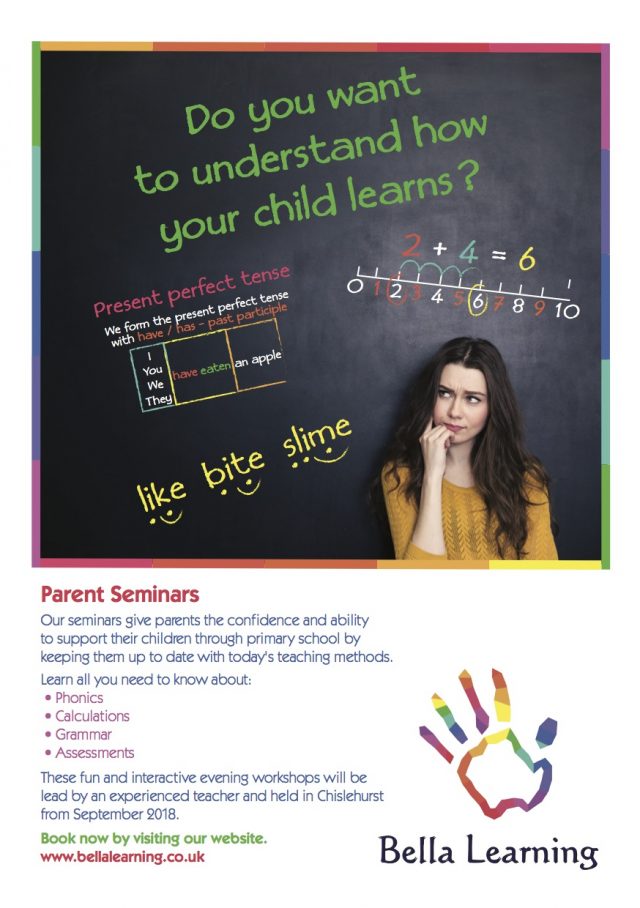 How many times have you sat down with your child to do the 'dreaded' homework on a Sunday night, only to find yourself desperately trying to prove you are capable of maths for a seven-year-old? Did you ever imagine that your four-year-old would be teaching you how to read? The words 'No Mum/Dad, that's not how we do it at SCHOOL!' are becoming all too familiar as you find yourself playing second fiddle to your child's teacher (who knows everything) and go to bed questioning what it means that you've never heard of a number bond. Things have changed since you were at school – that's for sure!
Fear not… this is a common issue and help is at hand! Local teacher and author Annabel Gray of Bella Learning is offering workshops for parents to equip them with everything they need to know to support their child through primary school. These seminars cover the confusing world of phonics, all the calculations that pupils will encounter and the rules of grammar that were missed from your own education. The final session will inform parents about all the statutory assessments that their child will face and the options available for secondary education in this unique area of the country.
Have a cuppa, take part in practical activities, ask as many questions as you like and leave feeling that little bit more confident when it comes to homework. The sessions are perfect for parents of school starters who want to be prepared, or for parents of pupils in years R-6. Pick one seminar which interests you or book all four for a reduced rate.
Workshops will be held at The Old Chapel in Chislehurst at 7:30 pm.
Tuesday 18th September – Phonics Explained
Tuesday 25th September – Current Calculations
Tuesday 2nd October – GrammAHH!
Tuesday 9th October – Assessments and Moving On
Book here: https://www.eventbrite.co.uk/e/four-bella-learning-parent-seminars-tickets-46696403199