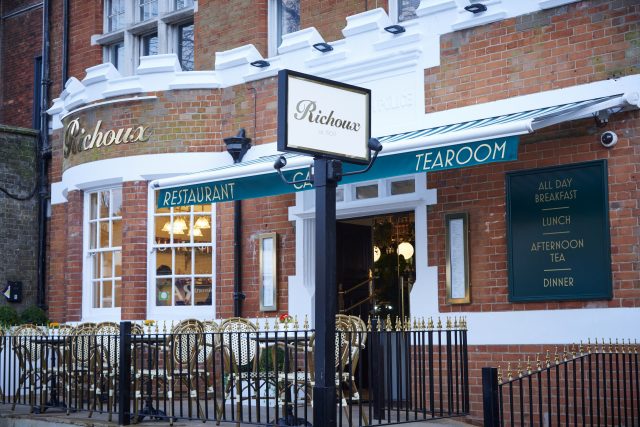 RICHOUX IS DELIGHTED TO OPEN THE DOORS TO BRAND NEW CHISLEHURST RESTAURANT
British-French All-Day Dining Experience Arrives on Chislehurst High Street
On 17th March 2017 British-French fusion restaurant, Richoux, opened the doors of its newest establishment, on Chislehurst High Street (47 High Street, BR7 5AF). The Chislehurst restaurant is the latest addition to the Richoux family, with the location specifically selected to complement Richoux's other prestigious central London locations, including Knightsbridge, Mayfair and Piccadilly.
Founded in 1909, Richoux is an all-day dining experience offering breakfasts, lunches, afternoon tea, and dinner service. Based on a fusion of founder Mr Richoux's French heritage and British surroundings, the restaurant will be serving an array of classic dishes, in a casual yet elegant environment.
Menu highlights from the new Chislehurst restaurant include breakfast options such as Eggs Benedict, made-to-order omelettes, and kedgeree; alongside a range of fresh pastries.
Lighter options, perfect for lunch, will include a variety of freshly cooked baguettes, salads, club sandwiches, or a classic Croque Monsieur.
For lunch time and evening main courses, customers can enjoy a menu of heritage favourites such as Shepherd's Pie, Roasted Chicken, Fish Pie, or a Crab Linguine.
Afternoon Tea will also be served on a daily basis, with a traditional selection of hand cut finger sandwiches, pastries, and warm baby scones with strawberry jam and cream served from just £15pp.
Richoux restaurants are currently located in five prestigious locations within London and have become iconic eateries across the capital.
Chislehurst is one of the first restaurants to launch under the newly refreshed image, spearheaded by CEO Jonathan Kaye, and is an exciting venture for the Richoux group.
Jonathan Kaye, CEO of Richoux comments on the upcoming launch:
"Richoux Chislehurst will provide the ideal setting for a casual breakfast, impromptu coffee meeting, or a long lunch; as well as being a fantastic venue for evenings out with family and friends or for celebrating a special occasion.
Richoux has a heritage of over 100 years, and we are proud to have called some of London's most iconic and prestigious locations 'home' during this time. Chislehurst is the latest addition to our Richoux family and is one of the very first restaurants to open under our newly refreshed image.
We look forward to welcoming you all to Richoux very soon."
To book at table at Richoux Chislehurst please call – 020 8295 6878
Opening hours: 9am-11pm daily