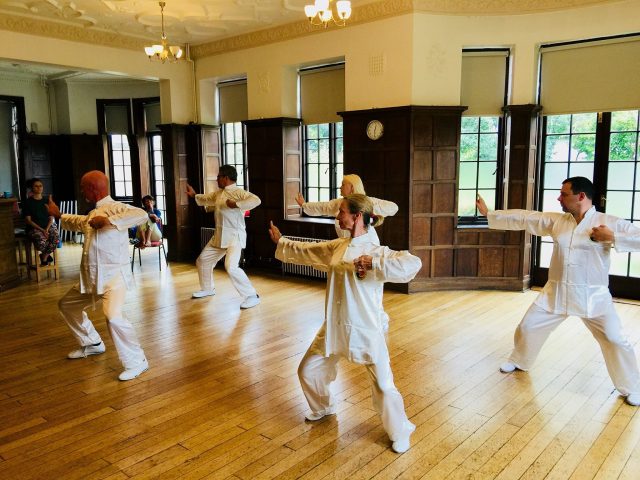 Qigong and Tai Chi are ancient Chinese exercise routines which have a unique, remarkable effect on improving health, fitness and well being. Regular practice of Qigong and Tai Chi can help achieve harmony of body, breath and spirit leading to improved flexibility, strength, fitness, balance, mental focus and coordination. They are fully recognised by modern medical science and used as useful supplementary, alternative therapies, and aid rehabilitation from illness and injury. Athletes and sports people also use them to improve physical fitness and concentration to achieve peak performance.

Anyone can benefit from attending our classes, regardless of age, physical condition, injury, illness or impairment. As Qigong and Tai Chi are soft gentle forms of exercise they are particularly suitable for middle aged and senior people and anyone with a health condition. They have also been shown to aid recovery and rehabilitation. However, we would always recommend that you consult your doctor before starting for advice.
Head Coach Tony Childs, Background and Accreditation: Qualifications and Experience:
Tony's background is in traditional Japanese martial arts of Karate, Iaido and also Yoga, He has been practicing Tai Chi and Qigong since 2001, Health Qigong since 2007 and teaching Health Qigong since 2009. His goal is to help you maximize the health benefits through practice of Qigong and Tai ChI, and to share his knowledge and experIence with you, passin on his love of these wonderful, body, mind and breath enhancing arts.
Qigong; In 2007 Tony was one of the first people in the U.K. to be introduced to Health Qigong. Since then he has attended seminars, symposiums and conferences every year, organised by the Chinese Health Qigong Association and International Health Qigong Federation, in China, the U.K. Europe, Asia and America. He is recognised and respected within the International Health Qigong community as being a dedicated, committed teacher, and lifelong student of qigong.
Tai Chi: Tony has been practicing Yang Family Tai Chi since 2005 at Shikon Martial Arts, directly under head teacher Steve Rone and Sifu Martin Gatter, and is a now a certified Shikon Tai Chi Club Coach. Shikon are an extremely well organised and respected martial arts organisation with the very highest standards of teaching, technical knowledge and ethics. Tony feels that it is an honour and privilegege to continue his study and practice at Shikon Martial Arts.
5th Duan, International Health Qigong Federation.
Level Two Coach, British Council Chinese Martial Arts.
Technical Director, Health Qigong Federation UK
Tai Chi instructor, Shikon Martial Arts.
ITEC Diploma Anatomy & Physiology.
Competition:
Tony has taken part in many European and World competitions organised by the CHQA and IHQF on three continents and has won many Gold, Silver and Bronze medals, and coached individuals and teams to international success.
Please contact me for bookings, or further information,

Tony Childs,
Trinity Qigong & Tai Chi
Mobile 07500 873932