After having worked in the financial industry for almost 30 years, I decided to take the plunge and change careers entirely. I really wanted to start my own business and with my love for dogs decided to retrain as a dog groomer. So, in Sept 2018 I enrolled on an intensive course which trained me to City and Guilds level 3. We own a gorgeous cavapoo called Jackson, so in October 2018 Jackson's Groom Room was born!
I am fully insured, I have canine first aid and have attended the Tellington Touch workshop (which helps to calm dogs).
At Jackson's Groom Room, whether it's just a wash and dry, a full groom or puppy introduction, we can provide a caring, personal home from home service for all your best friend's needs.
I always ensure the Five Animal Welfare needs are followed.
As I work alone I only do one dog at a time and I do not use crates so it is a calm environment for the dogs.
I am also very excited to be able to offer Emmi-pet teeth cleaning which is a fantastic way to keep your dog's teeth healthy without the need for anaethesia. It is the first ultrasonic toothbrush available for animals, which cleans the teeth of dogs thoroughly and motionlessly. Because the electric toothbrush works completely noiselessly, the toothbrush is also suitable for dogs refusing to care for teeth with a conventional model. Sonic tooth cleaning helps to effectively prevent gingivitis, periodontitis and calculus, mouth odour and tooth loss.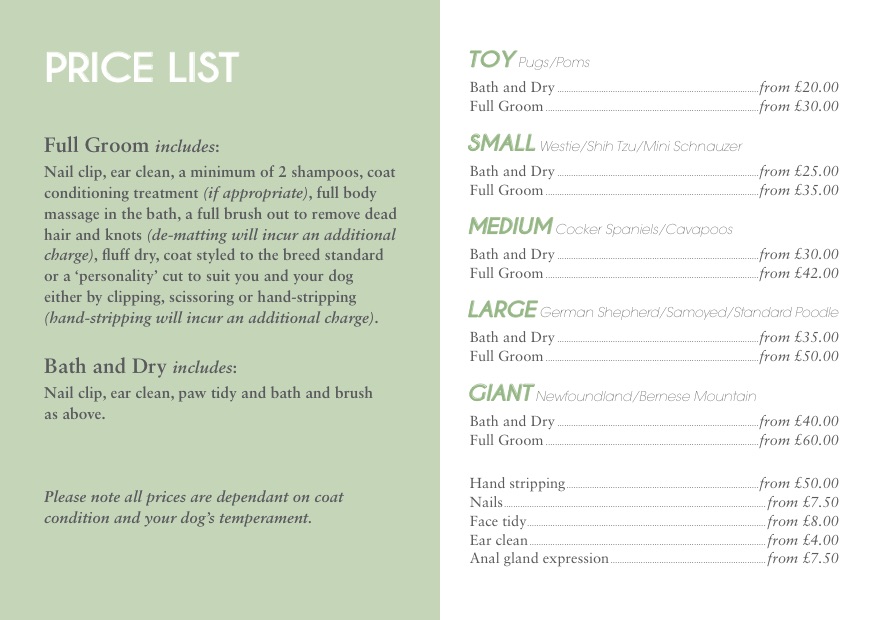 There are no upcoming events at this time.