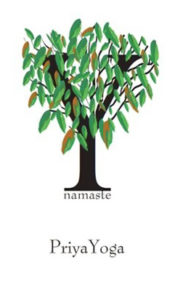 Priya has been teaching yoga since 2014, having completed her British Wheel of Yoga teacher training in Bromley with Zoe Knott and Bob Insley. (British Wheel of Yoga is the only Ofqual regulated yoga training body within the UK).
Group classes are small (up to 8) and take place in her warm bright home studio. Visitors are made to feel welcome and the first few minutes of each class is for catching up and sharing thoughts.
Priya's approach to yoga is pragmatic, with emphasis on the importance of tailoring the practice to the individuals needs. The asana or postures, are taught in a safe and sustainable way and will aid mobility, functionality, improve muscle strength and flexibility in both body and mind. Time and space is given in each class to connect with the breath (pranayama) and the various techniques Priya teaches can empower you to make positive changes, if that is what you want. The class ends with a concentration, meditation and relaxation practice so that all participants can recharge and benefit from the deep rest.
Although, greatly influenced by ancient texts on Yoga such as the Hatha Yoga Pradipika and Patanjali's yoga sutra, Priya's approach is contemporary and fresh, encompassing her keen interest in anatomy. You will be challenged to practice to your maximum in a safe way. The classes are inclusive and suitable for all abilities, shapes, sizes and backgrounds. In Priya's studio you will find space to step inside, away from the hustle and bustle and begin a journey to better physical health and improved mental well being.
Priya is qualified to teach Yoga to people with disabilities, afflicted by trauma, mental issues and health issues in particular mild depression, at risk of cardiovascular events, pre diabetic diagnosis and social isolation. She is also an affiliate teacher for Yoga in Healthcare Alliance and trained to teach the 10 week Yoga4Health Programme as part of the NHS social prescribing scheme.
For more information and to try out a class with Priya, please contact her priyakariayoga@hotmail.com or calling on 07956 865 732.
You can also visit Instagram or Facebook
Class Timetable
| | | | |
| --- | --- | --- | --- |
| Day | Time | Style | Venue |
| Monday | 10.00am | Chair yoga | Green bank Lodge |
| Monday | 7.30pm | Hatha | Studio, Chislehurst |
| Thursday | 7.30pm | Hatha | Studio, Chislehurst |
| Friday | 9.30am | Hatha | Studio, Chislehurst |
Classes coming soon in 2020
Yoga4Health 10 week course
Chair Yoga
Targeted Yoga for Men
Monthly Meditation
Workshops
Retreat with Priya in Autumn 2020
Exclusive tailored classes can be designed for local businesses and staff on an ongoing basis or as a one off employee welfare programme.
1:1 class option with up to 2 participants (ideal for couples) gives you the flexibility and choice of location and time around your schedule.
Retirement and Residential home visits available
Group classes are 90 minutes and cost £8.00 per class (except yoga4health)
Other class prices vary. All mats and props provided.
Please wear comfortable clothing that allows freedom of movement. Yoga is practised barefoot and on an empty stomach. It is recommended that a light meal can be eaten 2 hours before a class and that you are well hydrated prior to each class.