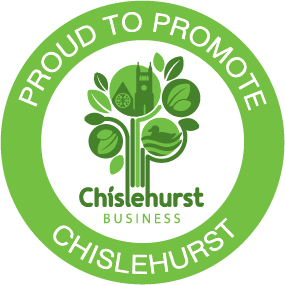 Chislehurst Business Group is the organisation behind the Visit Chislehurst Brand. We were granted a small grant from the Chislehurst Society to set up our previous website and our loyal band of businesses has grown ever since.
We have a very clear vision…
Our Vision Statement
Working together to create a thriving and vibrant Chislehurst
In turn, we have 4 clear goals;
Mission Statements
We connect and engage Chislehurst with their community
We promote opportunities for local businesses within Chislehurst
We work collaboratively to improve Chislehurst
We support the funding of the Christmas Lights in Chislehurst
The Chislehurst Business Group exists to promote Chislehurst, ensuring it remains a vibrant town centre in which to live, work and shop.
Any business displaying the Proud to Promote logo either on-line or in their shop window are members of the Chislehurst Business Group. They generously contribute financially to our Christmas Lights and to promoting Chislehurst.
Background
The Business Group was set up in 2006 in partnership with residents, businesses, local groups and the Town Centre Manager at Bromley Council, the group was formerly called the Chislehurst Town Centre Management Group. The initial aim was to encourage local businesses to fund the Christmas Lights and to tackle local issues facing our High Street.
The Chislehurst Business Group is the organisation behind the Visit Chislehurst brand. We have over 100 organisations and local businesses who support what we stand for as a group.
Membership
Shops/businesses in Chislehurst (BR7) are invited to join for £15 per month; all members receive a full editorial page on our website and a window sticker to show their support and involvement.
Criteria for joining the business group is as follows;
a) Your business or organisation must be registered to an address in BR7 and operate within the area.
b) Your business is registered elsewhere but regularly (at least once a week) conducts their business in BR7. Your business/organisation must also contribute to the vision for Visit Chis – creating a thriving and vibrant town. E.g. A weekly yoga class or weekly session from a charitable organisation. Businesses/Organisation of this nature will be considered by the Board of Visit Chislehurst and their decision is final.
c) Occasionally, we may consider businesses from neighbouring areas where they may significantly contribute to Chislehurst life. This is at the discretion of the board of Visit Chislehurst and their decision is final.
The full benefits of being a Chislehurst Business Member include:
An organisational page on our website which receives up to 10,000 sessions a month
An opportunity to be promoted on our Social Media Pages which currently has:

Almost 5000 followers on facebook
Almost 4000 followers on twitter
Over 1000 followers on Instagram

Opportunity to feature on our website as part of our editorial strategy if you are proactive and send us your press releases
Your business advert will pop up on our website
Your events can be featured on our Whats on Section
Inclusion in all communications about what is happening in Chislehurst
Opportunities to get involved in Visit Chislehurst events such as the Pumpkin Hunt, Bear Hunt and the Easter Egg Hunt. Either as a participant or as sponsors.
Networking opportunities

Breakfast meetings every 6 weeks
Occasional information Evenings on areas such as marketing, social media etc.
Membership ultimately goes towards ensuring we have fabulous Christmas lights each year and to promoting Chislehurst through events and publicity. The group also provides a sense of community and support amongst the businesses.
The group meet every 6 weeks from 8.30 – 9.30 am for enthusiastic discussion to address the challenges facing our High Street today and to find ways to promote Chislehurst together.
Who's Who
Chairman / Director – Steve Wheeler – Get Clear
Director / Wrattens – Guy Osborn – Dial Investments
Director / Meetings & Events – Jasmine Prentice – Linklater & Warren
Director / Graphic Design support – Mary & Mick Design
Director / Marketing & Events – Tamsyn Clark
Director / Technical – Lucy Stamp
Communications / Admin – Daniela Tranquada
Christmas Lights – Matt Lyons, Bootcamp
Noticeboards – Liz Nash
Banners – Nigel Tandy – Chislehurst Kitchens
Branding & Design – Ari Phillips – Nugget Design
Here is just a bit more information on what we do as an organisation…
Christmas Lights Event
As well as sponsoring the Christmas Lights, the CBG puts on an event to mark the occasion.
Halloween Pumpkin Hunt
We organise a Halloween Pumpkin Hunt which is now in its third year. Big thanks to Linklater & Warren Opticians for their ongoing support as title sponsor.
Easter Egg Hunt
We organised an Easter Egg Hunt in association with Mead Road Infant School.
Farmer's Market
Organised by the Chislehurst Business Group, the Farmer's Market is held in Hornbook Car Park between 10am – 2pm, on the 3rd Sunday of each month. Local producers offer a range of food they have grown, raised or produced.
Banner Rigging
In order to promote Chislehurst, we now have permanent rigging on our High Street; allowing us to display large banners across the street. You will also notice a number of lamp post banners welcoming visitors to Chislehurst and advertising forthcoming community events such as the Summer Fair or Christmas Event.
Logo & Publicity
We are extremely grateful to local resident Della Lawrence who has designed the Chislehurst Logo; this is to be used for all Visit Chislehurst publicity and to the team at Nugget Design for producing all our publicity material.
If you would you like join the Chislehurst Business Group, please contact Daniela using the form provided below.
You can contact Daniela on daniela@visitchislehurst.org.uk