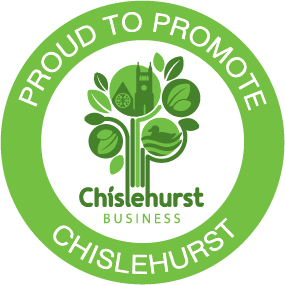 The Chislehurst Business Group exists to promote Chislehurst, ensuring it remains a vibrant town centre in which to live, work and shop.
Any business displaying the Proud to Promote logo either on-line or in their shop window are members of the Chislehurst Business Group. They generously contribute financially to our Christmas Lights and to promoting Chislehurst.
Background
Set up in 2006 in partnership with residents, businesses, local groups and the Town Centre Manager at Bromley Council, the group was formerly called the Chislehurst Town Centre Management Group. The initial aim was to encourage local businesses to fund the Christmas Lights and to tackle local issues facing our High Street.
In 2012 the Chislehurst Society set up the Town Team to look in more detail at improving the High Street and Belmont Parade; releasing the Chislehurst Business Group to focus on promoting Chislehurst. The Chislehurst Business Group and Town Team work together to increase footfall to Chislehurst by attracting more visitors to the area.
Membership
Shops/businesses in Chislehurst (BR7) are invited to join for £15 per month; all members receive a full editorial page on the new website and a window sticker to show their support and involvement.
Membership ultimately goes towards ensuring we have fabulous Christmas lights each year and to promoting Chislehurst through events and publicity. The group also provides a sense of community and support amongst the businesses.
The group meet every 6 weeks from 8.30 – 9.30 am for enthusiastic discussion to address the challenges facing our High Street today and to find ways to promote Chislehurst together.
Who's Who
Chairman / Director – Steve Wheeler – Get Clear
Director / Wrattens – Guy Osborn – Dial Investments
Director – Jasmine Prentice – Linklater & Warren
Director / Branding – Mary & Mick Design
Director / Marketing – Tamsyn Clark
Web Editor/ Marketing – Lucy Stamp
Communications / Admin – Daniela Tranquada
Christmas Lights – Derek Nash
Noticeboards – Liz Nash
Banners – Nigel Tandy – Chislehurst Kitchens
Branding & Design – Ari Phillips – Nugget Design
Treasurer – John Mattison – Mattison & Co.
Aims
Fund Christmas lights and other events annually.
Promote Chislehurst as a great place to shop and eat out.
Ensure Chislehurst is charming and appealing to residents and visitors.
Encourage and attract new quality businesses into the area.
Work with the Town Team, Chislehurst Society and other local groups to develop a strong sense of community and vibrant village life.
Manage Visit Chislehurst website, facebook and twitter.
Events & Projects
Christmas Lights Event
As well as sponsoring the Christmas Lights, the CBG puts on an event to mark the occasion.
Halloween Pumpkin Hunt
We organise a Halloween Pumpkin Hunt which is now in its third year. Big thanks to Linklater & Warren Opticians for their ongoing support as title sponsor.
Farmer's Market
Organised by the Chislehurst Business Group, the Farmer's Market is held in Hornbook Car Park between 10am – 2pm, on the 3rd Sunday of each month. Local producers offer a range of food they have grown, raised or produced.
Banner Rigging
In order to promote Chislehurst, we now have permanent rigging on our High Street; allowing us to display large banners across the street. You will also notice a number of lamp post banners welcoming visitors to Chislehurst and advertising forthcoming community events such as the Summer Fair or Christmas Event.
Logo & Publicity
We are extremely grateful to local resident Della Lawrence who has designed the Chislehurst Logo; this is to be used for all Visit Chislehurst publicity and to the team at Nugget Design for producing all our publicity material.
If you would you like join the Chislehurst Business Group, please contact Daniella using the form provided below.
or purchase your membership here.