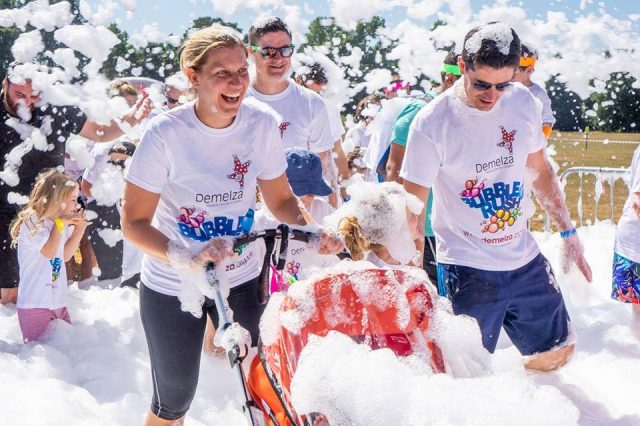 Now we don't believe there is a better way to start a Sunday morning than getting covered from head to toe in foam and raising money for an amazing local charity.
The Demelza Bubble Rush has turned into an annual event and has to be one of the highlights of the year for all those mad enough to run a 5k whilst being fired at with foam cannons. This weekends event was at Avery Hill Park, a lovely open space that gives space for this type of event.
Demelza kindly provide all participants with t'shirts for the event, and there is a very good reason for this. Not only are they obviously branded for the event and are a nice keepsake, but it also stops you ruining your own clothes as the foam is not only 'foamy' but it also contains dye! A massive flashback to the 60's and tie dye t'shirts spring to mind. Groups of squealing children and adults rush through the tunnels of foam whilst enthusiastic Demelza volunteers fire their foam cannons at you (maybe a little too enthusiastic!).
The foam sticks like glue and everyone emerges from the tunnels like something from an alien movie, slipping and sliding with foam creeping into shoes and squelching through toes – fairly gross and getting the dye out from between toes is pretty tricky, but its so much fun and highly recommended for those with a great sense of adventure. It certainly beats an average Sunday morning at the local rec or washing the car.
Demelza are already taking bookings for 2020! Book now! :