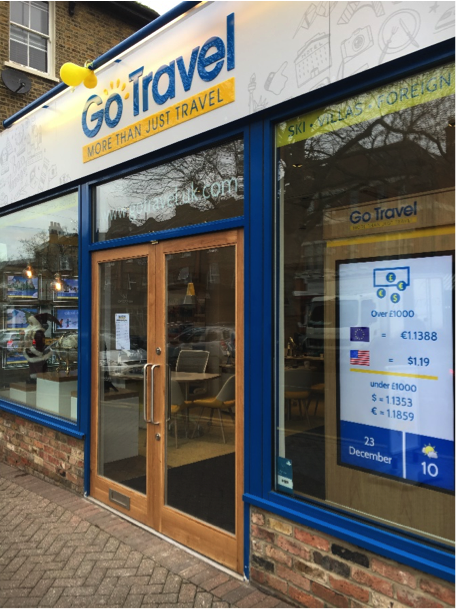 A NEW 5 YEAR PLAN
The Chislehurst Town Team (a volunteer group made up of local businesses, community groups, landlords and residents) has now been in existence for almost 5 years.  Having achieved a significant number of our initial aims, at our last meeting we agreed that it was time to review our efforts and determine our priorities for the next 5 years.  To inform our thinking we conducted, thanks to the backing of The Chislehurst Society and the support of Sainsbury's, a High Street Dwell time survey.  916 people took part in this and we are very grateful for their time, thoughts and suggestions.  The key messages of this survey will be disseminated separately.  In due course we shall share the new plan.
HIGH STREET BUSINESSES
Library – We understand that the Heads of Term for the redevelopment of the Library have now been approved by Bromley Council and that negotiations by the developer, Milngate, with potential retailer(s) are now commencing.  We will keep you posted on this as this is a key issue for us.
Where we can, we introduce potential new businesses to landlords of empty properties but sadly have little influence. Current changes include:-
1 High Street (formerly HSBC) –the agent has now signed a long lease with Reliable Source Limited (self adhesive tapes) currently at The Coach House, 1A Queens Road, Chislehurst.
11 High Street (NatWest) – we have been advised that this branch will be closing on 29 June.  We are trying to establish who the agents are so that we can make contact.
16a High Street (formerly Racks) has now opened as Diamond Shutters and joined the Chislehurst Business Group (CBG).
27 High Street (formerly TH Collison) – re-opened as CrossEyes on 11 November 2016.  We are hoping they will join the CBG.
49 High Street (formerly Davina's). The estate agents, KFH, have been successful in their application for a certificate of Lawfulness for a Proposed Development for a change of use.  (Bromley Council had to issue if it complied with the law).  We registered our disappointment of this loss of retail space.  We are now seeking to establish what will happen with 57 High Street. KFH tell us "We only signed the lease on 49 High Street last week and are now considering our fit out plans. We will not therefore be moving out of No. 57 and into No. 49 in the immediate future."
65 High Street (corner of Willow Grove) – still no news. I last spoke to the landlord in September 2016 who advised that "there will be something happening with the property" but refused to be pressed on details or timeframe.  The Council is unable to assist as it does not constitute an 'untidy site'.
66 High Street (formerly Churches Together charity shop) – the hoarding is up and works are proceeding but despite my best efforts, I have had no response from the owner/developer as yet as to what the plans are for this retail space.
Sainsbury's – I keep chasing Sainsbury's HO and their agents regarding the letting out of the upper floors but am still awaiting an update – we know a couple of gyms were interested but that the floor loadings were an issue.
NON HIGH STREET BUSINESSES
1 – 3 White Horse Hill (formerly The Lounge) – the new mews houses are about to be marketed by JDM Estate Agents with the apartments to follow thereafter.
12 Belmont Parade (formerly half of Belmont Dry Cleaners) – rental terms have been agreed for this property.  A decision is awaited for planning application 16/05169 for "Replacement single storey rear extension and change of use from dry cleaners (Class A1) to retail/yoga studio (Class A1/D2)".
21 Park Road (formerly The Little Computer Shop) – this is currently being marketed by London Victoria Properties. Contact me for details or them on 0330 133 0526 or 07758265681 to arrange a viewing.
47 Park Road (Gordon Arms) – remains up for sale.
3 Royal Parade (Annabel's) – there is currently an application in with LBB (16/05237) for a change of use from A1 (retail) to A2 (financial and professional services) which The Chislehurst Society Planning sub-committee is reviewing.
APPEARANCE
Keeping the high street looking good is an important aspect of what we do and we regularly take up issues with individual businesses or the Council.
MAKEOVERS
10 Red Hill (Chislehurst Chiropractic Clinic) – the clever and extensive extension works were completed before Christmas and showcased at a fabulous launch party.
3 High Street (WHSS) – now has new business signage to the front.
8-10 High Street – designed by local business & CBG member, Nugget Design (who also did the revamp of Wrattens), Go Travel has had a complete and eye catching makeover.
23 High Street – The View hair salon has now rebranded as Tribe with a stylish new frontage and interior.
37 High Street (formerly Proctors) – is now Hunters estate agency with a revised frontage which followed our Shop Front Design Guide.
EYESORES
The phone box near Paper Lane has become a real headache!  Scheduled for decommissioning by BT back in February 2016, it remains on the High Street as an eyesore in its broken state.  Repeated attempts to get it removed meet with delay upon delay. I'm now told "that there are 1300 kiosks that had not been dealt with by our previous contractors.  They have told me that they will try and get it prioritised but I'm sorry I can't give you a date."
We reported the damaged traffic island outside Sainsbury's about 3 months ago – I am told that the island is due to be replaced and a new D island installed in due course.
PAVEMENT/CAR PARK WORKS
The private car park to the front of 3 High Street (Alan de Maid to Signature Dental) is being attended to.  The trees have been cut down and once the rampant ivy has been removed, I understand that attractive shrubs will be planted in this bed.  I also understand there are plans to resurface the car park.
The gravel driveway to Viscount Mews between Hunters & Paper Lane was causing a dangerous slip hazard as the gravel was spilling over onto the High Street pavement.  Having reported it to the Council and the developer we are pleased that it has now eventually been attended to and granite sets laid.  The last bit outside Paper Lane will be done soon.
The tarmac nearby which was put down when utilities were laid to the new homes should have been replaced by block paving by now.  I continually chase on this.
TRAFFIC & PARKING
The Willow Grove junction remains a priority for us; although there are no simple solutions the matter remains active.
I have assisted local residents with concerns about
crossing on St Pauls Cray Road and liaised with LBB & The Trustees on this
peeding traffic using Walden Avenue as a cut through to avoid the main traffic lights
I raised with LBB the issue of the narrowness of the spaces in Hornbrook car park and the use of the disabled bays but those not displaying a blue badge.  I do not believe anything will be done on the former but traffic wardens have been sked to be extra vigilant on the latter.
TREES & PLANTING
We are pleased to have assurance that the two empty tree pits in the High Street will be planted this season, hopefully within the next 4 to 6 weeks.
The beds in the High Street have had topiary box plants planted to enhance the look – thanks to id Verde for this.
PONDS
May we urge visitors not to feed bread to the ducks as this is encouraging the rat population to grow as well as being dangerous for the birds.  Birdseed is much better for the birds than bread, because of bread's high carbohydrate content which causes "angel-wing" deformity in geese and ducks – you may have seen some with what looks like stunted or broken wings.  Birdseed is available in small packs from Champion Wines & Barclays, just across the High Street from the pond.
EVENTS
A reminder that the many events taking place in Chislehurst are all on the VisitChislehurst website and often on the High Street noticeboards.  If you have a local community event to promote, do let us have details so that we can add it.
The CBG is hoping to put on an Easter event in the High Street this year – watch the Visit Chislehurst site/Facebook page for details
At the last CTT meeting there was a discussion about a possible flea/arts/craft market.  If you have some spare time and would be happy to investigate the feasibility of this for us, please get in contact
The Friends of the Rec are looking for sponsors, financial supporters, donations etc for Chislehurst Rocks 2017 which is scheduled for 17th June 2017 (subject to permissions being granted).  Although they are still applying for grants, their first application was unsuccessful so they need the community's help.  If you can, please go to http://www.chislehurstrocks.co.uk/sponsors or contact alison@focrg.org.uk for more information.  All donations are very gratefully received to enable this popular and free event for the community to continue.
We always need help to put on and run various events that the CBG and CTT put on on the High Street and in Chislehurst.  If you can help, please contact us.
FARMERS' MARKET DATES 
POLICE MATTERS
Representatives of the community continue to meet at the Chislehurst Community Advisory Panel meetings to discuss local issues of concern regarding crime and anti social behaviour.  If you are interested in attending or have an issue you wish raised, please email me.
CHISLEHURST POSTER
I understand there are still some (unframed) Chislehurst posters available from the Chislehurst Society.  Get yours for only £12 by contacting the Society on admin@chislehurst-society.org.uk
THE TOWN TEAM
Can you help – If you have got this far then you must have a real interest in what is going on in Chislehurst!  If you would like to play a part, even in a very small way, or maybe you have some great ideas you want to share, then please get in touch as we would love to hear from you.
Alison Stammers, Chair Chislehurst Town Team.
alison@VisitChislehurst.org.uk    Follow the Town Team on Twitter @ChisTownTeam
Disclaimer – The Chislehurst Town Team (CTT) is a group of volunteers who give freely of their time for the benefit of Chislehurst. Although care has been taken to ensure the accuracy, completeness and reliability of the information provided in this report, the author and CTT assume no responsibility therefore nor for opinions offered. The user of the information agrees that the information is subject to change without notice. The author and the CTT assume no responsibility for the consequences of use of such information, nor for any infringement of third party intellectual property rights which may result from its use. IN NO EVENT SHALL THE AUTHOR OR THE CTT BE LIABLE FOR ANY DIRECT, INDIRECT, SPECIAL OR INCIDENTAL DAMAGE RESULTING FROM, ARISING OUT OF OR IN CONNECTION WITH THE USE OF THE INFORMATION.