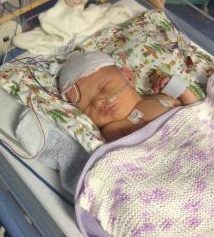 Visit Chislehurst caught up with the Andersons who wanted to share their son's story this Christmas. You see Christmas is extra special for this local family whose little son, Harry was  born on Christmas Day.
When Kate Anderson went into labour with her first child early on Christmas day in 2014 everything seemed OK. She and her husband Duncan were hoping to return to their Chislehurst home that afternoon with new baby Harry.
But excitement soon turned to fear as it became clear that something wasn't right.
Kate said: "He wouldn't feed and he had concerning eye movements which we later found out were seizures. Four days post-Christmas, our baby boy was blue lighted by ambulance to a specialist children's hospital in London and we were left clutching an empty car seat; longing to take him home."
Weeks in hospital soon turned into months as doctors tried to find out the cause of Harry's life-threatening seizures.
"We endured the awful sight of our son having up to 100 three-minute seizures a day; each one more terrifying than the next," said Kate.
When doctors found the right medication to control Harry's seizures, Kate and Duncan were finally able to take him home.
Demelza South East London (SEL) in Eltham was suggested to the family as somewhere which could help them between hospital and home to get to grips with medications and feeds.
Kate said: "Harry was very popular with the Demelza nurses and got lots of attention. The care team helped to build our confidence by showing us how to give medications and feeds. If we'd gone straight home we would've found it harder to cope. After we left Demelza I still had regular visits from social worker Michelle to talk through how I was feeling. It really helped me to process all of the terrible things we had been through as a family. "
Harry was finally diagnosed with SCN2a Encephalopathy – a rare mistake in a gene which causes 'disease of the brain'.
"There's no cure, he will never walk and probably never talk. He can't grab or play but he can smile and laugh which is a blessing. We know what a terrible hand Harry has been dealt but when we see him smile we know he is enjoying life."
"His beautiful smile is something which is always on show when he is at Demelza. We still stay regularly so we can recharge our batteries and Harry loves to be taken out on trips with the other children. When we're not at Demelza I know support is at the end of the phone whenever I need it. I can't take Harry to normal mother and baby groups out of fear of being judged by others who don't understand our situation, so I was very excited when were invited along to baby massage at Demelza. Harry found it very calming and soothing; he loved having his feet massaged and the singing always made him happy. "
"Our Christmas Day is now known as Harrymas Day – a day for our little boy who has defied the odds. Last year was a birthday and a Christmas we never thought he would have together. After spending months in hospital we knew we wanted to all be at home together and it turned out to be a very special day for us all."
Kate is urging people to support Demelza:
"Any gift you can give will ensure Demelza can continue to care families like ours – not just Christmas day, but 365 days a year."
"Christmas this year will be another important time for Harry as he continues to achieve milestones we never dreamed possible.  We have another special present coming our way with Harry's little brother or sister due in early 2017.  Sibling support is another important aspect of Demelza's support so we feel reassured that both our children will never lose out."
Find out more about Demelza at www.demelza.org.uk, follow the charity on Facebook at www.facebook.com/demelzahospice or @demelzahospice on Twitter.