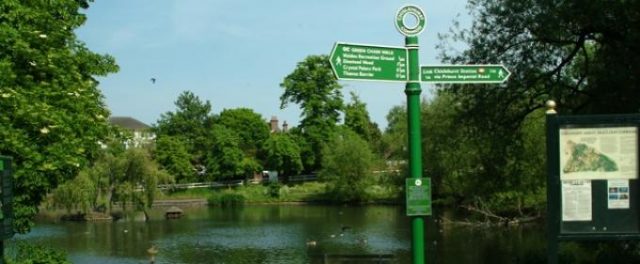 The Green Chain is made up of 300 open spaces of woodland, commons, parks and recreation grounds linked by a 50 mile sign posted walking network called the Green Chain Walk, forming one of London's most diverse official long distance walks.
Following the Green Chain Walk it is possible to travel from the Thames riverside at Woolwich, Thamesmead or Erith down to the southern suburbs of Sydenham and Dulwich in one direction and Chislehurst in the other.
The Green Chain is a landscape steeped in history, and the "Great Days Out" audio trails have been designed to guide you to some of its more hidden secrets. Print off the map and download the trail that lead to Chislehurst Village and discover more about this part of the Green Chain!
We also know how welcome a nice cafe is before of after a stroll- with this in mind each audio trail pinpoints where you can enjoy some excellent Cafes.
Autumn is a great time to visit the Green Chain, the woods and commons begin their slow change in colour as the leaves signal the change to Winter. The ancient woodlands surrounding the ruined Lesnes Abbey take you to another time. While on top of Shooters Hill, once the haunt of footpads and highway men, both the Capital and the rolling Kent countryside can be viewed in one sweep beyond Oxleas Wood which caps the hill.
The website greenchain.com contains maps of the whole area, information about features of interest, a noticeboard of current events and a fantastic photo competition for all budding photographers. A Green Chain Route Pack is available for just £3.50  including P&P -to order yours by post contact 020 8921 5599. More information here.