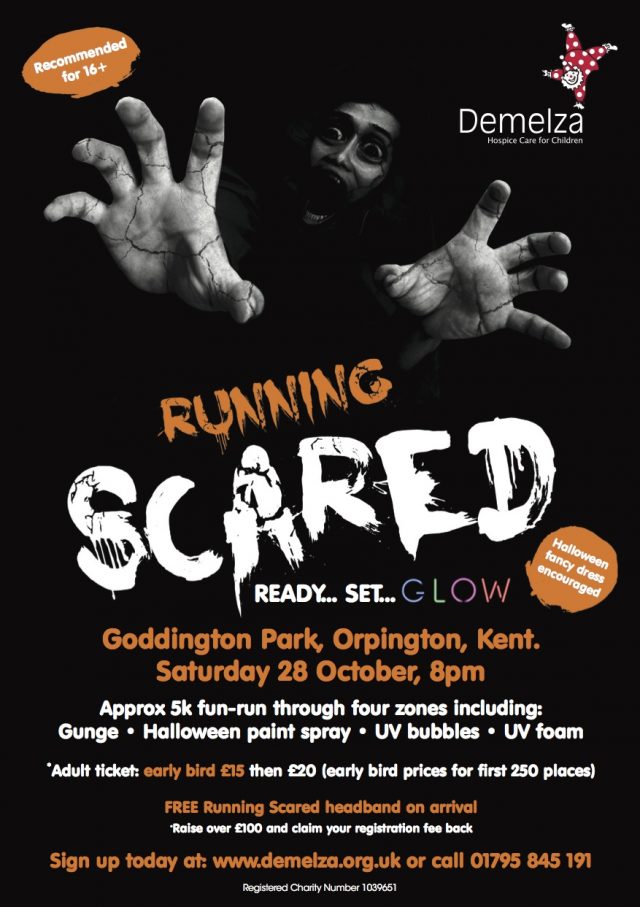 Demelza brings a fright night this Halloween
Witches, zombies, ghosts, ghouls, monsters and all manner of devilish figures will descend on Orpington this Halloween, as Demelza Hospice Care for Children brings The Monster Dash and Running Scared to Goddington Park.
Following the huge success of these spooky family fun last year in Maidstone, Demelza is bringing this eerie Halloween extravaganza to Goddington Park, Orpington on Saturday 28 October 2017. Tickets are now on sale, with the first 250 people who sign up to the event receiving an early bird discount.
The Monster Dash and Running Scared will see adults and children walk, jog or run through spooky surroundings and get covered in gunge, UV foam and bubbles all in aid of Demelza Hospice Care for Children.
The family friendly Monster Dash will be followed by the more frightening Running Scared, which is recommended for 16+ years, and is not for the fainthearted!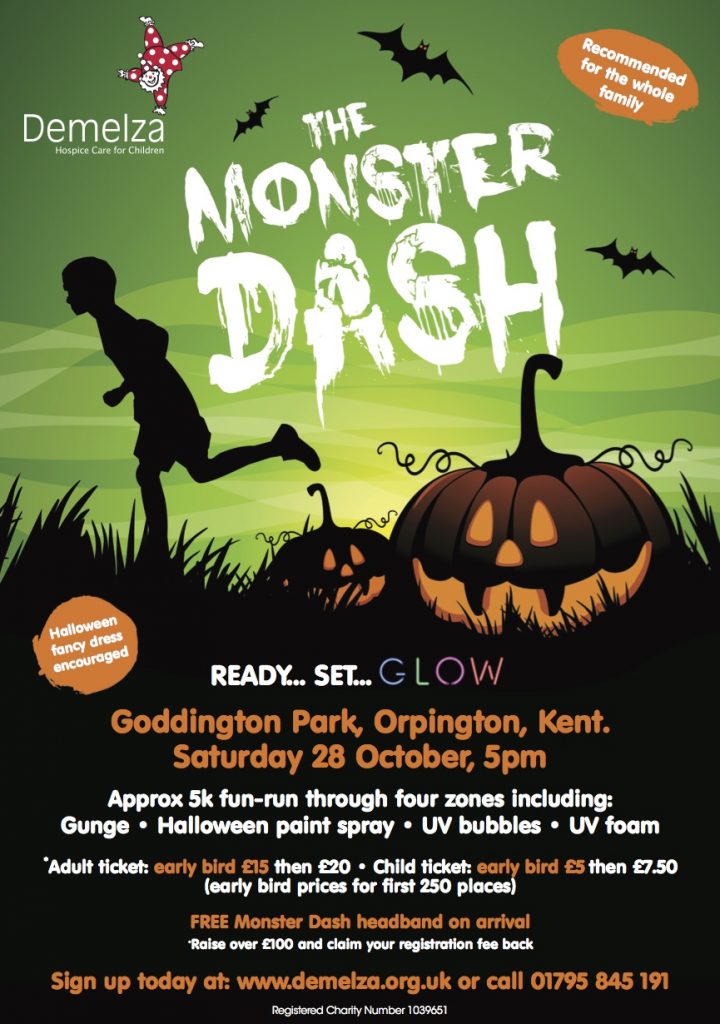 Participants will follow the course around the Pumpkin Path and Slime Time Alley as ghostly figures, menacing monsters and bloodcurdling vampires leap out of the shadows. At the finish line, runners will be faced with a devilish decision – to play it safe and opt for a treat or to follow the trick finish for a ghostly surprise…
This is a brilliant way to celebrate the Halloween weekend, with all funds going to Demelza to help support seriously ill babies, children, young people and their families in South East London, Kent and East Sussex.
Children like Harry. When Harry was diagnosed with a rare genetic disorder his mum Kate was put in touch with Demelza in Eltham: "Harry's beautiful smile is something which is always on show when he is at Demelza. We stay regularly at the hospice so we can recharge our batteries and Harry loves to go out on trips with other children. When we are not at Demelza I know support is just at the end of the phone."
We are delighted to announce that Kate and Harry will be officially starting the Monster Dash on 28th October. We hope you can join them!
To sign up or for more information, please visit the website: https://www.demelza.org.uk/support-us/challenges-and-events?month=2017-10
Find out more about Demelza at www.demelza.org.uk, follow the charity on Facebook at www.facebook.com/demelzahospice or @demelzahospice on Twitter.