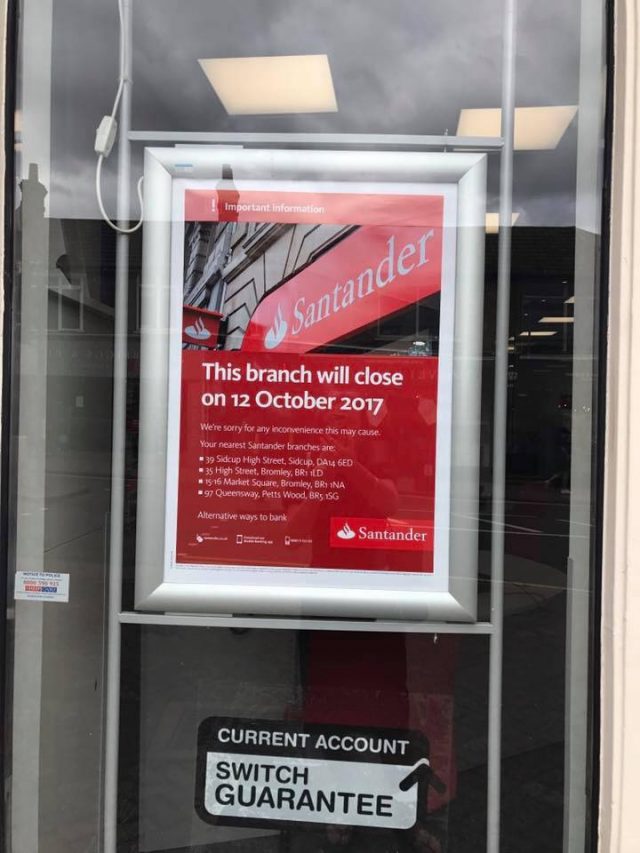 There seems to be a pattern to banks across the UK closing, and we can see the impact on Chislehurst High Street.
With HSBC closing in April 2016, NatWest June 2017 and now Santander proposed to close 12th October 2017.
The poster on the branch window (which was the first we had heard of the closure) apologises for the inconvenience and highlights the local branches you can bank with after the closure.
Sidcup – 39, Sidcup High Street, DA14 6ED
Bromley – 35, High Street, BR1 1LD
Bromley – 15-16, Market Square, BR1 1NA
Petts Wood – 97, Queensway, BR5 1SG
It's not just Chislehurst, banks are closing all across the UK:
More than 400 branches in the UK have been closed or are set to close this year
2017 set to be a record year in terms of the number of branches closing
Over the past two years, 1,046 branches have been shut across the country
(source: This is Money)
We are waiting for more information on the closure and the impact report directly from Santander. As soon as we have more information, we will update our website.