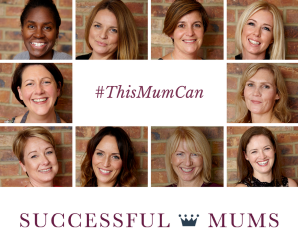 Make 2019 your best year yet with Successful Mums
At Successful Mums, we believe that the start of a new year is the perfect time to think about your career or business goals. We've supported many Chislehurst mums back into work or to start their own businesses, so when local parent and business woman Tamsyn Clark invited us to help even more women, while raising funds for Demelza, we jumped at the chance!
We will be running our popular two-hour Taster Session on Thursday 17 January at Glebe Football Club, from 7.30pm. Whether you're looking to return to work after a career break, want a better work-life balance, or fancy turning your hobby into an income, this fun and professional evening is for you.
Successful Mums founder Jane Knight will be sharing her expert career and business advice, including what should go on your CV after a career break and her simple steps for starting a new business. There will be confidence tips and work-life balance techniques, along with the chance to find out where all the flexible and family-friendly jobs are hiding.
This is a free event but we kindly ask that you make a small donation to Demelza Hospice Care for Children at the end of the evening.
Successful Mums has supported more than 4,000 women in Bromley borough and beyond, and works with hundreds of local employers who support what we do and embrace flexible working.
You can read what people say about our courses on our Facebook page here and see kind feedback on our Vimeo platform here. Our website also features many inspiring success stories, which you can read here.
Why not join us for our Chislehurst Taster Session and make 2019 your best year yet?
Find out more details and book your free place here.