Sport your shorts for Demelza!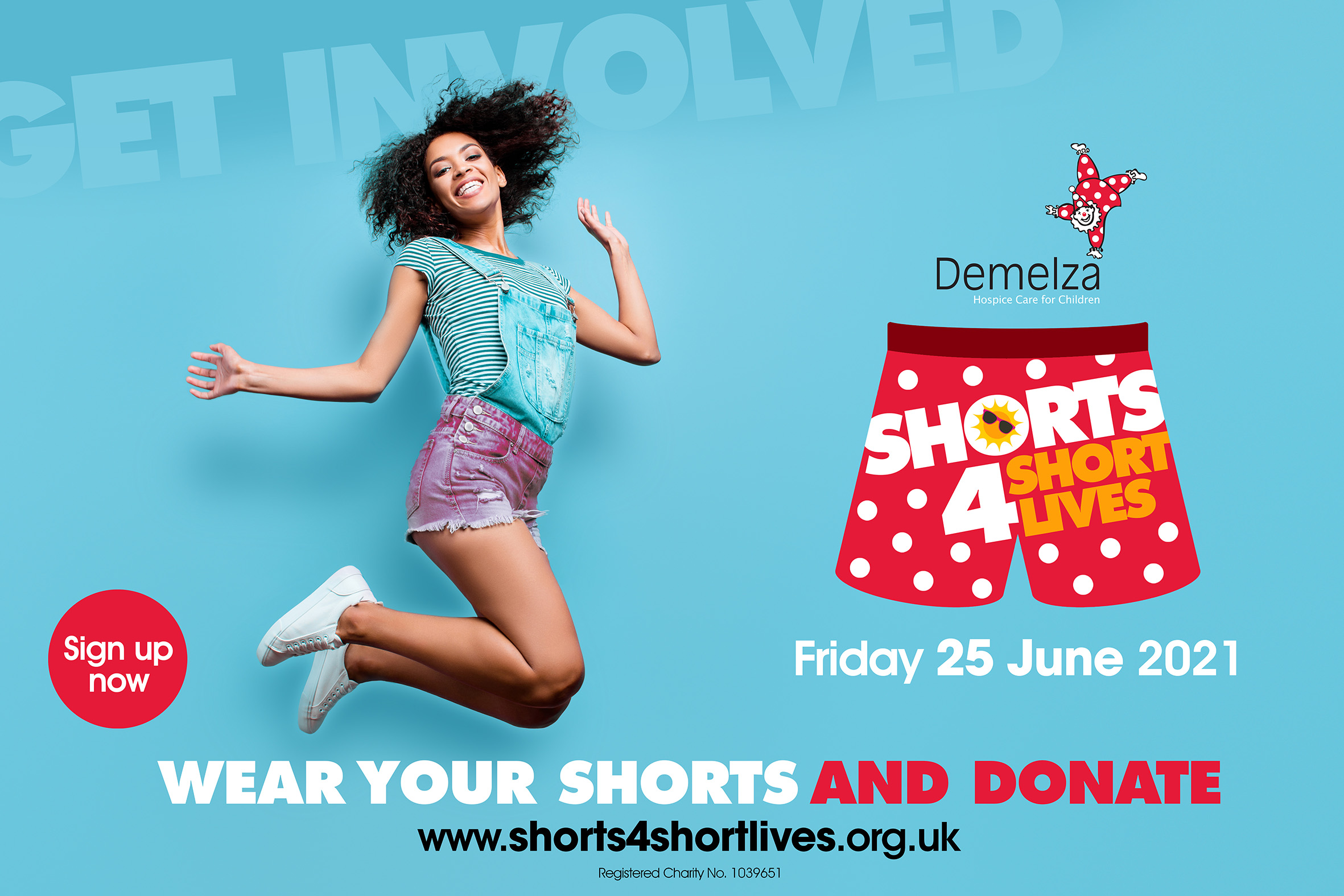 Sport your shorts for Demelza!
Local charity runs awareness day for the second year
Demelza Hospice Care for Children is calling on supporters of all ages to sport their shorts and raise much needed cash for the charity. Demelza, whose work is a lifeline to over 750 children, young people and families throughout Kent, South East London and East Sussex, has seen a significant drop in income as a result of the Coronavirus pandemic and its continuing impact on fundraising.
Shorts 4 Short Lives launched in July last year and was such a success, the charity has decided to run it for a second year, coinciding with this year's Children's Hospice Week which runs from 21 to 27 June.
The ask is simple – wear a pair of shorts, the funkier the better – and post a photo on social media on Friday 25 June, donating via a fundraising link to help support the charity's work and tagging in Demelza Hospice. Vice President and Strictly star, Len Goodman, has already signed up!
Workplaces and schools are being encouraged to take part, even virtually! Why not hold an online meeting with everyone wearing shorts, design or customise a pair of shorts or download the fundraising pack from the Demelza website for more ideas?
Hayley Richardson, Director of Fundraising and Marketing at Demelza said "When you have a child living with a serious or terminal condition, the idea that life's too short is more real than for most. This expression has more meaning than it ever has as we negotiate our way through the Coronavirus pandemic. Life is for living, and finding joy in every moment you can. Demelza's help is needed now more than ever to allow the families we support to focus on each other and make lasting memories"
Shorts 4 Short Lives is also supported by Demelza's Celebrity Ambassadors Cheryl Baker, and former Olympian Robin Cousins.
To take part in Shorts 4 Short Lives, for more information on the campaign and to donate go to https://www.demelza.org.uk/support-us/shorts-4-short-lives
Find out more about Demelza at www.demelza.org.uk, follow the charity on Facebook at www.facebook.com/demelzahospice or @demelzahospice on Twitter.
Right now, there are almost 50,000 children with terminal conditions in the UK. And as more children live longer with their conditions, there's increasingly urgent need to support them and their families.
· For every parent, the health and happiness of their children is the single most important thing in the world. But the reality is any child could be born with or develop a terminal condition.
· Demelza provides specialist care and emotional support for children with terminal conditions, whether in family homes across East Sussex or in the family hospices in Sittingbourne and Eltham. Demelza can help families and their loved ones enjoy their time together, for as long as they have.
· The unique support we give comes at a price, and at present we're only reaching 20 per cent of the children that we could help.
· As a charity, we're almost entirely dependent on the generosity of our supporters to provide the funds that keep our services going. Please help us make sure every family and child can depend on us when they need us most.
For further information, please contact:
Kate Barber, PR and Communications Manager
Tel: 07889 565241
Email: kate.barber@demelza.org.uk