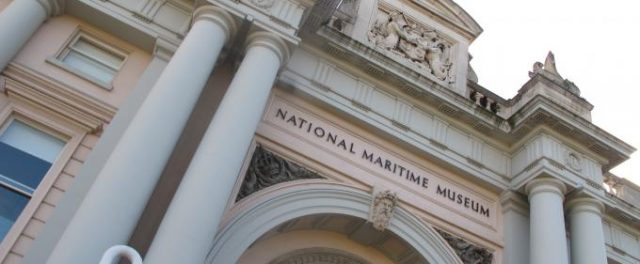 30 minutes from Chislehurst is….AHOY! Childrens Gallery
So, this time it's raining and we need to find an indoor activity for Ted and Henry. Wet, soggy, rainy days are always the worst for entertaining the under 5's. But I do believe we found the answer and yes, still within 30 minutes from Chislehurst! We decide to take a trip to the newly opened Children's Gallery, AHOY! at the National Maritime Museum in Greenwich.
It takes us 25 minutes to get from Chislehurst to Greenwich and we park at the museum itself as it is the weekend. There is no doubt this would take longer during commuter times so avoid if you can. You do pay for parking but as this is a free museum we felt it was worth the paying charge. We enter through the Romney road entrance which means we arrive almost immediately at the Children's Gallery on your left through the main entrance.
We are out of the rain and within the safe confines of the warm gallery inside. It is very warm it has to be said but the boys are off exploring and there is something to satisfy each of them – Henry, the one year old and Ted, the four year old.
There is a dedicated under 3's area which contains a Beach Hut and Shop, Boats & Rockpools and an Underwater area with bubble tubes to awaken their senses. For my little one, it is enough to be clambering in and out of the rockpools and the ability to clamber seems to satisfy him. I can't help but notice that a similar aged girl is enjoying the Beach Hut and Shop equipped with lovely bits and pieces to sell. She is carefully organising all of her goods and selling to her siblings. My boys are a little more on the raucous side and no such concentration exists as yet.
Henry is now focused on the cargo ship and is busy stacking cargo onto the ship and making it wobble. I think he is supposed to be balancing it but he is having too much fun seeing it bobble about and bricks flying off it. Whatever works Henry!
Ted has found his way to the Boiler room of the Liner. And he is busy stoking the boiler and this is hot and sweaty work. Henry has now joined him and the two of them are busy stoking the boiler, talking to each other through the listening tubes and playing with the dials and buttons. Ted loves this bit and is very busy. He could probably spend most of his time here but we eventually lure him out with promises of a sea battle.
The sea battle is where they can fire small cannons (soft balls) at the targets and try and score points. Whilst his firing skills aren't perfect, Ted has loads of fun shooting the balls and spends ages once again on this little activity.
Henry is cooking up a stew in the pirate kitchen and clambering into the pirate's cabin with dressing up clothes. He loves ferrying things to and fro and the pirate kitchen allows him his fun. Shipping food from the boxes into the pot.
Both boys join up to play with boats on an air hockey style bay weaving around the many islands. This keeps them busy for a while but they soon move on; Ted to mending boats and Henry to the Fishmongers Shop. The shop is beautifully laid out with lobsters, mussels, clams, crabs and sardines. It's a great education for the kids and I am busy trying to explain all the many seafoods.
Like with all children, they seem to scope out the room and then decide on their favourite thing. Ted and Henry head back to the boiler room to stoke their fires. We stand and watch; they are having a wonderful time and now we are simply supervising their play rather than having to initiate and explain each of the activities. I like the fact that when we go back they will know where to go, seek out their favourite bits and probably sample more of what they didn't focus on.
We hardly touched the Arctic Explorer section where you get to drive an ice breaker (there is a queue), a tent and again, more dressing up. For next time!
Overall, we are there for around 90 minutes. We then head to Paul (the French patisserie) on the 1st floor which overlooks the Great Map. We grab ourselves a drink and the boys have an opportunity to run off some steam around the map but all in our sightlines which makes the café experience that much easier. I love this place because there is plenty of space and if you are lucky enough to get a table, there is plenty of room for the buggy and the kids don't feel confined to the table.
All in all – a great little trip just 25 minutes from home.  And definitely one we will be returning to. This gallery is aimed at 0-7 year olds but they also have a second children's gallery on the 1st floor called the All Hands Gallery which is aimed at 6-12 year olds.
For opening times and more details of special events, please visit the National Maritime Museum website.
If the weather is good, you also have the wonderful Greenwich Park on your doorstep. This could include a short hike to the top of the park to see the Meridian Line at the Royal Observatory, a quick 2 minute walk to the Children's play park and sandpit and simply a pleasant picnic overlooking the museum itself. This is a beautiful place and there is no doubt you can spend a whole day in Greenwich if you include things like the Cutty Sark and the Royal Naval College.
To read all our 30 minutes from Chislehurst features, please take a look here.
Written by Tamsyn Clark
Photographs by Mark Grover