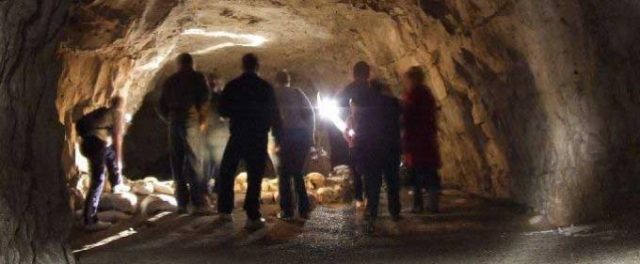 Just 30 minutes from Chislehurst is…Chislehurst Caves
In this edition of Just 30 minutes from Chislehurst, we come closer to home. It is more like 5 mins in the car!
When people talk about Chislehurst, they probably mention three things; the Pond, the beautiful Commons and the Caves.
The Chislehurst Caves have become synonymous with the town and they are famous for lots of reasons. I am eager to find out more about this unusual place.
Having lived in Chislehurst for two years, I hadn't yet the opportunity to visit. I have two young children (Ted, five and Henry, two) and before now, it hadn't felt like an appropriate family visit. I'd heard it can be a little scary!
Our guide is Terence Grimes who has been conducting tours for many years. We are in good hands as he sets the scene for what's ahead. I am not sure what to expect of this underground maze. I also feel Ted gripping my hand, he clearly shares my trepidation and we tentatively enter the Caves hand in hand. Henry is happy as Larry; clearly not altogether aware of what awaits.
As we gather at the first gathering point, all the adults are given paraffin lamps (somewhat adds to the occasion) and we are guided to a giant map of the Caves. I say "Caves" but it turns out we should be referring to them as Mines. These are not natural caverns but passages carved out of the hillside by men in search of chalk and flint. Whilst Terry is keen to give a sense of the history of the mine, he explains it is really difficult to know just how old the place is but we are talking thousands of years, not hundreds. The mines themselves are huge, stretching over 6 hectares and are up to 30 metres below ground.  That's about 6 international rugby fields – this place is immense.
Terence is keen to cover the most important periods in the Caves history and the mines had their time as an Edwardian Tourist Attraction, an Ammunition Depot during the First World War and a Mushroom Farm during the mid-war period. That brings us nicely to one of its more famous roles as a refuge for thousands of people during the 2nd World War, seeking protection from the Battle of Britain and the Blitz on London. The mines were transformed into an underground town of some fifteen thousand people complete with lighting, ventilation and sanitation. The tenacity and ingenuity of this generation was to be frank, incredible. I am inspired. Ted certainly isn't taking in all the detail but the guide and the visual displays bring alive the fact that people lived here. He is fascinated. From simple beginnings; with people sleeping on the bare floor, the Caves committee worked hard and soon there were bunk beds, electric lighting, a canteen, entertainment, a medical centre, a citizens advice bureau, a cathedral and even a choir.Terry also tells us about the birth of a little girl in the Caves, the only baby to be born underground during the War. Her parents chose to call her "Cavina Rose".
One of the other fascinating periods for the Caves was during the 60s and 70s when they played host to some of the most iconic bands and artists of that time. Bands such as the Rolling Stones, Jimi Hendrix, David Bowie and Led Zeppelin all performed there. The advent of health and safety means that events such as these are no longer possible. How sad – it must have been incredible to be at one of these gigs.
The tour then takes a slightly darker turn with tales of ghosts, ghouls and even murder. Our five year old is now a little perturbed, as Terry retells tales of yore with stories of druid altars, murder and inexplicable noises and sounds that guides have heard.  I am not one for ghosts but Terry is pretty convincing.I won't spoil the full detail for you but needless to say the Caves are well worth a visit. History, intrigue and a little bit of fun too.
I catch up with Jason, the charismatic manager of the Caves after our tour and he explains that every tour is different with each guide giving their own personal take on the labyrinth below ground. I love this – this is a privately owned tourist attraction and I admire the fact that there isn't an overly sophisticated corporate strategy with photo opportunities, over-zealous programme sellers and a gift shop and café that overcharges. The café is a great addition to this visit. Whilst it is dated in appearance, it makes up for it with their delicious home-made cake. Try the marble cake – ours was gone in seconds.
Part of the Caves charm is its simplicity – they let the Caves and their stories do the talking.
We will definitely be returning once the children are a little older and able to really enjoy the experience. My two young boys were definitely a little scared and the Caves may be more suited to slightly older children.
For opening times and costs, please visit their website: www.chislehurst-caves.co.uk or call 020 8467 3264.
Please do read our other Just 30 minutes features here.
Written by Tamsyn Clark
Photographs by Mark Grover
This article has also been featured in the December edition of Meridian Magazine.