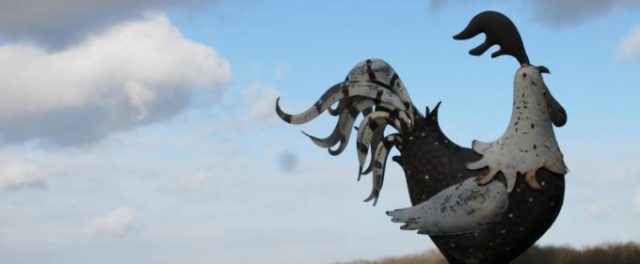 A visit to Coolings Green & Pleasant Nature Trail…
Our recent survey has shown us that one of the things our readers want to read about (amongst other things) is what there is to do with kids in Chislehurst and the environs.
Hence this new feature is born – "Just 30 minutes from Chislehurst…."
So, here is the dilemma. A winter's morning in February, my husband has left for work and I've nothing planned for the kids (two boys – four and one). Panic normally sets in. It's not been a busy weekend so I am feeling the pressure to "run the boys" (sorry, don't meant to compare my boys to dogs but there are similarities) and get some fresh air. The saving grace is that although its cold there is some sunshine about.
So, what shall I do? Got it. Use my annual membership to Coolings Green and Pleasant Nature Trail in Knockholt.
I timed it. It's just 24 minutes in the car to Knockholt and the Nature trail. The boys have been before but they never tire of it. We probably go once a month and the changes in the seasons keep it fresh and interesting each time we go.
What's great about driving to Knockholt is that you really feel like you've reached the countryside. You drive through proper fields and several villages, including the village with the best possible name – Pratt's Bottom. We pass the pirate themed playground in the village but we've not stopped as we're usually in a rush to get back for lunch or dinner.
My eldest knows the routine. We arrive, set up the buggy for my youngest and off we go. Ted is already contemplating whether he needs sheep feed or pig feed and discusses the virtues of each as we walk to the entrance to flash the membership card, pick up a map and buy the feed. Having decided on sheep feed, Ted is a little disappointed to hear that the sheep have been retired to a local field! Trying to explain to a 4 year old what "retirement" is was a little perplexing for him. Anyhow, Pig Feed it is (and its only 60p which helps).
We arrive at the stone arch which marks the entrance, there are the signs reminding us that there should be no picnics and food etc due to the animals on site. Through the arch, Ted grips his map and immediately zooms off to the maze mound (as I call it). It's essentially a small path up a very small mound but Ted loves it and again its part of the routine. My kids love routine….
We go past the scarecrows on our right and round the corner to see the Wallabies first. Ted loves the Wallabies and imitates them hopping around. At least six of them are crammed inside the hut today (must be feeling the cold) and Ted remarks that they are like a family, just like us. That's right my son – just like us!!!
Coolings Nature Trail is set within a small wood essentially and the landscape is beautiful. I've been in the height of Summer and I like the fact that it's a bit shady for the kids. We weave around the various attractions. Ted on foot and Henry in the buggy but Henry getting out when he's squealing to be set free. The whole place is pretty buggy friendly although I would imagine on wet days it would be a no go.
Once we are past the Wallabies we arrive at the Conifer Tunnel. It's a beautiful path with trees either side that children love to run up and down, out the other side and back again. I've got some beautiful pictures of the children emerging from the end of it. It seems to be a firm favourite amongst the many families visiting today.
One of my funnier moments today is arriving at one of the many little houses on the trail to find a Mother singing to her daughter the well known tune from Frozen, "Do you want to build a snowman" and acting out the scene where Anna is pleading with Elsa to play with her. The Mum looks immediately awkward at my arrival so to appease her embarrassment and in an act of Motherly solidarity, I find myself breaking into song too. Ted is amused. He knows the song too but refuses point blank to sing along. He's too cool for school even at 4.
Other attractions include everything from goats, sheep, tepee tents, pigs, a bird hide, bee hives, ducks and geese, a human sundial and even some chickens.
The circular trail finishes with an opening in the middle of the wood with The Tree of Memories. People are encouraged to leave a ribbon (with a donation) on an impressive Copper Beech and reflect on loved ones sadly gone and beyond our reach. All donations go to the Chartwell Cancer Trust for the Chartwell Unit at the PRUH in Kent. The result is a magical tree for children to marvel at and for parents to take a quiet moment.
For me, it's just enough. With a 1 year old (around 20 months) and a 4 year old with a low boredom threshold it takes about 45 minutes. I have been with friends and their kids and I tend to find the visit is longer as they play in the huts, wigwams and stare at the animals far longer when they have their padres in tow.
My visit is made that little bit longer by our compulsory trip to the café which is very family friendly. It's not one of those cafés where you feel you need to constantly apologize to everyone around you for having children. They even have small tables and chairs for the kiddywinks which immediately puts the parents at ease. It's sweet but not overly grand and having just tramped around the woods in your wellies, you don't feel guilty! Ted and Henry share a chocolate brownie with Mummy (also becoming part of the routine) and we trot back through the well stocked shop to the exit. The boys stop at the current Easter display. If you are looking for bunny rabbits, spring bunting or anything similar – this is the place to come!
What is great about Coolings is that its only £4.80 for adults and kids under 5 go free (over 5 is just £3.00). In fact my whole visit was less than a tenner (including the trip to the café). You can rarely do this these days. In my view, it is excellent value for money. They are not attempting to find ways to make you spend your money at every given moment. There isn't the ubiquitous guide book for a £1, map for 50p or a stock of chocolate at the counter. Coolings remains traditional, homely and back to good old fashioned values. This is probably reflected by the fact that the company is owned by a local family and whilst a successful business they seem to retain those important family values. It's a business I am happy to support.
Having left at 10am, we are at home in time for lunch (it took only 20 minutes to get home) and the boys are looking fresh in the face after their morning out. They both eat well and then the youngest is off to nap and the other contentedly playing with his Lego. It really is a great morning or afternoon out and only a short distance from home.
To find out more about the Coolings Green & Pleasant Nature Trail, please visit their website for opening times, admission prices and directions. During the October Half Term, they are also doing Birds of Prey displays and Owl Handling with Hawkforce.
Written by Tamsyn Clark