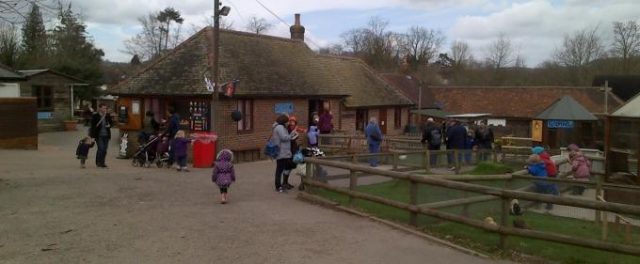 Just 30 minutes from Chislehurst is….Godstone Farm
So, initially I didn't think this trip would fall within the 30 minutes criteria but it does – just. I timed this one from the petrol station on Perry St to Godstone Farm. We left at 10.31am and were pulling into the car park at the farm at 11.01am. So, depending on where you live in Chislehurst, this is just within the 30 minute zone. It is a really easy drive as it is only a few minutes from junction 6 on the M25.
If like me, you are looking for something to entertain the little ones over the Easter holidays, this is a great trip that is a full day out for the whole family.
Arriving slightly later, the car park is busy and there is a small queue to get in but within 10 minutes we are into the park and meeting up with Ted and Henry's little friends. I have arranged to meet a friend with her two girls and they are already enjoying the immense play park set to the right of the entrance.
This is probably one of the biggest adventure playgrounds I have ever seen and for four year old Ted, I think he believes he has arrived in heaven! The area is full to bursting with sandpits, slides, climbing walls, rockers, climbing towers, bouncing bridges and diggers. Ted and his little girlfriend immediately head to the immense sandpit and they are easily amused for around 45 minutes whilst the younger ones are equally amused by the mini rockers and the slides. By the time they are getting bored of the sandpit, they are ready for lunch and we have our picnic on one of the many picnic benches scattered across the playground which also has beautiful views over the Surrey Hills around.
Once we have finished lunch, had a bit more play on the towers and slides, we head back towards the main farm to enjoy the many farm activities. We simply don't have chance to do everything and we pass the "Ride on Runway" where little ones take turns to run down a small slope on small trucks. Ted spent an hour on this activity last time he came!
The farm itself has an array of animals that would satisfy most small children. They have cows, llamas, chicks, pigs, sheep, goats, rabbits, guinea pigs, chinchillas, ponies, horses, chickens, turkeys, ducks, geese and even a rhea (a new one on me!).  They are well spread throughout the massive site which is interspersed with the many play activities such as the indoor soft play barn and ride-on tractors.
We couldn't get into the main indoor soft play area as there was a quite a long queue but we did manage to get into the Red Slide Barn which is a fantastic undercover wooden climbing frame with great slides and wooden vehicles to play with. The area is also gated so you feel safe in the knowledge that your children cannot escape!
In order to move the kids on, we announced it was time for the dinosaurs and we were off to the Dinosaur Trail which features everything from a stegosaurus, pterosauraus and a triceratops.  The trail is both fun and educational with a historic timeline, amazing facts and you can even dig for bones. All the dinosaurs roar as they see you coming and Ted is transfixed by the baby T-Rex towards the end of the trail. Little Henry loves having his picture taken in the jaws of a T-Rex and he is busy roaring just like the dinosaur. Great for some pictures to send to my husband who is busy at work!!
We now head back through the farm and we notice the animal handling area where the children can stroke rabbits, cuddle some chicks and you can even pat a turkey! Ted loves holding a chick and waits really patiently to take his turn.  You can tell he is keen but when his beak gets slightly too close to his chin then he's ready to move onto the next thing.
We have now been here for almost three hours and we decide to head back to the play area to end the day. The boys are rewarded with a great end to the day with 45 minutes blowing off steam in the park. We head up to the top of the park, get ourselves a drink from the kiosk and sit down whilst the children enjoy the diggers, roll down the astro-turf slope and the little ones play choo-choo on the kiddy train.
This is an immense day out and had the weather not begun to turn by beginning to rain we may have stayed longer. It had begun to get cold and rainy and the kids were getting tired.  We headed back to the car park having spent nigh on 4 hours at the attraction content that we had receive good value for money.
The Farm is £8 for adults, £8 for children (aged 2-16 years), £3 for children under 2 and Children under 1 are free of charge. This type of attraction is perfect as a highlight for the Easter holidays.
It is not over commercial, whilst there is a gift shop, there isn't photo opps and food outlets at every given moment. My friend and I felt it was a good balance for families with something to do for all ages.
We didn't cover everything – we didn't do the tractor ride (an extra £1), the second sandpit or the indoor play barn so there is plenty of reason to go back. We will definitely be returning as a family.
For more information on Godstone Farm including opening times, please visit their website. Godstone Farm is open as normal on Easter Sunday and Easter Monday, 10am til 5.45pm.
Written by Tamsyn Clark