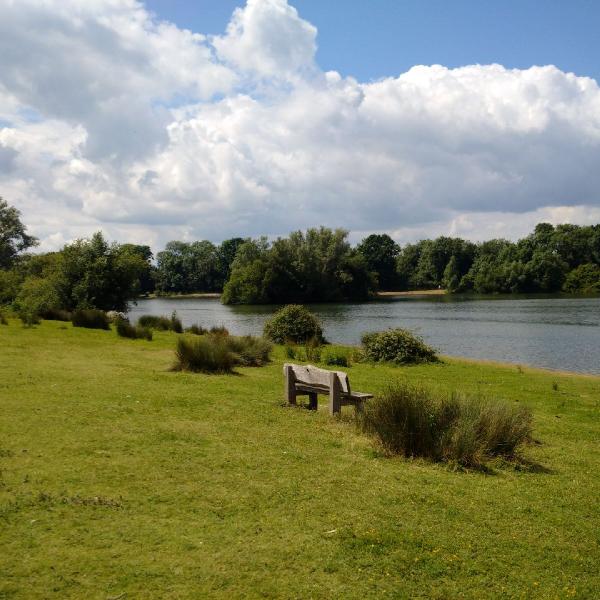 Just 30 minutes from Chislehurst is…Haysden Country Park
All in, traffic being good, this one will probably take you about 40 minutes to get to, just west of Tonbridge.
Haysden Coutry Park is a pleasant morning or afternoon out with the kids that takes in the beautiful Barden Lake but also has a simple but well stocked play park at the end to keep the kids entertained.
Our boys enjoyed cycling some parts of the park, alongside Barden Lake but this does limit how far you can go as cycling is not allowed around the entire park.
You will pass fisherman spending lazy days waiting to catch their fish, families on dog walks and the pleasant surroundings of a river, grassland, freshwater lakes, marshland and woodland. This place really does have it all.
The site is designated as a local nature reserve and also has a Green Flag Award since 2006.
There is a child's nature trail if you fancy taking this on however I have only just spotted this since being home! There is also leaflet and map that can be downloaded here.  We centred on the footpaths around Barden Lake from the main entrance and then took a route through woods, along the river and back across the Friendship Bridge at the top of the map. In parts this was tough with the bikes and my husband and I ended up carrying bikes through narrow muddy paths! My recommendation to other parents is to check the website before going. But we saw many families with older children braving the routes!
The play park near the car park is a work in progress and from signage at the park, I could see that they have great plans for it. This park is not on the same level as the parks at Shorne Country Park or Swanley, but it has plenty for the kids to engage with. There is a zip wire, slides, climbing mounds and more for both toddlers and older children.
There is also an outdoor café / kiosk on the site which would be good to sample in good weather.
All in all, a pleasant afternoon out if you are looking to explore further afield. This park is free to enter but parking is £1 for up to 4 hours and £4 for over 4 hours.
Written by Tamsyn Clark