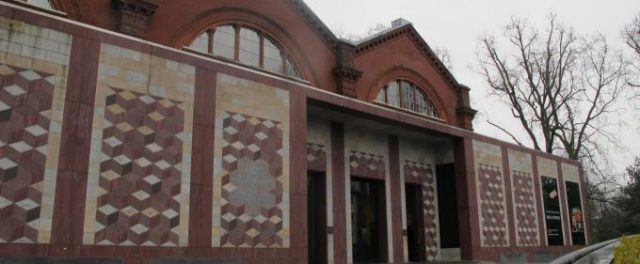 Just 30 minutes from Chislehurst is….V&A Museum of Childhood
It was a cold, damp Sunday and we were keen to tire out, sorry, stimulate and educate our two children. Something new, not too far, easy to time with the little ones nap, easy access and plenty to keep the monkeys occupied, not too much to ask, right? But where? Godstone Farm, too cold. The Maritime Museum, too close. The Sky Line, too quick. The Science Museum, too far. Plus we have done them all numerous times. A friend had recommended The V&A Museum of Childhood in Bethnal Green so we decided to give that a go.
We were feeling lazy so took advantage of the lack of a congestion charge on a Sunday and free on street parking (readily available on Cambridge Heath Road) and drove to the Museum (E2 9PA for your SatNav). It is also easily accessible by rail, it is 5 minutes from Bethnal Green Underground and 10 minutes from Cambridge Heath or Bethnal Green.
So, we timed it and it is roughly 30 minutes. The tip is to leave early. You would struggle to get there in 30 minutes if you leave it too late (after 10am). Early risers will do it in 30 mins but if the Gods of the Blackwall Tunnel are not looking favourably on you, it could well take 45 mins, and maybe even an hour if things are really not going your way. Dont shoot me if its not exactly 30 minutes. Call it poetic licence.
The museum is centred a round a large central space which houses the shop and café too, I can recommend both the bacon sarnie and the cake!
Many parts of the museum are set up as one may expect, glass boxes housing an array of toy treasures spanning over 100 years. It was great fun for my husband and I to spot well-loved toys from our own childhood and to share these memories with our own little ones, not that they were that interested in our nostalgia! The best part of the day was spent on the hands on displays for the children to use and explore. These were spread over both floors. Everything from a large wooden car, dolls houses, Lego stations, light boxes, a sensory space, rocking horses, magnet toys, train sets, building blocks, a play kitchen, dressing up and even a large indoor sandpit and 2 punch and Judy theatres complete with puppets. It really was a fantastic place for the children to explore on a cold, wet spring day. There were even deckchairs by the sand pit and puppet theatres so us adults could rest our weary legs! Our children loved it and by no means did everything. If you have young children go, you won't be disappointed.
A little extra information; the museum is free and they have regular free drop in sessions suitable for 3-12 year olds through out the week. There is a full list on their extensive and informative website but when we went there were two interactive sensory story telling sessions, an object handling and exploration session and a creative arts and crafts session. We didn't attend but they did look fantastic and all are welcome. Also head to the information desk to borrow their Montessori Family packs, including map, activities, storybooks and toys.
Overall this is a great place to visit and I would highly recommend it. As I mentioned before, take our advice and try to get there for opening at 10am. For us this meant it was quiet, both in the museum and on the roads, and the children pretty much had free reign. We stopped for lunch in the café, delicious, and returned home once the children were flagging and the little ones nap was calling. We fell into the car exhausted, happy and with little fingers clutching pocket money toys they had negotiated out of us. Both children are keen to return soon and, to be honest, so am I.
Written by Rebecca Evans
Edited by Tamsyn Clark
Photographs by Mark Grover