Calling all infant and primary school PTA's!  With the forthcoming Jubilee, we are inviting schools to create their own exhibition of artwork to commemorate Her Majesty the Queens, 70 years on the throne.  Her Platinum Jubilee!
All children of primary school age may enter and the school will be judged overall on their efforts and creativity.  Children can create the pictures at school or at home, but they need to be exhibited together at school.  The judging will take place on or before 10th June 2022.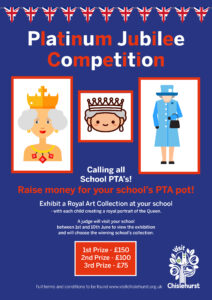 Terms and conditions:
Entrants must register their schools interest to sue@visitchislehurst.org.uk by 18th May 2022
The artwork can be created out of any material and should portrait HM The Queen.
There are 3 prizes, 1st Prize – £150, 2nd Prize £100, 3rd Prize £75
The prize money will be paid directly to the winning school's PTA
The artwork must be exhibited between 1st – 10th June 2022
The artwork will be judged between 1st  – 10th June 2022
The judges decision is final.
Primary school's must be in Chislehurst.  Schools outside of BR7 are excluded.
Winners will be announced by 15th June 2022
The prize fund is part of the LBB grant for local towns, which has been generously donated to Chislehurst.