HM the King has taken up full time residency in BR7 and has made his home on Chislehurst Commons!
Joining his fellow bear colleagues, just in time for the Coronation on May 6th, we are delighted to welcome another wonderful carving from Will, at Chain-Saw Carvings.  He didn't quite arrive in a golden coach, but he did arrive on a fully air conditioned trailer with surround sound and vision!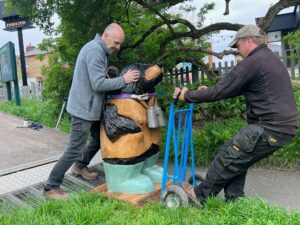 Already Chislehurst is home to many Bears, carved by Will, who are hidden throughout Chislehurst and feature on a bear trail.  The latest bear celebrates the Coronation of the new King and is dedicated by the Visit Chislehurst team and the Chislehurst Business Group.  We hope that he brings joy to those who pass him by in their everyday lives in BR7.
HM the King took a little 'man-handling' to get into place today, but we are sure that he will enjoy his view of the pond, the wildlife and the daily pleasures of life in Chislehurst.
A huge thank you to Will for yet another wonderful carving!