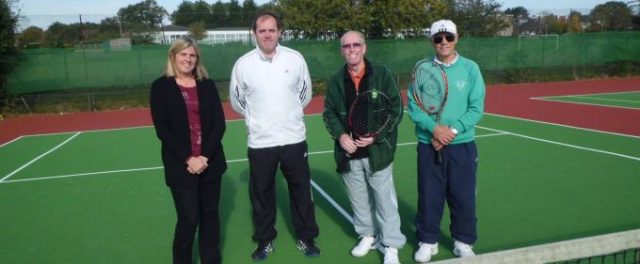 With Wimbledon in full swing, Visit Chislehurst sent local resident, Mark Grover to the Chislehurst Tennis Club to test the facilities and meet the Chairman, Clive Richardson….
Although I always had fun tennis playing at school, and even played in a couple of junior club teams, it had been a number of years since I had ventured onto a court.  Now, with two young children of my own, I often walk past the Chislehurst Tennis Club's courts on my way to the Chislehurst Recreation Ground's play area. I sometimes pause to watch a few rallies but I have never got round to brushing the dust off my racket and venturing back on to court. There always seems to be an excuse not to. So having not played for so long it was with some trepidation that I met with Clive Richardson, the Chairman of the Chislehurst Tennis Club, for a knock about and an introduction to the Club.
When I arrived; Clive was already on court, not with a tennis racket in his hand as I had expected, but instead, grasping a pair of secateurs. For a moment I thought that this may be some new coaching technique that I'd missed in my years away from the game – but no, he'd just arrived early and had taken the opportunity of trimming the hedges around the courts. It was the clear that his role as Chairman was pretty hands on!
Clive could not have been more welcoming. He loves the game; regularly playing four or five times a week, and clearly wants others to share his enthusiasm. Within a couple of minutes, we were on court knocking some balls around and despite the fact that a number of rallies were cut short by an annoyingly high obstacle placed in the middle of the court (the net!), it was great to be playing again.
The Club was formed in 1976 when the courts were due to be closed by the local council and since then the club's committee have worked hard to keep the courts and small club house, in good repair. I am delighted to report that the four courts are in great condition.  There aren't the grass, clay or indoor courts that are available at the much larger facilities found in Bromley or Sundridge Park, but for a community focussed club the facilities are more than adequate, and with membership fees at a quarter of the price of the larger clubs they are much more affordable too.
The club continues to raise funds to maintain and improve the club. Clive spoke about his hope to trial some flood lighting to extend the hours of play during the darker evenings and that he was aware that this would only be progressed following consultation with, and the support of, the owners of the properties adjacent to the courts.
It was clear that getting people of all ages to play tennis was a key driver for Clive's involvement in the club. Increasing, or at least maintaining, membership numbers is inevitably financially important for a small, grass roots club but it was apparent that there was a genuine wish to encourage people to play the game so that the wider Chislehurst Community could enjoy use of these local facilities. The club is, for example, currently developing links with local schools such as the neighbouring Red Hill Primary School. One of the hopes is to add a new gate through the perimeter fence of Red Hill School's playing fields to allow the children direct access to the courts without the need to venture on to the busy High street.
As we played, I noticed a family playing on one of the other courts. The kids were clearly having a great time. Clive said that the Dad had initially joined the club as a junior member and that it was now great to see him bringing his own little juniors along with him. Seeing how much fun the children were having I couldn't agree more.
The club provides a number of opportunities for non-members of all standards to start playing. There are free taster sessions on Sunday mornings from 10am until 12 noon, and the courts are open to general public  on a "pay and play" basis at the following times: Sunday 10.00am -1.00pm, Wednesday 10.00am – noon, Tuesday 6.30 – 8.00pm. The pay and play sessions are £5 for non-members.  Matt Brolly, a qualified coach and the club's Director of Coaching, coordinates a range of very popular junior coaching sessions on Saturday mornings, covering various age-ranges. For more experienced players the club also has men's, women's and mixed teams.
Having returned home after the game, still with my racket in hand, I soon found myself in the back garden playing a mini garden championship with my own boys, aged four and two. It doesn't take a lot to spark the enthusiasm in young children, and my session with Clive seems to have resulted in at least two new tennis fans.
Having local courts in the centre of Chislehurst is easy to take for granted, but they will only remain there with the continuing dedication of members like Clive, along with the support of the local community.  Having seen how welcoming the club is I'm sure that I will be signing myself and my family up. It is a friendly club, in a pleasant setting run by hugely enthusiastic people – what more could I possibly want (apart from a bit more hand-eye coordination perhaps!)?
Written by Mark Grover