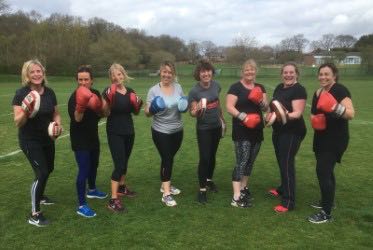 At the beginning of the year many of us set New Year's resolutions and instantly, or very soon thereafter, let those good intentions fall by the wayside, don't we? So do I usually, but this year I not only set my resolution, I have also committed to it and feel so very much better for it!
My resolution, not very originally, was to get fitter. I consider myself reasonably active; I walk my dog every day (well actually we amble along now that he is old and very arthritic), do Pilates at least a couple of times a week) and walk as much as I can, but I didn't feel particularly fit. I'm classified as a 'Woman of a Certain Age' – ok, middle aged (mid 50s actually!) and all I kept seeing in the media was that exercise, even at my semi advanced age, helps to reduces the impact of illness and chronic disease. A serious back operation 10 years ago had brought home to me the need for more core strength to protect my back but now I recognised I needed to look after other parts of my body better too. I also suffer from a mild form of chronic fatigue syndrome so sometimes I just feel exhausted after doing very little. So my main motivation was to improve my health, energy and stamina, although the opportunity to tone up was also appealing. As metabolism naturally slows with age, maintaining a healthy weight becomes a challenge. I am one of the lucky ones in that regard; whilst I have put on a small amount of weight in the last few years, I am still relatively slim but I was keen to lose the 'muffin top'.
So, having made the decision to do more exercise the question of where was an easy one and fell into my lap.
Every day on my dog walk in Chislehurst Rec, in all weathers, I would see a crazy group of people doing crazy things like running with logs, dragging tyres, alongside some exercises I recognised but hated like burpees, led by a guy in combat trousers. Whilst working out incredibly hard, they were all clearly having fun. But it wasn't for me … much too tough for me to even consider. But over time, I had got to know both Matt, who leads the bootcamp, and a number of bootcampers so when I saw a flyer for an inaugural Beginner's (rather than a full) Bootcamp with sessions of 45 minutes instead of an hour long, I thought, go on push yourself, Alison. So I took the plunge and signed up. 3 sessions a week for 6 weeks for just £70, it was incredibly good value for money.
My first session was going to be Monday, 29th January. The weather forecast was foul but that didn't bother me, I was looking forward to it. However, I didn't even make it there. Bending down to pick something off the carpet on the Sunday afternoon, I slipped a disc and was in agony. Whilst the inaugural beginner bootcampers were being taken through their paces, I could not even roll over in bed. A week later, I hobbled past them in the Rec and determined that I absolutely had to make it to the next course, which is what I did and I'm loving it.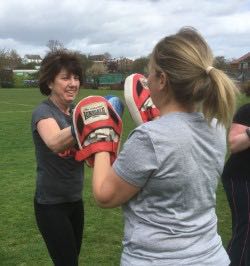 My first session was early March, it was freezing cold and the rain was pouring down but everyone was in good spirits and so welcoming to the newbie. By the end of the 5 minute warm up, I was so out of breath I was embarrassed, how was I going to get through the next 40 minutes, but words of encouragement from Matt and the other bootcampers, plus also short regular breaks kept me going. We went through a range of different exercises and I quickly realised my weak points extended well beyond my back. But I was really having fun and at the end of the session felt a great sense of achievement. I was now a bootcamper! Two days later, having done a load of squats the session before, I could barely walk down the stairs, my thighs were absolutely burning. But I turned up for session number two and over the course of that session, the stiffness eased off. Walking home afterwards, I realised that rather than feeling shattered, I was feeling energised – that "high on life" after exercise feeling that I'd heard about but never actually really believed.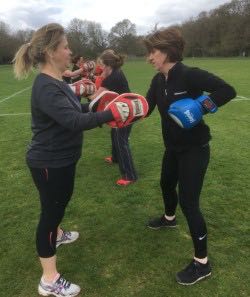 Since then I've been going to bootcamp usually 2 or 3 times a week depending on what else is happening in my life that week. So far the weather has been pretty foul or cold most of the time, but exercising in the fresh air is so good for the soul. Each session is very different with a wide variety of exercises targeting different areas but has a now familiar warm up and an oh-so-welcome stretch down. It's definitely challenging but Matt is quick to modify the exercises for those of us with specific problems and to encourage us to meet the challenge he has set. He's gradually introduced us to easier sets of what the full bootcampers do. I am totally in awe of them whilst at the same time a tiny bit proud that I am at least trying them even if they are not perfect yet! I have discovered routines I enjoy and ones which are just tough, tough, tough but what I can't get over is how after such a few weeks my stamina is noticeably improving. I am most definitely already a bit fitter, I don't ache after doing squats any more, and my energy levels are higher. I am still really weak in some areas but that's fine…. some things just take time and perseverance and may not even be possible because of my physical limitations. And at the end of each session, my face is a delicate shade of beetroot to prove I've been working hard!
My message to anyone reading this, is give Beginners Bootcamp a go. If I can do it, genuinely anyone can. It's fun and, most importantly to me, it's really friendly. It's not a competition and everyone is so encouraging.
Come and join us! The next beginners' bootcamp starts on Monday 23rd April. The sessions are held in Chislehurst Recreation Ground on Mondays, Wednesdays and Fridays at 10.45am, for 45 minutes. £70 for a 6 week block.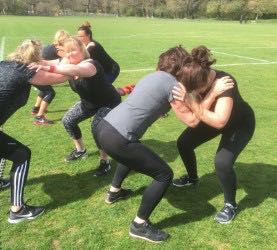 For more info contact Matt on 0800 910 1234 or email: info@bootcamp.uk.com