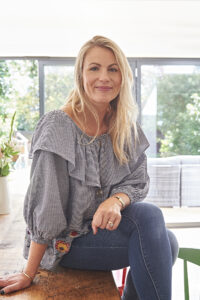 Mama Brown & Co is the online marketplace and magazine dedicated to helping you parent more playfully. We want to give you permission to have more fun as a parent. We're here to bring together parents, contributors, brands – and children – to offer playful, practical inspiration that will add more to family life. Come on in to play, get creative, and free the big kid inside – no matter how tired you are!
Our marketplace store is a celebration of small independent brands creating fun, innovative & playful products that will help you and your children have more fun as a family – from arts & crafts, books, dress up and baby play to nursery decor. In our online magazine we work with a host of childhood experts and contributors to bring you play ideas, parenting advice and tips to help you get more out of play with your minis and bring the products in our store to life
A word from me…
"I'm Kat Brown, founder of Mama Brown & Co. I'm a mum of 2 young boys and have always been passionate about finding the balance between work and play – with a big emphasis on the PLAY! Not only is play crucial to our child's learning and development, it's great for wellbeing – theirs and ours. Yet, with so many responsibilities tugging at us adults, I know it's easy to find ourselves stuck in the exhaustion of keeping little people alive and keeping everything else together. I was determined to do something about it for like-minded parents facing the same challenges. Mama Brown & Co is my invitation for you to join me and other parents making playful parenting work (as best we can). Expect encouragement, inspiration, support, and a side of silliness mixed in!"
Social Media:
There are no upcoming events at this time.