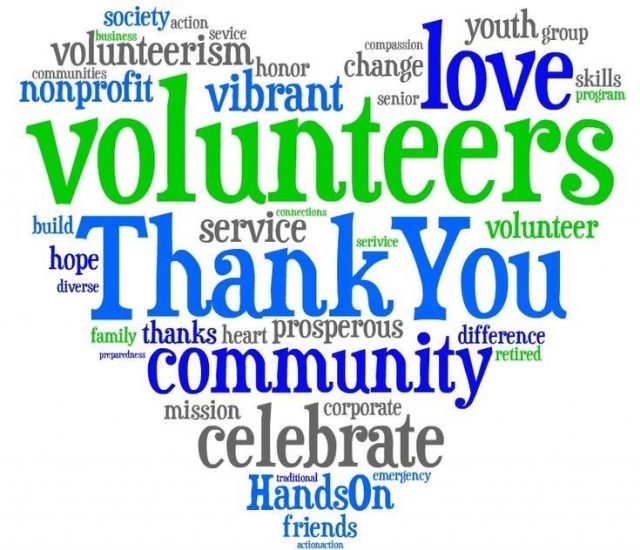 Celebrating our volunteers
For most us, the introduction to coronavirus came in early January, as an item briefly on the news about something that was happening in Wuhan, a place many of us had never previously heard of. What started as an epidemic in China has now sadly become a truly global pandemic, with a tragically large number of deaths.
Although the coronavirus crisis is a worrying and sometimes frightening time for many, it's also bringing out the best in people across the UK and most definitely across Chislehurst.
We quickly became familiar with new phrases, self-isolating and social distancing, which for many were worrying, especially those who were elderly, vulnerable or who already had symptoms. The questions were raised on how these people were able to shop for food or medicine if they weren't able to leave their homes. Many of the supermarkets that delivered no longer had delivery slots available.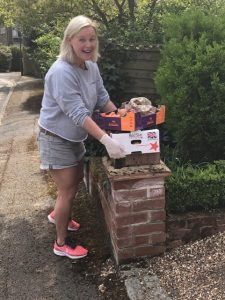 With this in mind Visit Chislehurst joined forces with the Chislehurst Society to create the Community Support Group. We established the Chislehurst Community Support Facebook page to share information and quickly put out a wide appeal for volunteers. A staggering 287 people are now offered their services to the most vulnerable. These wonderful volunteers are now spending their own time dropping off prescription requests, picking up medication for people in self isolation, picking up shopping, posting letters, even cooking the odd meal. And these are just the ones that have registered with us; we know many other neighbours are looking out for and supporting fellow residents in their streets.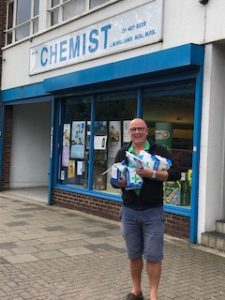 We have established an excellent relationship with the local doctors and chemists and Andrew and Alison Stammers now run a free prescription collection and delivery service on a daily basis Monday to Saturday throughout Chislehurst.
The fact that people have come forward in their droves shows how the spirit of community is very much alive here in Chislehurst.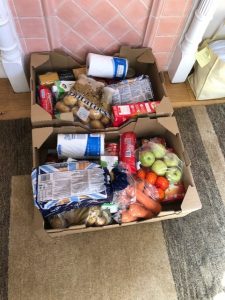 Residents of Chislehurst have also shown their amazing generosity. Every week since Monday, 30th March, we have been organising a weekly collection of items for the Princess Royal University Hub Staff Wellbeing Centre and for Bromley Foodbank. This has been very ably co-ordinated by Greg and Jayne from Deva Yoga. With their business closed (although they are running several fabulous online classes; do join in), they have been dedicating their time to help those in need. This week they had a staggering 16 shopping trolleys of food for the Foodbank and 3 large cages for the PRUH.
Each week, we also get given Government food deliveries that maybe a recipient does not need, as well as fruit and veg from the temporary Saturday stall in the High Street. Depending on the timing and whether or not it is perishable, these items go to Bromley Foodbank or to the Share Your Shine project run by the selfless Angela Doherty of The Studio in the High Street. This fabulous project supports families in need.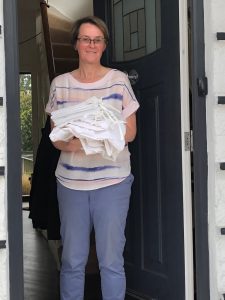 PPE has of course become a hot topic and it has been truly uplifting to see that local schools and businesses have stepped in to donate their own stocks and even to create items. An idea was brought to our attention about 3 weeks ago – laundry bags to put NHS uniforms in so they could go straight in the wash and reduce cross contamination. Co-ordinated by Alison, a team of 40 wonderful volunteers have been busy turning donated linens into bags.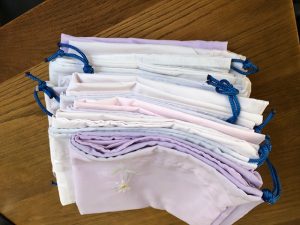 Over 300 have gone to the PRUH to date with more to go to Queen Mary's and possibly Orpington Hospital over the next few days and weeks.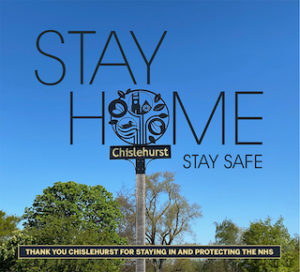 Reiterating the Government's message to Stay Home has been a message that we have been keen to spread, particularly given the amazing weather we have had to date and the temptation that offered. We are very grateful to Mary and Mick from Mary and Mick Design for their creative Chislehurst centric versions of this message. We love the designs and hope you do too.
Supporting our businesses as well as our residents through this crisis is core to Visit Chislehurst's values. We have been delighted to welcome new members and to promote them, as well as our existing ones, as they find new ways of trading during lockdown, or even if they cannot now trade at all. Huge thanks to Sue and to Daniela for giving so much of their time to this. We have passed on key information affecting local businesses to our members and supported some who were struggling to get payment under the Small Business Grant for which they were eligible.
It makes us incredibly proud to see Chislehurst residents come together in this time of need to support others, the vulnerable in our society, and the NHS. We wish to applaud their selfless work.
Please do pop over to our sister page Chislehurst Community Support Group to see some of the stories from our fabulous volunteers and why they got involved"
Thank you to all our volunteers. Be Kind. Stay Safe.
If you would like more information or would like to volunteer, please contact: Alison@visitchislehurst.org.uk or send a message via Visit Chislehurst.