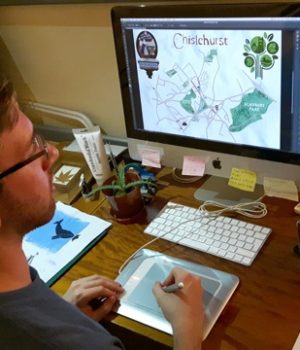 My name is Christopher Bennett. I'm a British-Greek freelance illustrator who moved to Chislehurst a little more than a year ago, with a newly-gained BA Honours Degree in Illustration from the University of Derby. I have developed a technique that incorporates printmaking into digital media.
While pursuing a career in editorial illustration, I also find great joy in making designs for merchandise. My art is labelled as printmaking but I have found a method that incorporates it into digital media. You can find my products on society6.com/ChristopherBennett.
In my free time I enjoy reading comic books and playing video games and sports through which I gain inspiration. You will find me volunteering at the '2gether' charity shop in Chislehurst. Keep an eye open for the young guy doing the heavy lifting, working the till or being involved in other shop-related shenanigans! If you see me, don't be shy to say "hello" and ask for a business card!
For me, Chislehurst is about the mood and energy one receives from the locals. I am uplifted by the smiling faces of the friendly residents. One of my favourite is the talkative gentleman in a wheelchair who's always accompanied by his cute Fox Terrier. I frequently cross their path and always share a welcoming smile.
Chislehurst has plenty of nature walks and places to ramble, like the Green Chain Walk, with hidden gems. My favourites include the moated manor in Scadbury Park woods and the carvings of bears just off the Chislehurst recreation grounds.
For the longest time I thought that the Invicta Scout Group next to the Chislehurst rec was an equestrian club, because of their horse logo on the building and the strange horse-like sounds coming from within it! They must be having loads of fun!
Christopher Bennett
https://christopherbennett.carbonmade.com/