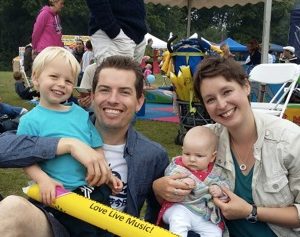 Having grown up in Orpington, just a few miles down the road, this was the extent of my knowledge of Chislehurst back in 1998:
"Call when the train goes through Chislehurst, and I'll come and pick you up from the station."
As far as I was concerned, Chislehurst was simply nine minutes away from home – the perfect time for a phone call to gain the lifts offered by my dad after a night out in London.
Three years at university in Brighton, one year-long trip around the world, six months living in Australia, two years renting in Tooting, one proposal, five years settled in Crystal Palace and one marriage later, my husband and I actually got off the train at Chislehurst.
We got off the train to view a house. And we haven't looked back.
For me, above and beyond all its other plus points (the shops, the pubs, the restaurants, the proximity to central London, the miles and miles of nearby woodland and green space), Chislehurst's main draw is its sense of community. I've lived in lots of different places. And yet I've never known anything quite like it. For a start, not only do we know our neighbours' names, but we actually all quite like each other. Crazy, yes?
But this sense of community really came into its own for me when I was on maternity leave in 2012, after having my first child.
I know everyone experiences early motherhood differently: I'm sure it can be a wonderful, cosy, cuddly, gurgling laughter sort of a place.
It wasn't for me.
This is what I experienced: a tiny, helpless newborn who wouldn't stop screaming for hours; and panic because I didn't know what to do; and guilt because maybe I wasn't cut out for this after all; and exhaustion because none of us were sleeping. It was a little bubble – a very isolated, lonely little bubble.
And so we went out. Snug in his snowsuit and cuddled close to me in his sling, my November baby and I headed out into the cold – to get some fresh air, to get some headspace, to get some sleep (him), to get some more baby wipes (me). And a funny thing happened: people stopped to talk to me. People who I didn't know would smile and ask about the baby, and coo over him, and enquire how I was finding being a new mum. People who'd seen me out and about when I was pregnant raced over to congratulate me on my new arrival. And these small, everyday interactions – these smiles and conversations – helped bring me back. Back to a sense of who I was.
Winter turned to spring and then summer, and life with my baby got easier and lovelier. And I soon discovered that it wasn't just the people who made this a wonderful place to be a mother. I mean, seriously, you can't move in this town without discovering some great adventures and events for children: Bounce & Rhyme at the library, feeding the ducks at the pond, the wonderful playground, the Easter Egg and Halloween Pumpkin Hunts along the High Street, the annual Chislehurst Rocks music festival, The Big Draw on the common, the monthly Farmers' Market… the list just goes on!
My family has grown since 2012 – we welcomed our baby girl into the world in March this year. And I'm thrilled to say there was a lot more of the cosiness and cuddliness and gurgling laughter this time round. Probably because, as a second-time mum, I was just so much more relaxed.
We're still making the most of living in such a kind-hearted, community-friendly area. I don't think a day goes by that we can't be found heading into Chislehurst, the baby in her sling, the toddler in his buggy. If you see us, do say hi – I promise I won't enlist your help to get the buggy in or out of a shop/pick up a dropped toy/herd my son away from the road if he's on the loose* (*actually, I will almost definitely enlist your help. Sorry in advance).
I always remember reading somewhere that one of the key survival techniques to enjoying motherhood was to create a 'village' for yourself.
And I feel so damn lucky, because I have a whole town.
Claire is a writer and editor, and can be found blogging at keeprunningmummy.wordpress.com
You can follow her on Twitter (www.twitter.com/KeepRunningMum) or Like her on Facebook (www.facebook.com/KeepRunningMummy).