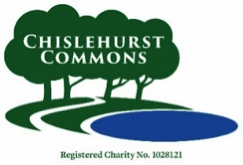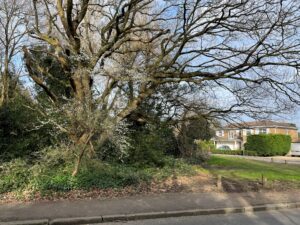 March forward into spring on Chislehurst Common where buds, blossom and birdsong await you!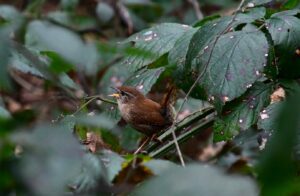 This fantastic photo of a wren was taken near Rush Pond. This is just one of the wonderful sights and sounds on offer on the commons, the greenspace on your doorstep.
In our monthly Newsletters we aim to illustrate the amazing diversity of flora and fauna to be found on the 180 acres of common land in Chislehurst.
They also show you some of the work involved in maintaining and enhancing the area for present and future generations.
The Month for our Wonderful Keepers and Volunteers

The Act of Parliament which protects our Commons, set out in detail how they should be managed and maintained. Since then, the area has changed significantly, and the population has grown, bringing other priorities and responsibilities.  We are also part of the national effort to increase biodiversity and manage climate change.
It is no surprise then that our Keepers and Volunteers do an amazing range of work each month. We are very grateful to them for their time and effort which help to make the Commons the pleasant open space we all enjoy.
This month, the Working Party has again split into two groups on some occasions, enabling us to carry out tasks in different locations.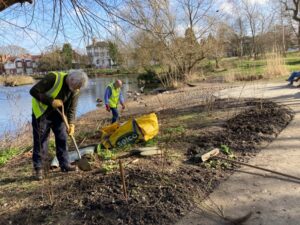 One group continued to work on the heathland on St. Paul's Cray Common, cutting trees and clearing undergrowth between the different areas to create a more open and connected site for wildlife.
Although maintenance of the planting at Prickend Pond has continued throughout the winter, the first task for the working party was to loosen the soil alongside the path near the beach. It had become compacted during the winter which prevented air and light reaching the underlying plants. Some shrubs were also planted to give height and interest, and to attract a greater range of wildlife.
We hope that visitors to the pond will enjoy the variety of plants as they come into flower throughout the year.
HELP!  We need a new truck!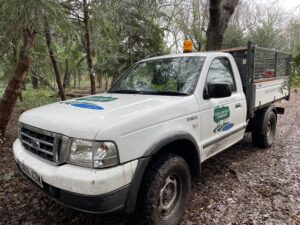 A Big "Thank you!" to everyone who has already responded to our appeal to help us to fund a new truck.
But we are not there yet.
Our truck is a feature of life in Chislehurst and an essential tool for Jonathan and Peter to carry out their duties on the Commons. It needs to be available every day.
Unfortunately, our current 15 year old truck is proving to be unreliable, costly to repair, and suffering corrosion, and so the economic solution is to replace it. The cost of replacement will be £32,000 after excellent discounts from Toyota, and we are seeking to raise £10,000 towards this cost.
Your support in achieving this sum would be greatly appreciated. Without funding, our essential work for the Commons and the community could be severely impacted.
You can donate via our website www.chislehurstcommons.uk or via PayPal Giving
Thank you!
Will you be a true friend of the commons?
The 180 acres of local common land are protected by an Act of Parliament.
Chislehurst Commons has responsibility under the Act for the management and maintenance of the area.
The Act, however, made no provision for funding, and we rely on our wonderful volunteers and the generosity of local people to enable us to continue our work.
We have two Keepers, whose knowledge, skills and dedication are invaluable. Everyone else who works to maintain and develop our beautiful Commons does so on a voluntary basis.
Amphibian and Reptile News
Our first amphibian survey of 2022 was carried out around the Commons' ponds one evening last week. These surveys, using a combination of high-powered torchlight searches and netting to confirm identification, provide information on their local status. By submitting records to the Kent Reptile and Amphibian Group (KRAG  www.kentarg.org ), we contribute to national records.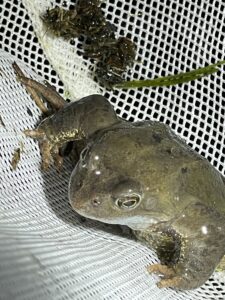 This common frog (Rana temporaria), below left, was netted for examination and found to have well developed thickenings, known as nuptial pads, on its thumbs ready to grip a female during egg laying and fertilization.
Also seen were a number of male smooth newts (Lissotriton vulgaris), above right, that were just starting to develop the crest, characteristic of breeding males, that will eventually run the full length of the back and tail.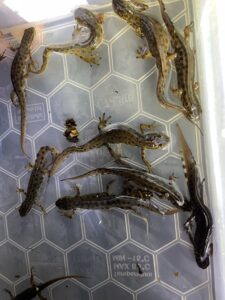 Further surveys will track breeding developments. In the meantime, if you spot any frog or toad spawn in the Commons' ponds, please let us know via info@chislehurstcommons.uk
And finally, our volunteers were commended in KRAG's spring newsletter for our reptile survey and conservation work on the heathland on St. Paul's Cray Common. KRAG also highlighted our ideas to improve habitat connectivity, emphasising that "lowland heaths are a rare habitat in Kent, and habitat connectivity for reptiles and other small animals is badly needed."
Sweet Violets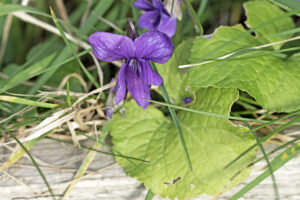 Look closely, and you can see violets now in several sites across the Commons, a sign that spring is around the corner.
Goose Watch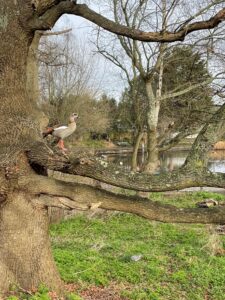 An Egyptian Goose surveys the scene at Prickend Pond from the branches of a tree. These geese will nest in holes in trees as well as in reeds and sheltered places on the ground. This one, however, just seems to be exploring, as there is no sign of a nest nearby.
On another occasion, it was seen taking an overview from the bench by the bus stop in the High Street.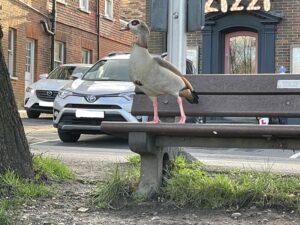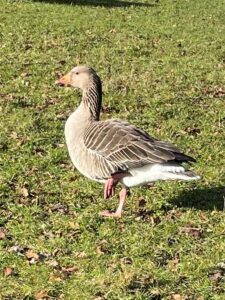 A greylag goose is a regular at the pond, swimming along with the Canada geese and taking advantage of any food offerings. This newcomer was spotted two weeks ago.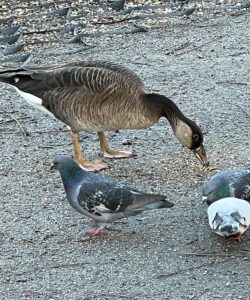 Another goose, this time a hybrid Canada goose, joined us this month.
And Finally, One to Make You Smile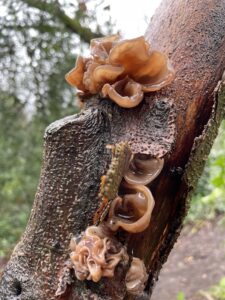 This fungus is called Jelly Ears for obvious reasons. Another example of the wonders of nature.
Our Commons offer daily interest and enjoyment, and are a wonderful resource for the community of Chislehurst.
We will continue to do our best to protect and enhance them for present and future generations.
Show your support for Chislehurst's common-land while you shop!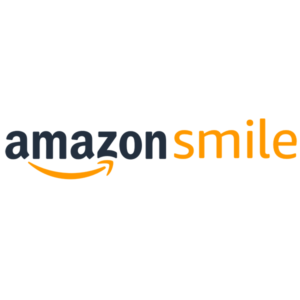 We are registered with Amazon Smile.
Visit https://smile.amazon.co.ukinstead of the normal Amazon website and select Chislehurst Commons, and, for everything you buy, Amazon will donate 0.5% to help maintain the Commons. This is another excellent opportunity to support the greenspace on your doorstep.
Thank you!
Thanks for this month's photos to – Peter Edwards, Kevin Jennings, Sheila Poole and Mary Wheeler.
Thanks also to the Editorial Team – Joanna Friel, Kevin Jennings, Christine Wearn, Ross Wearn and Mary Wheeler.