There were celebrations last week in Chislehurst by a local independent party who campaigned tirelessly in the local elections.  Renowned local volunteers, Alison, Mike and Mark, who live and work in Chislehurst, and have volunteered tirelessly over the years, set up an independent party called Chislehurst Matters.  They now stand on behalf of residents to tackle local issues that are high on the priority list of keeping Chislehurst top of its game!
Alison Stammers, Mike Jack and Mark Smith stood as an Independent party as they passionately believed that Chislehurst deserved a proactive voice, not a reactive one.  They wanted to ensure that key issues, that were greatly concerning local residents, are addressed, and resolved where possible.  Chislehurst is a unique town, full of independent businesses and it thrives on its community, which is what makes it flourish.  In order to maintain and improve this town, where possible, Chislehurst Matters believe they have the personal commitment and determination to ensure this.  They felt that local success shouldn't be about politics but about the people.
Their key focus going forward is on:
Community and Road Safety
Maintaining the town
Environmental and recycling issues
Supporting local independent businesses
Working with volunteer groups and community events
Progression through innovation
So, meet your new local Councillors: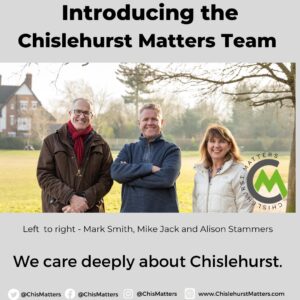 The team will be run surgeries for members of the public to come and discuss local issues with them.  Please follow them on Facebook, Twitter or Insta for full details.