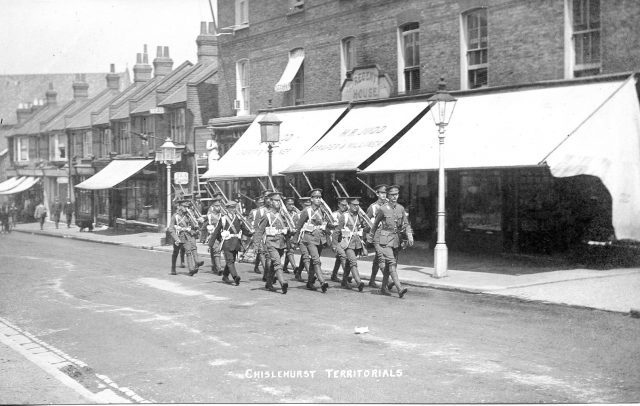 The name Chislehurst literally means stony place in the woods and these woods create our unique environment today
,
surrounded as we are by p
rotected common land, National T
rust woodland and
Scadbury
Nature Reserve. Chislehurst has a rich heritage with
its history stretching back to S
axon times.
Scadbury was the home of the Walsingham family. Sir Edmund 1480-1550 was Henry VIII's Lieutenant of the Tower of London, responsible for his prisoners, Thomas More, Thomas Cromwell and Anne Boleyn. Sir Francis Walsingham was Elizabeth I's Secretary of State and her spymaster. Sir Thomas Walsingham was a patron of the playwright Christopher Marlowe. Chislehurst also has connections with Sydney 'Australia' as the first Viscount Sydney became an owner of the Scadbury estate and during his time as Home Secretary, 1783 – 89, he was responsible for sending convicts out to Botany Bay. The nearby settlement took his name and is now the vibrant city we know today.
The arrival of the railway in 1865 sparked a housing boom and the village became home to wealthy East India merchants, lawyers and city types. Great mansions were built by the well known architects of the day, Ernest Newton, E J May, George Somers Leigh Clarke and Sir Aston Webb.
Chislehurst was a Royal Manor and has maintained many royal links over the years. Queen Elizabeth I visited Chislehurst and so did Queen Victoria. Queen Mary, the wife of George V visited Farrington's School in 1925.
Did you know that a French Emperor died in Chislehurst? Louis Napoleon III died here in exile in 1873, he was buried in our local Catholic Church, St Mary's. Chislehurst phone numbers often begin with 467 which are a reminder of our Imperial past, the numbers equate to IMP on the old post office dialling system.
Dr Charles West, the founder of Great Ormond Street Hospital is also buried in that churchyard.
The Speed King, Sir Malcolm Campbell was born and went to primary school in Chislehurst. He is one of only a few racing car drivers to die of natural causes rather than in a car crash. His grave is in St Nicholas Churchyard alongside that of William Willett, the man who suggested we turn the clocks forward to save daylight.
If you like Bank Holidays be grateful to another former Chislehurst resident, Sir John Lubbock, he was the MP that introduced these holidays in 1871.
Coopers Mansion House was home to the Firbank family. Ronald, a significant author in the 1920's and his sister Heather, whose clothes, held in the Victoria and Albert Museum, have recently been the inspiration for the costume designers of ITV's Downton Abbey. Is the name Chubb familiar to you? The founders of Chubb Security Lock and Safe Company lived for many years in Chislehurst and were founders of the Methodist community in the village.
The author of 'Just William', Richmal Crompton, wrote her last books from Chislehurst, she lived near Leesons Hill and died here in 1971.
You'll find a blue plaque to the author of Dixon of Dock Green, Lord Ted Willis, at Shepherds Green and another to the naval architect that designed HMS Britannia, Sir Victor Shepheard, off Manor Park Road.

Siouxsie Sioux, the lead singer with the Banshees in the 1970's sang about her 'Chinese Garden Take Away', this is now The Noble House Chinese restaurant on the High Street. The Who, Jimi Hendrix and The Rolling Stones are all reputed to have played at Chislehurst Caves and The Sex Pistols made an early appearance at the former Ravensbourne College, now a housing estate in west Chislehurst.
To bring us right up to date, Pixie Lott, Dionne Bromfield and Dizzee Rascal are all local residents along with Steve Backley and Gianfranco Zola. Who will be next?
For more information on Chislehurst's heritage and the Chislehurst Society visit http://www.chislehurst-society.org.uk/