Chislehurst Library
Albert Einstein said: 'The greatest knowledge a person can possess is the address of the local library.' However, even though you cannot currently access Chislehurst Library there are still lots of ways you can borrow and use our services from the comfort of your own home.
All our resources are free and can be reached via this link:
https://capitadiscovery.co.uk/bromley/
eBooks & eAudio Books
Enjoy free access to a large range of eBooks, eAudiobooks and eComics as part of the Better Libraries Digital Consortium. Browse via our library catalogue, our OverDrive website or via the Libby app. All you need is your library card number and your four digit PIN. If you are not already a member of Bromley Libraries you can become a member of Bromley Libraries by joining online.
New online services now available
Ancestry Library Edition – is always available for free in the library but Ancestry has currently allowed access online with your library card. Just login to your library account with your library card number and PIN and click to start searching billions of records and discover your family's story.
Eaudiobooks from RBDigital – with magazines and audiobooks all available on one platform.
Eaudiobooks from Ulverscroft ULibrary – Audiobooks, all the time!
Pressreader – Newspapers and magazines from around the world await you offering instant access to over 4000 newspapers from 100 countries in 60 languages.
Newsbank – enhanced content from this authoritative searchable news database giving access to The Times and Telegraph as well as local and regional newspapers and special reports.
Online Resources
Freegal – Freegal offers access to about 9 million songs, including Sony Music's catalogue of legendary artists, and over 15,000 music videos.
The Times Digital Archive – The Times from 1785 to 2009.
Theory Test Pro – Pass your theory test first time! Includes (licensed from the DSA), the full bank of official questions, Highway Code and hazard perception clips.
Universal Skills – everything you need to know about Universal Credit processes and payments, Universal Job match and Basic IT skills.
Life in Great Britain – Help and guidance on the UK Citizenship test.
Career Active – Stand out from the Crowd with Career Active. A free resource for library members, with brilliant tips and videos on CVs application forms and interviews. You can also use it to search for jobs.
Plus many more resources at:
https://capitadiscovery.co.uk/bromley/assets/-/OnlineResources.html
Facebook Events – Including Bounce & Rhyme & Storytime
If you are missing Bounce & Rhyme or Story Sessions then why not meet us on Facebook temporarily whilst the libraries are closed?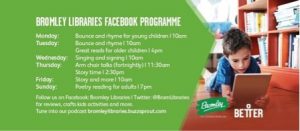 Contacting the Library
Staff at Chislehurst Library are currently able to answer telephone and email enquiries from home during the usual library opening hours:
Telephone: 0203 931 0928 (this is a temporary number until the library re-opens).
Email: Chislehurst.Library@GLL.ORG
Other Bromley Libraries can be reached on:
Your Library Needs you
When this period of disruption has finished, don't forget to pop back to your local library to support them, their activities and borrow books. As Albert Einstein said: 'The only thing that you absolutely have to know, is the location of the library.'