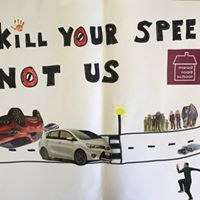 Chislehurst Safer Streets
Asking that those driving in and through Chislehurst do so more slowly and considerately.
Contribution to Bromley's Local Implementation Plan 3 consultation, 8 January 2019
Overview:
Concern about traffic speed and road safety in Chislehurst has grown markedly in recent years. Chislehurstians no longer feel any sense of their streets being a shared space. Rather, those streets now feel dominated by traffic. Dominated to the extent that people of all ages are not making many of the pedestrian journeys they could, because they no longer feel safe walking along – let alone trying to cross – many of Chislehurst's roads.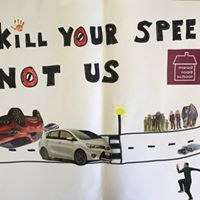 Local parents know they add to the problem by driving their children to school, yet the alternative is not comforting. To cite but two examples:
some 2,000 children and young people attend St Nicholas CE Primary School and Coopers School. For most, their journey requires a crossing of the A222 or A208, or both, without a single pelican or zebra crossing to help them; while
the pavement along Heathfield Lane that should serve those walking to Mead Road Infant School has a width of 80cm – nothing like wide enough for a parent and child to go side-by-side.
The school run isn't optional. Other journeys are. Many elderly people report not making journeys by foot to visit old friends they would have taken with alacrity 10 years ago.
The large communities of older residents near Royal Parade and Ashfield Lane are, like everyone else, expected to make it to Chislehurst village without a single regulated crossing for support. Some might ask: what about those island refuges? What about them – they offer no pedestrian right-of-way, nor any true solace if one gets stuck in the middle.
All of these concerns and many others were drawn out by a special consultation the Chislehurst Society ran in November 2018. The key finding of that was:
90% of respondents called for a Chislehurst-wide 20mph zone.A Chislehurst-wide 20mph Zone:
20mph zones are recommended for areas such as Chislehurst by a range of important organisations. Internationally (30km/h): the World Health Organisation; the International Transport Forum of the OECD; and the Global Network for Road Safety Legislators. In this country: the Royal Society for the Prevention of Accidents; the AA; and Transport for London.
43% of Londoners already live in a 20mph zone. Further, a number of London Councils are implementing Borough-wide 20mph zones, including neighbouring Lewisham and Greenwich.
90% of Chislehurstians want that same benefit. Want the same reassurance that drivers will fully respect their home, their lives.
Many of those calling for a Chislehurst-wide 20mph zone do so on instinct, on an intuitive grasp of what feels right.
Many others understand fully well the evidence. They know that the still widely quoted research by the London School of Hygiene and Tropical Medicine (2009) found that the number of people killed or seriously injured falls by 42% in well-designed 20mph zones.
Chislehurstians have also read the very latest studies: by WS Atkins Ltd for the Department for Transport (November 2018); and University of West England of the Bristol city-wide zone -Pilkington et al(July 2018).In summary, what Atkins found is that 20mph zones that are poorly implemented have little appreciable effect on traffic speed or accidents. That may sound like a statement of the obvious, but it is an important point. Atkins' research was focused on 12 zones established without the installation of any physical traffic calming measures or changes to street design. It would be wrong to suggest the local authorities involved had been naive – thinking they could just put up a few 20mph signs and that would do. As a number responding to Atkins pointed out, they had plans in place to reinforce the zones. But what Atkins essentially says is a plan involving 20mph signs first, reinforcing measures later, risks failure.And yet, even in the 12 authorities Atkins studied people remained overwhelmingly positive about their zone.They wanted to make it work: 75% of residents and 66% of non-resident drivers continued to support the policy; whereas only 12% of residents and 21% of non-resident drivers wanted to revert to 30mph.

The UWE study compared traffic speeds and accidents before and after the roll-out of a 20mph zone that includes a variety of reinforcing measures. The findings were clear:

average traffic speeds were reduced on 100 of 106 roads in the city of Bristol, with the largest reductions occurring on A and B roads;
bringing the average speed down to 24mph – which is more than 10mph lower than the average experienced in most 30mph zones across the country, a reduction that could be the difference between injury and death in an accident;
rates of fatal, serious and slight injuries all fell. The estimated total number of injuries now avoided across the city each year is: 5 fatal; 11 serious; and 159 slight; and
the number of people walking or cycling to school or work has increased year-on-year.

Understanding that latest research, Chislehurstians know that securing improvements to safety on A roads is key to improving safety overall. Across London in the past three years (motorways excluded) 71% of all fatal and 62% of all serious road casualties occurred on these roads.

As the 'crashmap' here (for 2015 to 2017) shows, this is no less true for Chislehurst.

Accordingly, Chislehurst Safer Streets calls upon Bromley Council to revise its current policy on area-wide 20mph zones. To bring it in to conformity with the Mayor's strategy and the policies adopted by many other London Boroughs. Because without that the Council's laudable ambition to increase journeys by foot or bicycle is unrealisable.

Immediate action to improve pedestrian safety in Chislehurst:

Planning and implementing the Chislehurst 20mph zone will take a year or two. But the foundations can and should be laid now. Chislehurst Safer Streets has identified measures for improving pedestrian safety that we look to the Council to implement as a matter of urgency, so to prepare the way for our 20mph zone. These are:

a network of new pedestrian crossings;
raised tables at key junctions and flashing speed warning signs on busy roads; and
a pelican crossing at the War Memorial.

Pedestrian Crossings:

Presently, Chislehurst, home to more than 20,000 people and visited daily by another 5,000, boasts just 2 zebra crossings.

The case for a significant increase is:

they are considerably cheaper than pelican crossings; and
compared to island refuges, infinitely better regarded by pedestrians and drivers alike, because:
they give the pedestrian the right of way, which is a massive comfort;
yet ask only that the driver wait long enough for the user(s) to cross;
meaning they signify an idea of a space shared amicably;
with those iconic Belisha beacons acting as a natural corrective to unsafe speed even when no-one is waiting to cross.

A non-exhaustive list for new zebra crossings is:

Table junctions:

Raised tables at key junctions are a feature of street design in other parts of Bromley, and neighbouring Boroughs (for example, on the Sidcup section of the A222 by The Green). The calming effect of these is to moderate the inevitable competition between different traffic flows at such junctions. Chislehurst Safer Streetshas identified the following non-exhaustive list of junctions that would benefit from a raised table design:

In addition, occasional raised tables – with preceding flashing speed warning signs – should be used to moderate speeds on Chislehurst's busiest secondary routes, most particularly Yester Road and Green Lane.

War Memorial junction:

| | |
| --- | --- |
| St Paul's Cray Road by Manor Park | St Paul's Cray Road near Bull Lane |
| Bromley Lane near Shepherd's Green | Kemnal Road and Ashfield Lane c/roads (x2) |
| Near The Meadow to Rush Pond | Heathfield Lane to the Commons |
| Loop Road near the bus stop | Heathfield Lane to Pond Path |
| Green Lane near Greenway | White Horse Hill near Greenway |
| Yester Road near Walden Road | Hangman's Corner |

Local schools and local residents of all ages have long called for the integration of a pelican crossing within the traffic lights at this junction. Indeed, there is effectively no opposition to this … save from our Councillors, who continue to refuse the idea.

Our Councillors' opposition is hard to fathom. They suggest it would have an adverse affect on traffic flows along the A222. Yet, the Sidcup A222 section – 2.5 miles between Sidcup station and the A20 – offers 7 safe crossing points, including 4 pelicans; whereas the Chislehurst section – also 2.5 miles between our station and the A20 – offers just 2. Clearly our Councillors do not prioritise pedestrian safety as much as their colleagues on Bexley Council.

Chislehurst Safer Streets

Asking that those driving in and through Chislehurst do so more slowly and considerately.