Ginger & Spices Indian Restaurant in Chislehurst donate £1010 to Demelza Hospice Care for Children
Ginger & Spices opened at the end of June as an Indian takeaway restaurant and as such was not able to take part in the Eat Out Help Out Scheme during August. Owner Krishna Kuwar wanted to give something back to the community and decided to use his restaurant to help out a local charity instead. For 3 weeks in August, Ginger & Spices agreed to donate £5 for every order over £15 received through their website or by telephone. As a result of local support, a staggering £1010 was raised for Demelza!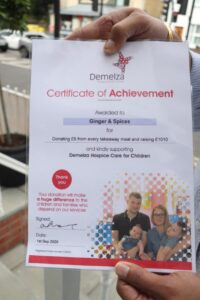 "I am so pleased we have managed to raise this amount for Demelza, an amazing local charity who support children with terminal conditions. As a Chislehurst business, we really love being part of the community and are so thankful to all those who ordered with us in the last few weeks, making this donation possible." Krishna Kuwar, Owner of Ginger & Spices, Chislehurst.
Amy Thomas, Community Fundraiser for South East London said, "A huge thank you to Ginger & Spices for their amazing fundraising support and all those in the local community who ordered a takeaway. As a charity, we're almost entirely dependent on the generosity of our supporters to provide the funds that keep our services going and our income has taken a significant hit as a result of the coronavirus pandemic. This support will make a difference to the children and families who access our services now and in the future".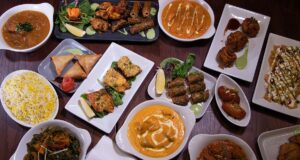 Ginger and Spices is an Indian Restaurant in the heart of Chislehurst High Street, currently serving takeaways for delivery or collection.
Authentic Indian cuisine at its finest. The highest quality, fresh ingredients and a unique style, creativity and taste make Ginger & Spices home to some of the best Indian food in Chislehurst.
Open Tues – Sun 3.30pm – 10pm – gingerspices.co.uk 020 3305 6587
Demelza Hospice Care for Children – right now, there are almost 50,000 children with terminal conditions in the UK. And, as more children live longer with their conditions, there's increasingly urgent need to support them and their families.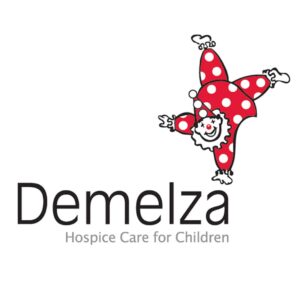 For every parent, the health and happiness of their children is the single most important thing in the world. But the reality is any child could be born with or develop a terminal condition.
Demelza provides specialist care and emotional support for children with terminal conditions, whether in family homes across East Sussex or in the family hospices in Sittingbourne and Eltham. Demelza can help families and their loved ones enjoy their time together, for as long as they have.
The unique support they give comes at a price, and at present, they are only reaching 20 per cent of the children that they could help. As a charity, they are almost entirely dependent on the generosity of supporters to provide the funds that keep services going. Please help make sure every family and child can depend on them whenever they are needed most.