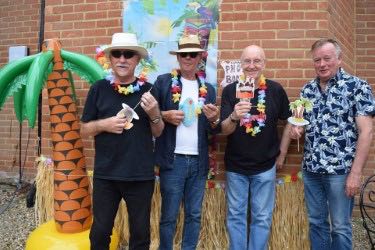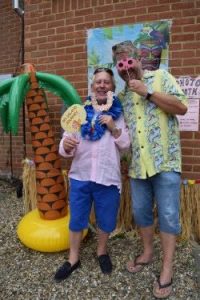 Aloha! Susan Wood Annual Summer BBQ 2018
As part of our fundraising efforts to resurface the road we had a Susan Wood Summer BBQ. Now better known as Susan Woodstock. This has now become an annual event and we had our 3rd one at the end of July.
When we first discussed our planned BBQ, we needed to make as much money as possible as we were £1000's off our target to get the road completed. As we started to organise it the focus became more about getting our neighbours together, to enjoy an afternoon of getting to know each other over food, drink and music. We knew if we could do this, and were successful, everyone would know that we were in this for the long haul and raising the money would become easier!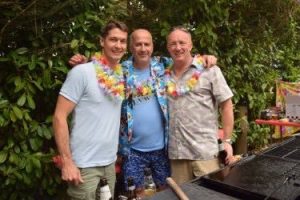 In all honesty, this is exactly what was achieved; we had a hugely successful afternoon and just over two years later the road was completed.
The great thing now is more and more residents are keen to be involved in organising this event. This year we had a new neighbour offer to organise and plan the whole thing. (We couldn't believe our luck; anyone knows how difficult it can be to get new volunteers involved, they are very hard to come by)
This lad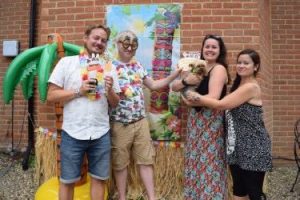 y was a breath of fresh air, she had so much enthusiasm and her passion was contagious. She formed a small committee and wanted to make this BBQ bigger and better. Meetings were held, emails sent, flyers designed, and tasks delegated. Everyone did a fantastic job!
This year we decided on a Hawaiian theme. The car park was transformed with half a dozen large blow up palm trees, gazebos of all shapes and sizes, brightly coloured decorations, tables, deck chairs, sun umbrellas and even a place for the band. As people entered a Hawaiian garland was placed around their necks. The weather can make or break these days and we were very fortunate enough to have a beautiful, cloudless summers day.
This year we decided to sell food. We are very fortunate to have a neighbour who is passionate about his food, who along with his friend did the BBQ. The downside of this is I offered to go to the wholesales to get the food and all the other BBQ necessities. I thought I had done very well but the sausages I brought were not up to their high standards (Well a sausage is a sausage?) Fortunately, nobody was interested in the sausages as my neighbour had prepared the best tasting chicken I or anyone else had ever tasted, cooked to perfection! Everyone was dedicated a task and we had salads, corn on the cob and burgers. The only thing left at the end of the day were my sausages!
We have another neighbour who works at a Brewery. He and his wife manned the beer tent all day and were having trouble keeping up with demand. They were also selling Pimm's and Mojitos that are perfect for a Hawaiians summer afternoon in Chislehurst.
Let's not forget the beautiful cakes and desserts made by residents that sold out very quickly. I was hoping some would be left over for me to have later but it just didn't happen! (Although there were plenty of sausages!)
We even had a couple of local businesses that supported us with raffle prizes, with our local MP presenting them to the winners.
At the bottom of the garden we had games for the kids. One of them was three old real estate 'for sale' signs (Just the poles and yes, they can be useful and not always an eyesore) hammered into the ground with coconuts on top that you had to knock off.
Saving the best for last. One of our residents is in a band; some of these guys have played with Elvis Presley's band, Gallagher & Lyle, Kate Bush, Lulu & Ronnie Wood to name a few! These guys have entertained us for three years now and they just keep getting better and better! So much talent entertaining us on a perfect summer's afternoon in Susan Wood.
To think all this started over four years ago with four blokes having a pint and discussing ways of getting Susan Wood resurfaced!
The road is now done. We have over 30 paid up members of the resident's association. We have meetings a couple of times a year. There is also the annual summer BBQ. A lot of us now socialize together. We know what is happening in our small little community. It has brought us all closer. This month we are having a working Bee, where we all get together on a Sunday morning for a couple of hours to do some pruning, weeding and generally tidying up the road, finishing off with a coffee and a bacon buttie. (There will be a veggie option available!)
Life is pretty good in Susan Wood, Chislehurst.
Mike Jack Chairman Susan Wood Residents' Association