There is nothing more exciting than performing live on a stage when you are learning to dance, and not just any old stage, but a Disney one in Disneyland Paris!  The wonderful children of the Michelle Sidwell Academy of Dance are performing this summer to the huge summer crowds in Paris!
We caught up with Michelle and her wonderful team to find out all about this event and the journey that the children have gone on to get to Disney……
VC – can you tell us how the Disney Journey begin – is it an annual event?
Michelle
: We first danced at Disney in 2018 taking 23 dancers between 9-18yrs.  It was always a dream of mine to have MSAOD dancers perform at Disneyland Paris as its such a special and magical place.  We had such a wonderful time and received such amazing compliments at our performance (you can see our previous performance on our
website homepage
) that I knew I definitely wanted to return.  We originally planned to return in 2020 but with covid we delayed our performance to 2022.  Its definitely something I wanted to always do maybe every 4 years or so.  The trip is for 4 days in August.
VC – tell us a little bit about the dance experience the children will have at Disney
Michelle – We will be performing a 20min set at The Videopolis theatre in Disneyland Paris.  We have choreographed 5 brand new dances for the performance.  They get to dance on the Disneyland stage as part of the Disney Performing Arts Onstage Programme.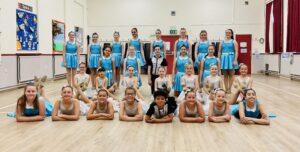 VC – what age groups are going and did they need to audition?
Michelle – Our Disney Troupe is aged 8-16yrs and they did a video audition.  We had to submit two dances via video to Disneyland where they assessed the footage and dancers individually and gave us feedback.  We were so thrilled to pass the audition.   We are taking 29 dancers, 27 girls and 2 boys.
VC – what style of dancing is it?  Do the children have special costumes or their Michelle Sidwell dance clothes?
Michelle – We are performing Modern/Jazz & Commercial style dances this time.  We have 5 amazing costumes with lots and lots of sparkle but we will travel in our special MSAOD Disney Troupe T-Shirts & Jackets.
VC – How long has it taken for the children to learn the routine?
Michelle : We started rehearsing for the audition in September 2021 and we have been learning the 5 routines since November 2021 with weekly rehearsals.
VC – Where are you all staying – will it be full on Disney magic?
Michelle – We are staying at Disney's Hotel Cheyenne with all the dancers and their families in the same hotel.  There are approximately 92 of us in total with other families not staying with us but meeting us out there.  When we are not dancing there is plenty of time for fun in the parks.
VC – Will the children have the opportunity to dance with any Disney professionals?
Michelle – We have a dance workshop led by a Disney professional where they will learn a Disney routine and have the opportunity for a Q&A session to find out how to be come a Disney professional dancer in the future.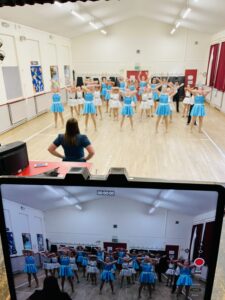 VC – How often do the children attend their dance classes and where are they held?
Michelle – The students in the troupe attend classes at least 2 days a week with some students attending 3 or 4 days a week.  All our dance classes are held at Chislehurst Methodist Church.
VC – Can you tell us about the weekly dance classes that you run; and do you perform in frequent shows?
Michelle – We have been operating from Chislehurst since 1999. We offer high quality training in all aspects of the performing arts. The Academy is a friendly school where students are taught in a caring, encouraging and professional environment. We teach a wide range of dance disciplines to pupils from the age of 2 ½ years old.
We offer classes in the following style;
Ballet
Tap
Modern
Commercial
Lyrical
Pre-School Ballet & Tap Specialist Class
Street Dance
Musical Theatre
Boys Technique Class
LAMDA Drama
We are always performing.  Our annual performance is held in February at The Bob Hope Theatre where all pupils participate.  We have recently sponsored the community stage at The Chislehurst Summer Fair where all pupils performed and we are also sponsoring the Visit Chislehurst Christmas Market Community Stage where we will dance again.  We also so far this year have performed at Chislehurst Rocks, DanceBoxx (at the Churchill Theatre) Queens Gardens Jubilee performance, Party In The Pit.  We love to perform and offer multiple opportunities for pupils throughout the year.  We have at least another 4 performances taking place this year.
We also offer all students the opportunity to take part in ISTD dance exams & LAMDA drama exams yearly.
A huge thank you to Michelle for sharing her exciting news with us and we look forward to seeing images and hopefully videos of the children performaning in Disneyland – we hope they all have a truly Disney magical time!