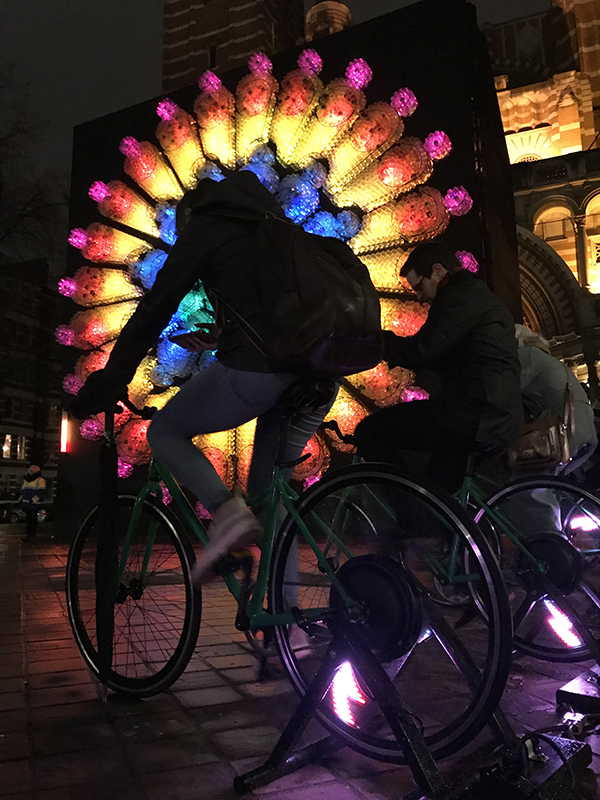 Chislehurst is a lovely little village, which often feels like it's in the countryside, but sometimes you get the urge to travel up to the bright lights.
Last weekend we braved the cold and hopped on the train up to Victoria for Lumiere London. This wasn't just ordinary bright lights. It was weird and wacky bright lights!
Half the fun is finding the installations. As we were in Victoria we took the opportunity to find our first one. What an exciting one it was. It was a rose window made from hundreds of plastic bottles and powered by cycle power! We were able to get on a bike and watch the lights light up as we peddled!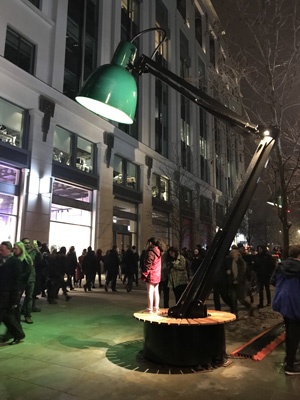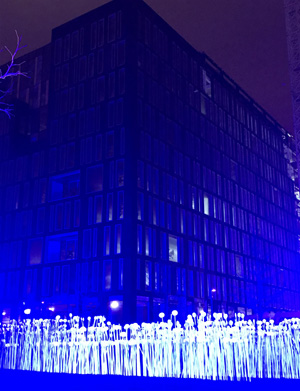 Then we headed off on the tube to Kings Cross.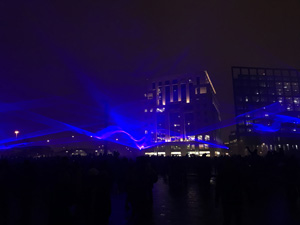 It was very busy here and we weren't as impressed with it as last time. There were giant angle poise lamps, beds of tall white flowers, which lacked colour, and eerie blue lights, which formed a moving canopy just above your head. The coloured watering cans were good though.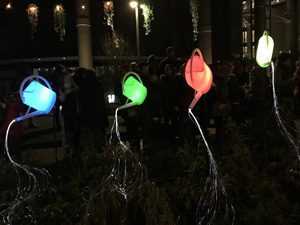 From Kings Cross we got the tube to Goodge St and came across our first interactive one – Control No Control. The lights made patterns as you touched the wall. Then a group of people twirling coloured umbrellas danced by.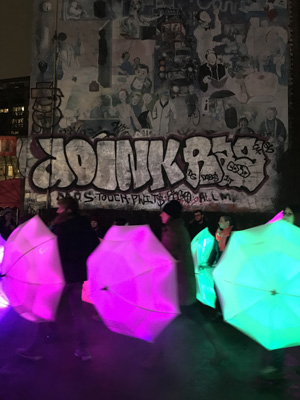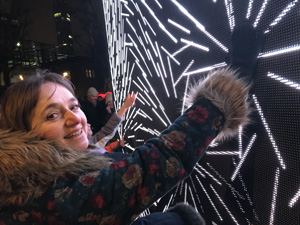 Wandering through Fitzrovia we came across a sphere of what were meant to be blood vessels (a bit strange) then there was what I think was meant to be water droplets on grass. They made the sound of water droplets as they randomly appeared but I couldn't help thinking they were rings of a hob.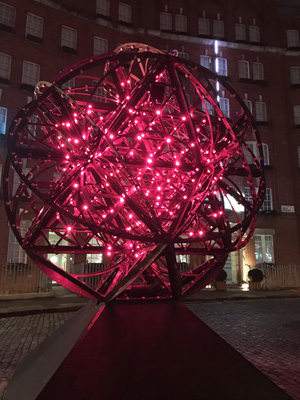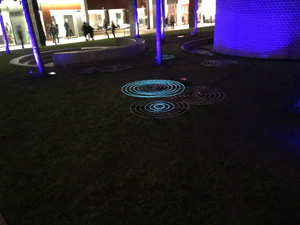 We then walked towards Oxford Circus and we were soon confronted by an absolutely huge globe or planet, which changed colour and pattern. Fabulous. The funniest thing was I found out later that my neighbour (no naming but you know who you are) was up there, went to Oxford Circus and totally missed it!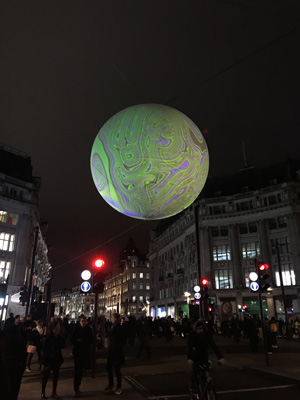 Next we went down South Molten St where the middle of the street was lined with zig zagging lit up see-saws. We had to have a go. Great fun!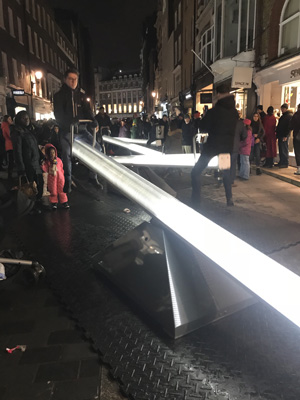 Grosvenor Park had bicycles, not hugely exciting, but then there was the illumaphonium, which played rhythmic music, and you could have a go at playing the lit up tubes.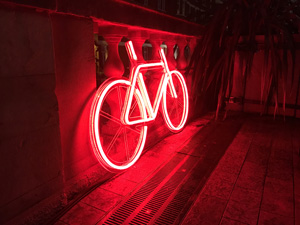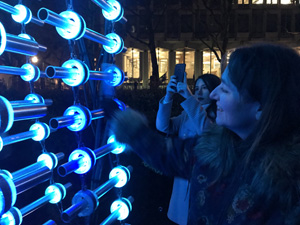 One of my favourite installations was in Mount St Park in Mayfair. It had flickering lights in the sky, moving circular lights on one of the buildings across the park and haunting music. So serene.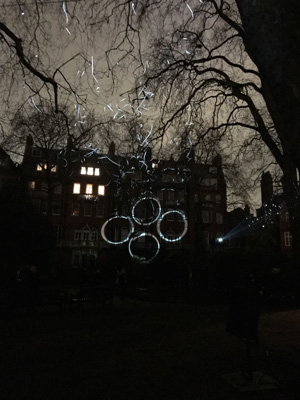 Then we walked to Berkeley Square where a nightingale actually sung. I had a new favourite.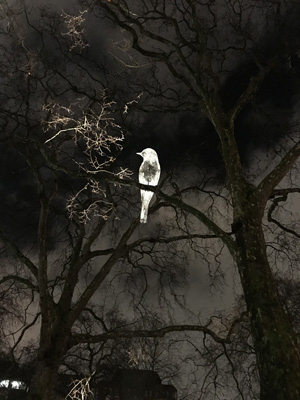 They turn the lights off at 10.30pm so this was the last one we saw on Saturday. We had only managed to see half of the installations so we were determined to return on Sunday…
We had rain, sleet and snow all day on Sunday but fortunately it stopped at about 7 so we ventured back up to town starting this time in Covent Garden. I'm so glad we made the effort because the first one we saw was amazing. There were real fish in a telephone box! Fab-u-lous!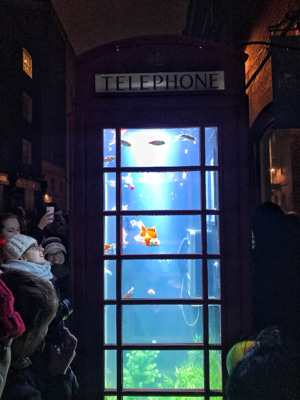 Then we made our way to Chinatown where there were flamingoes flying through the streets!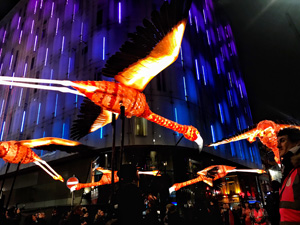 Leicester Square was next. It had become a woodland complete with badgers, foxes, frogs and flowers. You could wander right through it. Awww!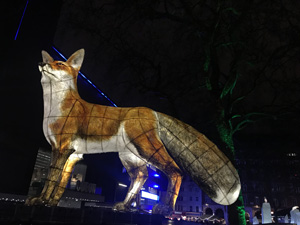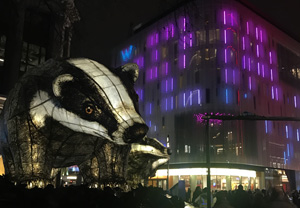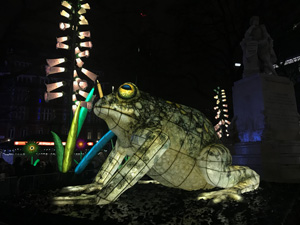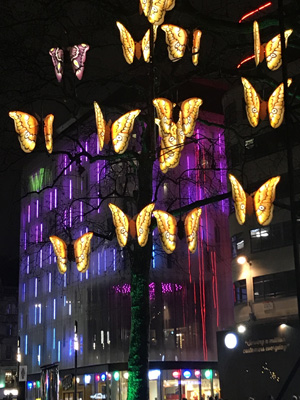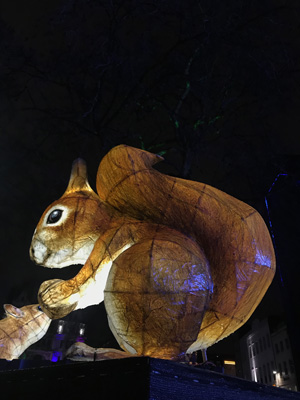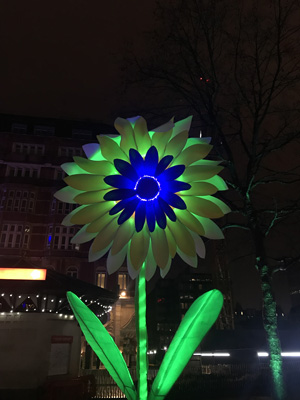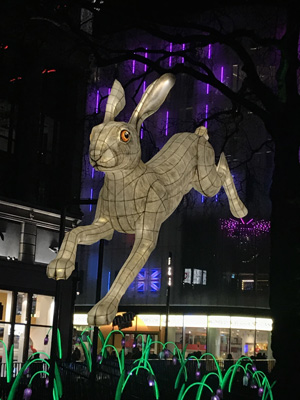 Then we wandered down to Trafalgar Square. It made a change seeing it without any people or pigeons and just these white light bulbs.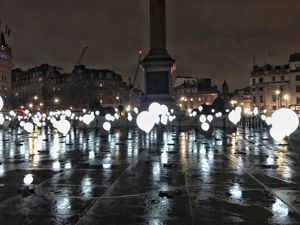 The next installation off Haymarket was an odd one. It had people in kilner jars. It took me a while to realise you could put your face to a hatch at one end then a minute later you would appear the other end in a kilner jar. I tried it but I didn't stay in there long enough to get a photo.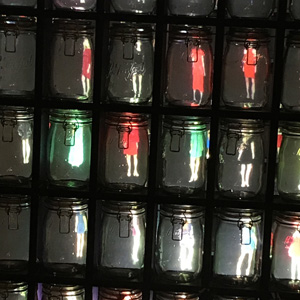 Piccadilly was next. One of the old grand buildings was projected with clocks and other things but I couldn't help being distracted by the huge new advertising screens next to it.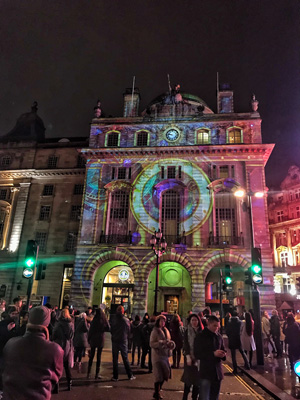 There were strings of coloured lights in St James' Park and I had an ecclesiastic photo taken by a flaming ring of light on a lovely old wall.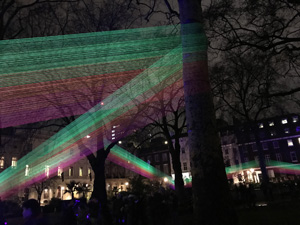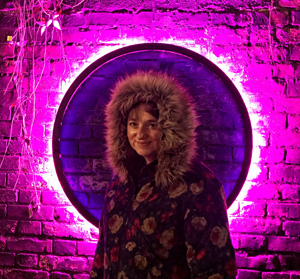 At Burlington House there was an animated film projected on the building. It featured two coloured shapes, which became a couple dancing and embracing. This was lovely.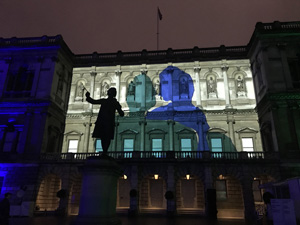 Our final one was Carnaby Street where they hung light bulbs from the sky! Good stuff!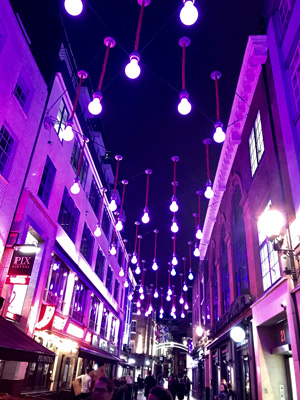 Luckily our regular walks round Hawkwood put us in good stead for the 30,000 steps it took to see it all over the two days.
Ooh I've just had a bright idea… maybe Chislehurst needs its own little Lumiere. I can think of a good use for the decommissioned phone box on Royal Parade!
Find out more about Mary & Mick and their beautiful designs here.
And find their Facebook page here!