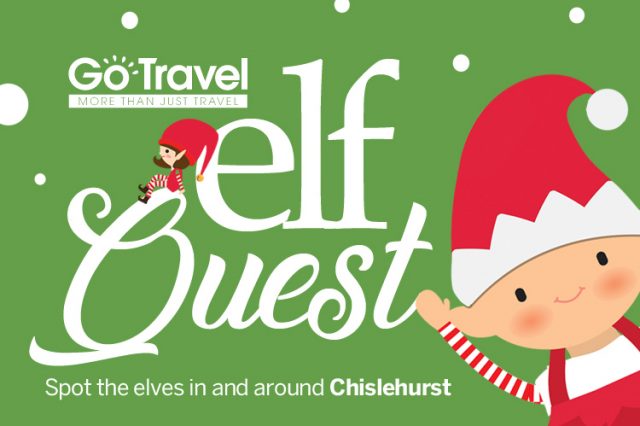 Firstly we just wanted to say thank you to everyone who took part in Saturday's Elf Quest. It was a great success. We had almost 300 Elf Hunters searching for our naughty elves and raising over £1,500 for Demelza Hospice Care for Children in the process which is fantastic. We hope you had lots of fun taking part and a big thank you to our headline sponsor; Go Travel and to all the businesses who got involved; without whom this event would not be possible.
Elf Quest may be over but it's not finished!
If you missed out on Saturday's epic Elf Quest never fear…..
Go Travel have kindly offered to continue the trail and will be Elf HQ until just before Christmas. Pop in store to collect your clue sheet for £4 and to collect your prize once you're finished.
This fun little trail is perfect for any pre-schoolers or for children after school. It's a fun activity to get the whole family out at the weekend and exploring what our village has to offer. All of the businesses involved are part of the Chislehurst Business Group and it's these businesses who fund our wonderful Christmas Lights, manage the Visit Chislehurst website and more. So please support them if you are dining out, drinking in local pubs or simply doing some Christmas shopping. You can see all these local businesses here; https://www.visitchislehurst.org.uk/your-chislehurst.
Thanks so much for all your support of this event. Funds will go to Demelza Hospice Care for Children supporting children with terminal conditions and their loved ones, so they can enjoy their time together as a family for as long as they have. To find out more about the work of Demelza, please watch our Christmas Appeal Video.
During December, within the windows of Chislehurst's finest establishments, you will spy some elves – these cheeky individuals are keeping an eye on the children of Chislehurst, ready to report back to Father Christmas on whether they should be on the naughty or nice list!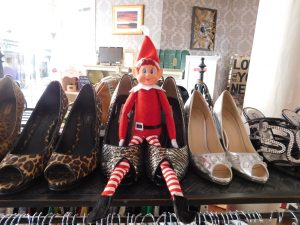 There are 20 elves scattered around Chislehurst waiting to be discovered and ticked off your list.
If you spot all twenty elves and return to Elf HQ (at Go Travel's offices), you can claim your Christmas Teddy!
They are simply gorgeous!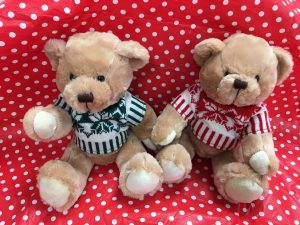 Tickets are just £4 and each child will receive one of the Teddies which can be collected before 4pm on the day. All profits from this event will be donated to Demelza Hospice Care for Children – your local children's hospice. Demelza provides specialist care and emotional support for children with terminal conditions and their loved ones, so they can enjoy their time together as a family, for as long as they have.
Elf Trail clue sheets can be collected from Go Travel (8-10 High St, Chislehurst) and can be collected during their open hours. Their opening hours are as follows:
Monday – Friday: 09:00 – 17:30
Saturday: 09:00 – 17:00
Sunday: CLOSED
Dates that the Elf Quest will be taking place are;
Tuesday 4th December
Wednesday 5th December
Thursday 6th December
Friday 7th December
Saturday 8th December
Monday 10th December
Tuesday 11th December
Wednesday 12th December
Thursday 13th December
Friday 14th December
Monday 17th December
Tuesday 18th December
Wednesday 19th December
Thursday 20th December
Friday 21st December
Saturday 22nd December
Please note – this event will NOT be taking place on Sundays or Saturday 15th December.
The trail costs £4 and Go Travel will only be taking cash so please bring the right money with you. There is a Barclays bank opposite!
We would recommend giving yourself at least 1 hour to do the trail (depending on how fast you are!) so leave yourself plenty of time to get back and claim your Teddy!!
We are delighted to be working with local business, Go Travel as our sponsor. Exciting things are happening at Go Travel with their new look store now in full swing. All of their stores are now ultra-modern and have been professionally designed and decorated to reflect their brand and personality as well as to create a vibrant and welcoming atmosphere for staff and visitors alike. Please pop in to see them, they would love to talk to you about your next adventure. You can even enjoy a nice glass of wine whilst you do it!
Terms and Conditions;
Suitable for children aged 0 to 11.
Each purchased ticket will receive an elf trail clue sheet and a Teddy.
Only ticket holders can claim the Teddy at the end of the Trail.
Tickets are non-refundable
All profits will go to Demelza Hospice Care for Children.