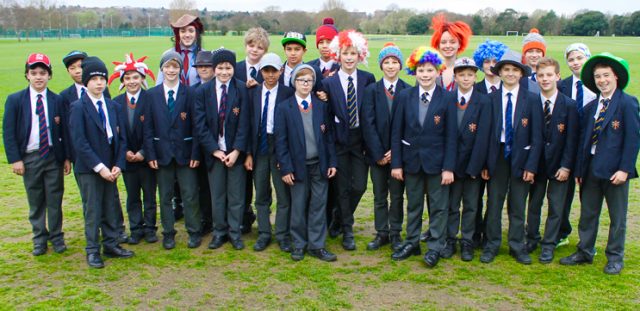 A Year 7 pupil at Eltham College organised a school fundraising event in support of his younger brother who has a rare brain tumour.
11-year old Louis asked all Eltham College pupils to wear a hat or wig to school on Friday and to pay for the privilege.
The money will go to Brain Tumour Research, the UK charity that seeks to raise £7 million a year to fund seven Research Centres of Excellence across the UK. Since 2008, the charity has promoted Wear A Hat Day as a national fundraising campaign.
Louis, who lives in Chislehurst, said: "I happened to see a collection box for Wear A Hat Day on a shop counter. I thought it would be amazing if we could do it at my school. I asked my form tutor who thought it was a good idea and he helped me get permission for the whole school to take part."
Louis' 10-year old brother was diagnosed with a brain tumour in 2008 when he was 19 months old. He has since undergone several rounds of major brain surgery and travelled to Florida in 2013 for pioneering proton therapy treatment.
"I have a special connection to my brother and it makes a big difference raising money on behalf of someone you know and love," says Louis.
Eltham College in Mottingham is an independent school for boys aged 7 to 18 with a co-educational sixth form. Louis' classmates were supportive of his efforts and posted pictures on social media encouraging others to take part. The total raised is not yet known, but Louis' class alone raised £120.
"I'm only in Year 7 so am quite new to the school. I wasn't sure they would let me do it, but I'm happy the teachers understood why it was important to me. I'm grateful to all the pupils and parents that donated money," said Louis.
"It is important for our students to understand about life away from the classroom and how to consider and support others. Brain Tumour Research is a charity close to the heart of one of our students, so we were more than happy to get behind his idea," said Headmaster Mr Sanderson.
Crispin Zeeman, Head of Marketing for Brain Tumour Research, said: "We are extremely grateful to the pupils of Eltham College and are impressed by their willingness to help our cause. Such support is vital in order to help us to fund the fight as we work to improve the lives of patients and, ultimately, find a cure for brain tumours."