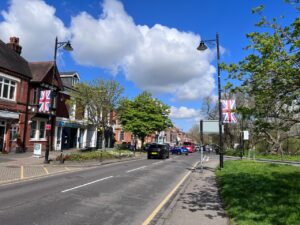 At the crack of dawn today Union Flags were raised throughout the High Street and Belmont Parade in preparation for the forthcoming celebrations for the Kings Coronation on May 6th,.  We look forward to seeing some of the High Street shop windows being decorated.  We've already noticed the presence of His Majesty the King in Joelle's of Chislehurst window and a splash of Red, White and Blue in the window of 2gether Charity Shop.
Come on Chislehurst, show us your shop window displays!
We'd like to take this opportunity to thank the Chislehurst Society for contributing towards the Flags.