Many of you will have witnessed what looks like the daily torture of fitness fanatics at Chislehurst Recreation Ground, and an ex-Marine keeping the motivation going in all weathers. This is Bootcamp UK, and it is by far one of the best, motivational ways to get fit with the help of great people around you. We caught up with Matt to find out how he set up his business and how he stays motivated:
Visit Chislehurst: Matt, thank you for taking the time to talk us through Bootcamp.uk.com, can you tell us a bit about the business?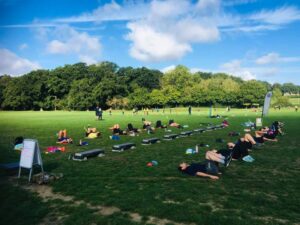 Matt: I run Bootcamp.uk.com in our local recreation ground off of Empress Drive and 2021 will be our 11th successful year of operation! You may well have seen the guys and I training in the rec or running around with a log at the Chislehurst Chase over the years! I have always been involved in fitness from an early age and it was during my time serving in the Royal Marines that the concept of setting up an outdoor Bootcamp was envisioned, in fact it was during my tour of Afghanistan, in 2008, that any down time was spent writing a business plan, developing ideas and workouts for setting up my business. I loved the style of group military training and how you had to work together to achieve a goal and wanted to replicate something similar for a civilian circuit class. Bootcamp was born!
Visit Chislehurst: What makes you and Bootcamp stand out from the other fitness groups?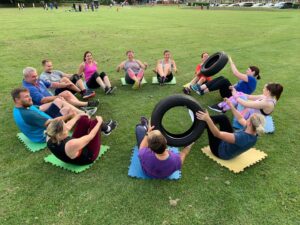 Matt: I guess our USP could be the military themed workouts, utilising different items of kit like tyres, logs, stretchers and Jerry cans…we even have mock rifles and webbing which we use for weighted runs! The Instructors, who are former military personnel with years of experience and expertise; know how to get the best out of you with guidance and above all humour. We have created a strong bond among our attendees, everybody is welcoming and help motivate each other and I believe that's is what makes it a success!
Visit Chislehurst: It looks pretty tough, is it?
Matt: We honestly cater for all levels of fitness and abilities, everyone is welcome. All we ask is that you give it your best shot and you never know, you might get hooked. Certainly beats the sterile environment of a gym!
Visit Chislehurst: Has it been an easy journey or have you faced challenges?
Matt: It hasn't all been plain sailing! I first started back in 2006 with British Military Fitness in Greenwich Park, an "apprenticeship " for want of a better word. I spent many years learning from my peers and gaining experience which enables me to run a finely tuned class to a wide audience, not all the time but most of the time! 😉
Visit Chislehurst: What do you find most challenging about being an independent business?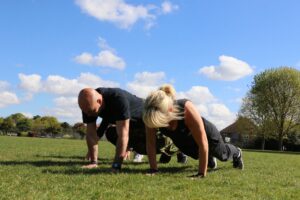 Matt: I would say gaining new clients and client retention is the most challenging. Outdoor fitness has become more popular over the years, guys want to try something other than the gym and with the growth in OCR's (obstacle course races), more fitness instructors have set up in their local parks. With lockdown and the Tier system is has become even more challenging, as having to switch to Zoom online just doesn't have the same "feel" and what I do, I would class as non-essential. Clients need to pay bills and attending a fitness class becomes less important.
Working in the Fitness Industry isn't as easy as it looks. When first setting up it's a period of not being paid, study and learning, long hours, writing lesson plans and marketing the business, early mornings and late nights and if working outside, expect to get wet and cold! Sometimes even heatstroke! There will be periods of frustration, lack of confidence in one's knowledge and ability, clients will let you down but having persevered I wouldn't change a thing. The overriding piece of advice I would give is that you need to be passionate, love exercise and fitness and interacting with people for you to succeed.
Visit Chislehurst: What do you feel is one of your biggest successes?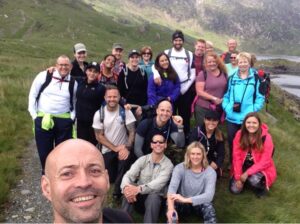 Matt: I would class the community that has been built around Bootcamp as the number one success. I have made friends and it's heart warming to see how the guys have advanced, how I have helped to be a part of that but more importantly how they have come together and motivated each other and made firm friends.
Visit Chislehurst: Can you give our readers one piece of personal advice to keep them going during lockdown
Matt: Set a routine and try to stick with it. I have struggled myself occasionally, I find writing my workout plan down in a diary helps me to be more disciplined and to stick with the plan. Don't feel guilty if you're having an off day and don't feel like training, have it as a rest day and come back fighting fit the next time…it's ok to listen to your body!
Visit Chislehurst: As a local business, what do you do/or have done in the past to work with the local community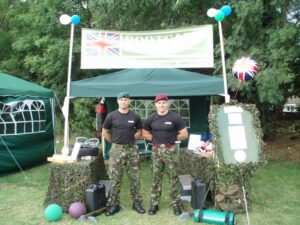 Matt: We have been running the Chislehurst Chase the last few years, running as teams around Scadbury Park which always raises a few eyebrows! The guys have helped out setting up the decorations for the Pumpkin hunt, displaying a large spider between the trees by the pond was great fun and we have also had a stall on the Bear Hunt distributing goodie bags for the local children! We have quite a number of local residents with a multitude of skill sets so I'm sure they would be more than happy to help out in any local events , especially charity based in the future.
Thank you Matt and the amazing people who turn up for your sessions in all weathers. We can honestly say that members of the Visit Chislehurst team have done these sessions with Matt and they are absolutely fantastic. Starting a zero fitness and then running with the group. Hugely motivational and highly recommended for those who need encouragement to train.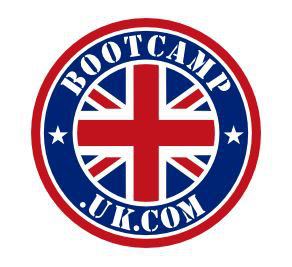 If you want to find out more, contact Matt at info@bootcamp.uk.com