No child should be afraid of walking to school.
The children of Mead Road Infant School have come together to create their own road safety campaign with the hope that the speed of traffic in Green Lane will be reduced. The road is narrow, the pavements are narrow, the traffic exceeds the limit of 30 mph – many of the parents are driving to school as they are too frightened to walk.
Please support their campaign and SIGN THE PETITION here. You can also watch their video on Facbook Green Lane Safety Campaign and then click on 'Sign Up' and sign the petition to the London Borough of Bromley to reduce the speed. These children are not an accident waiting to happen.
Join the Facebook group in support here
UPDATE on the campaign with Mead Road Mum, Sue Horler.
Q: Can you tell Visit Chislehurst a bit about why you started The Green Lane Safety Campaign?
I've lived in Chislehurst for twenty years and think that it is a fantastic place to raise a family – green open spaces, a thriving small town and so many activities and events. You can literally walk out of your front door every day and find something to do. But in order to do so, you need to walk along busy roads. Chislehurst is a thoroughfare for traffic avoiding the busy A20, a lot of the traffic speeds down Green Lane and then to Ashfield Lane. I walk daily with my daughter and the dog along the narrow footpaths of Green Lane and have, several times, been clipped or splashed by cars. Trying to cross to the ponds is impossible during weekends and weekdays and using the zebra crossing is no better as cars will not stop even if you are on it. Something has to be done before there is a fatality and the council won't acknowledge the problem as there hasn't be a fatality yet.
Q: What would you like to see happen in regards to safety on Green Lane/Mead Road? What measures do you think will help?
I would like to see, first and foremost, a speed reduction to 20mph, in line with recommendations from the Mayor's office. Secondly, I would like to see a 'clear' flashing 'slow down – 20mph' sign on approach to the ponds, coming from centre common on the tight corner bend. And finally, clear school signage. The sign for the school, from centre common, is hidden behind shrubs.
Q: You've been working with Mead Road Infant School on this campaign? What are their thoughts?
Mead Road Infant School have been very supportive of the campaign. The children have all created artwork depicting their views on speeding traffic in Green Lane, they have also created their own video asking for a speed reduction. None of these children want to be the first casualty. The Mayor's office has provided all local schools with very expensive, glossy, books on road safety – but children cannot be expected to adhere to these road safety rules if the drivers of vehicles are out of control and the council do not make the local environment safe.
Q: Have you had a positive response from the council or Bob Neil MP so far?
Bob Neill did seem supportive of the campaign; however, we haven't received much feedback from the council yet. The only feedback that we have had to date is that they feel there doesn't seem to be an obvious solution and any large changes would be costly. As we have seen from national news in 2017, lives can be lost by cost saving. The council have been warned so many times that there is a serious issue on this road.
Q: What about the other residents of Mead Road? We hear that some residents were campaigning for years for safety measures to be introduced.
Yes, the residents of Mead Road have been campaigning for a long time. Turning out of the road is exceptionally dangerous. The view into the road is obscured by fencing on one side, and if you are brave enough to edge out you are subjected to cars narrowly missing you and torrents of abuse!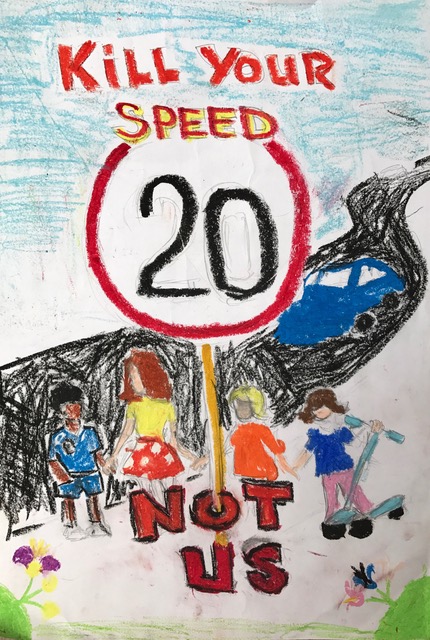 Q: Can you tell us a bit about the children's paintings about speed awareness?
Q: The children were set a challenge to create 'artwork' of any type that depicted their view of road safety. This resulted in a fantastic response of artwork – paintings, collages, plasticine models, Lego pictures and a beautiful poem that one little girl read out. Wonderful creative flare!
Q: Do you think that making the roads 20mph during school hours only is enough?
No. It would naturally be safer for the period that the children were arriving or leaving school, but how would it make it safer for families at weekends who want to get to the ponds, mums with buggies trying to get down the narrow pavements whilst holding a small child's hand, dog walkers, someone with special needs on uneven pavements? Surely if the roads can be 20mph for the school children, then it can be made safer the rest of the time.
Q: What has been your feedback from local residents?
I've been staggered by the feedback. Reading the comments of people who have signed the petition only confirms my belief of the potential danger to life. So many bad experiences by local people on this stretch of road. It has also highlight the issues on other local roads in the area.
Watch the video here Green Lane Road Safety Campaign
Here are some campaign posters from the children at Meade Road School