Well half term is upon us and whereas usually we are super excited to get out and about we find ourselves in these unchartered waters of either not being able to go on holiday or have a staycation which may involve a few day trips. Visit Chislehurst has compiled some ideas for you and hope you manage to make the week off a memorable one that is full of fun. Here we go……
Outdoor activities:
A Walk in the Woods – Did you know that in the red phone box on Royal Parade there are local maps giving routes throughout BR7 – pick one up and go and find something new to look at.
Puddle Jumping – life really doesn't get any better than this. Yank on those waterproofs, wellies and just jump, who cares how wet you get! Chislehurst Commons are full of the best puddles around.
Wildlife Spotting – have you spotted the wildlife wooden plates throughout the Commons?Local artist Helen Baylis has painted pictures of some of the wildlife of our commons, and you can now see them displayed on trees along the main paths. This is a fabulous trail and keeps everyone entertained on a walk. The Chislehurst Society also supported Helen's, and kindly provided funds for materials. There are 16 pictures for you to find. A few clues to start you off – there is a Stag Beetle near the Cockpit, a Wood Mouse in the Overflow Glade and 4, including an Owl, on St. Paul's Cray Common near Holbrook House. The last one on that path is in Gunn Glade just before Scadbury Drive. We hope you enjoy searching for the other 10. Donations welcome at https://www.paypal.com/gb/fundraiser/charity/3258282
Litter Pickers – one of the reasons Chislehurst looks so amazing is that we often have children volunteering to litter pick! Pick up sticks are available to borrow from The Chislehurst Society.
Photography Diary – can you photograph your way through Half Term? Capture your trips out and about, look for scenery, buildings, historical items, pets or go totally random and capture shots of your feet stomping through Chislehurst!
Mama Brown & Co activity packs! Fun filled activity packs to keep you fully occupied with arts and crafts and so much more. Also video links for online workshops – endless fun that will keep you going all the way to spring! You can order your packs HERE.
Indoor activities:
Jigsaw puzzles – now you may have visions of your grandparents doing these or even toddlers piecing together small pictures, but we've recently discovered they are seriously addictive and the whole family can't quite resist once the jigsaw has started!
Paper Dolls – resurrecting this childhood arts and crafts following the reading of Julia Donaldson's wonderful book 'The Paper Dolls' – Make Them, Name them and then play…. Instructions here: https://www.youtube.com/watch?v=CYXxoVbPzqI
Toilet Roll Art – well judging by the amount of toilet rolls people have been buying lately we're sure you'll have some empty tubes at home lots of options here.
Cardboard Villages – well we hope you haven't being purchasing too much online and not shopping local, but if you have some delivery boxes spare or old shoe boxes you can great some fantastic models to play with. Anything from garages, stables, houses, farms etc.
Rock Painting – this is super easy and also there are endless design ideas on Pinterest. Chislehurst is very stony so you'll have not trouble collecting some nice smooth stones on your daily walk. Clean them up and then decorate – a family of lady birds? A snail? A flower or a Minion?! If you have any varnish put this on afterwards to make it look super professional.
Make a Time Capsule – well you may not want to remember anything negative but you could still create a time capsule – find a tin, collect things that you remember for today i.e. newspaper cutting, a drawing you've made, a painted rock – and then bury!
Baking – quite frankly you can never have enough cake in the house! This is a great activity for all and even if you don't like to cook, you can always lick the spoon at the end. If you don't have any decent cook books there are endless recipes on line. You could always do a Zoom cooking call with friends! And, if you can't bake then pop into Sainsbury's and buy one of their ready mix cakes – super easy!
Make a movie! Using the camera on a mobile phone you can create your own movie in your house. Write a short script, work out your characters and just go for it. Use Lego, Playmobile, Barbie or siblings and pets – it doesn't matter, just let your imagination go wild!
Shadow Puppet Show – this is lots of fun for those dark afternoons and early evening, make your own https://www.youtube.com/watch?v=-hL28SkHf1g
Paper Mache – make your own! There is an endless list of things you can make (check out Pinterest), but we quite like the look of these hot air balloons!
11.Chislehurst Cheer – check out this amazing activity with Friends of Chislehurst Recreation Ground – Chislehurst Cheer is aimed at ch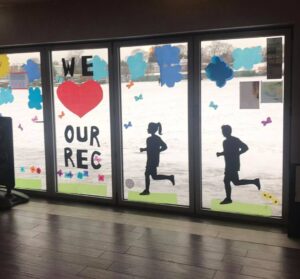 eering everyone up and making our streets colourful! Taking part is easy and completely free! All you have to do is create a display in your window of something that cheers you up and make sure that it is visible after dark. Don't forget to register your window here. Now all you have to do is to grab a coat and your family and walk around Chislehurst after dusk to enjoy the cheerful window trail. Just remember to stay safe and keep to social distancing rules. For anyone who is unable to fund resources there are some FREE packs of cardboard and tissue paper which can be collected from : The Roost, Chislehurst Rec., Empress Drive, BR7 5BQ
12. Zoom Call fun – if you are missing your friends but find Zoom a bit dull, then look at playing games over the call. Create a Scavenger Hunt and take it in turns to find items, one at a time in one minute i.e. Find something tall and spotty, furry and wobbly, makes a noise but is silent, you can see but can't touch! Lots of options! Alternatively, go down the fancy dress route – dress as – the tin man from Wizard of Oz, a movie star, a monster, a superhero etc – give the person two minutes to race around the house finding items to put on!
13. Art Ideas – with fabulous help from Nicky at Art on Parade she has provided the following ideas for some holiday art projects:
With oil pastels (not expensive to buy) how about some pictures of Flowers that have come from bulbs during the winter. It's too early to start drawing daffodils as that's a nice thing but you can try hyacinths or locus and other such pretty winter flowers outside, that would be great.
Have you tried using charcoal? Or an alternative is black chalk and some hairspray, so once the work is done you can spray it so that it doesn't come off, try sketching members of the family. Get someone to pose for 5 to 10 minutes and then they change position or somebody else comes in and models and you can draw a new pose. It can be a bit tricky to master but its fun trying and will get you drawing body shapes and having fun.
Get those paints out! There are so many beautiful settings in Chislehurst to paint. Best to sketch first very lightly with pencil and then paint afterwards. Take pad and pencil out on your daily exercise routes and see what you can capture.
Sketching and drawing – the basics of art. And it's a bit like learning your times tables you need to practice and practice until it makes perfect. Maybe have a day where you are drawing parts of the body or parts of the face as this very tricky to draw. Try painting something in the garden, but don't give up the more you do it the better you'll get!
Outside art – take some photographs and print them off and make a collage with them or if you don't have a printer just sketch the images when you get home. Paint or use pieces of magazines and newspaper to make a collage of you favourite photograph that you've taken.
We hope you have lots of fun during the week. Please share any activities you do and we will gladly post them! We will post more activities on Facebook during the week, remember to get outside and get some fresh air whatever the weather.