Celebrating the first anniversary of Bank House!
When we look back over the last year, our minds are drawn to just one thing and how our lives have changed during the past 6 months. But think back to one year ago and the buzz on the High Street as we were ready to welcome a new independent Wine Bar and Kitchen – Bank House.
Yes, it really did open a year ago, this weekend, and just look at what Stuart and Cecilia Gillies have achieved in that time. Their vision was to create a sophisticated venue locally, one they felt they would want to go to themselves and see people that they knew as they walked in the door. They were looking to achieve a space that felt safe and trustworthy, have impeccable quality as well as a great atmosphere for both the working team and the guests that entered.
One year on, wow it's been a tough year! The reality of how the first year would play out was perhaps slightly different from what they first envisaged. During the first 12 months they have had had plenty to distract and challenge them, plus many local opinions on what a wine bar should be.
This lovely couple from Bickley have created a London vibe in the heart of Chislehurst and have achieved their initial goal and built a great relationship with the local community and those looking for a modern, grown up space to use regularly. The team remain very proud of their product and are very focused on that detail together as a team.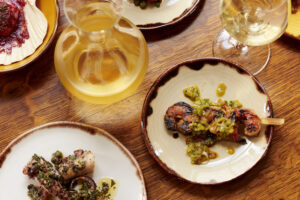 Speaking of the highlights so far, Stuart says, 'there are so many lovely people who completely understand what we are trying to achieve; we've built up hundreds of regulars in an incredibly short space of time. New Year's Eve was a highlight to end 2019, a fantastic evening all round.
The community in Chislehurst is very close and it takes time to establish a real connection. Trust is very important. On Chislehurst High Street, there are a number of great operators and businesses locally that have been around far longer than us and do a great job…. One year on, we are still so young and respectful of those that have lasted the test of time. And, we appreciate the local support and hope it continues for the whole community.'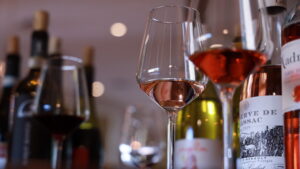 Bank House is a tremendous asset to Chislehurst. It gives people somewhere to pop into for just a glass of wine, food and also a fabulous Sunday roast. It's a space you feel happy to wander into alone with just a book or dog for company, or go with friends and make a night of it. It goes without saying that 2020 has been a challenging year with new ways of working for everyone. Bank House closed their doors at the start of the pandemic, along with everyone else, but found new ways to work and keep delivering their excellent food into the homes of the locals. Bank House take out boxes became the new takeaway in homes locally. They continued to deliver to the expectations of their customers.
Stuart says, 'team wellbeing is for us the core of how to survive, we are very focused on helping our team be the best they can be and feeling supported, this then creates a much better guest experience and product.
Going forward into the start of our second year we would like to grow the experience. Experiences that are unique to Bank House but accessible and memorable for guests. These can range from special wine maker and guest chef events, to regular seasonal menu changes and at home experiences with Bank House private parties and hampers!'
Bank House seems to go from strength to strength and this comes down to, not only Stuart and Cecilia, but that of an extremely hard working team and also a community that wants its local independents to do well in BR7.
If you haven't yet managed to pop into Bank House, there are many good reasons why you should. Take a locals opinion on it and give it a try.
Testimonials from happy locals:
'Every dish was delicious and the staff are very kind and professional. It's a lovely treat to eat at Bank House.' Caroline K. July 2020
'Exactly what Chislehurst has needed for so long with beautiful decor and friendly staff .' Victoria T Nov. 2019
'A huge thank u to Stuart, Cecilia & the fantastic team @ Bank House for a superb night. The food was fantastic, Perfect to share with friends over a glass of wine. The transformation of the building is a real must see So much thought & incredible detail, especially upstairs! Make sure you view all the artwork! Very impressive! A very very lucky Chislehurst! Highly recommend!' Mike J. Sept 2019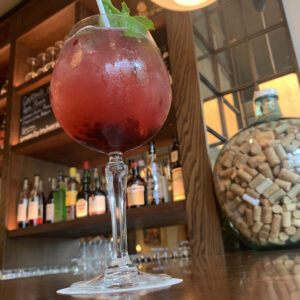 Pop into Bank House this weekend to try their celebratory birthday cocktail – a Ricky Rubus!
Find out more about Bank House here.